"How Local Government is Shaping Climate Resiliency in SE Florida"
Join us on Jan. 25 at 6 pm at the UM Law School Alma Jennings Student Lounge (map). Finger food and refreshments - Free Admission  - All are welcome - RSVP NOW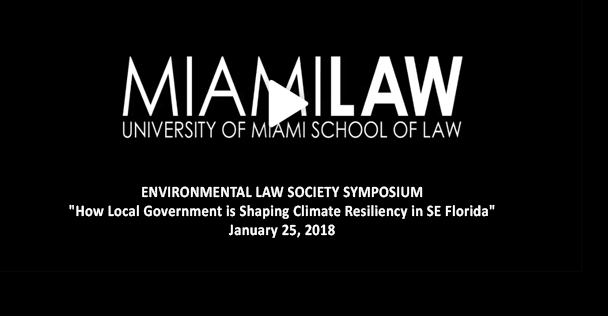 Our panel will feature municipality officials and legal professionals discussing the power of local governments in the face of climate change threats. Topics range from municipal sustainability regulations to the struggle for agency between regional, state, and federal bodies. Attorney and UM Visiting Lecturer Thomas Ruppert, South Miami Mayor Philipp Stoddard, Dr. Brian Soden from the Rosenstiel School of Marine and Atmoshperic Science, and Coral Gables City Attorney Miriam Ramos will share their knowledge and their experience at this unique environmental policy forum. 
****
Mayor Philip Stoddard was first elected to office in 2010 and is currently serving his fourth term as Mayor.  In 2015 Mayor Stoddard was appointed by the White House to the Governance Coordinating Committee of the National Ocean Council where he developed national policy for sea level rise. In 2016 Mayor Stoddard was named by Politico Magazine to the Politico-50 "guide to the thinkers, doers and visionaries transforming American politics in 2016".  He was named the Green Municipal Official for 2016 by the Florida Green Building Coalition.  Miami New Times named Mayor Stoddard the "Best Politician of 2017".  The Florida Sierra Club gave Dr. Stoddard the 2017 Osprey Award, "presented for extraordinary effort by a governmental staff person to promote or effect changes in policy or practice to protect or preserve Florida's environment." In 2018, he was appointed to The CLEO Institute Expert Advisory Council.    Dr. Philip K. Stoddard has been a professor of biology at Florida International University since 1992.  A big proponent of renewable energy, his house and car are powered by the sun.  Mayor Stoddard has been featured in The New York Times, The New Yorker, Time, National Geographic, The Guardian, Rolling Stone, Stern, The Bond Buyer, NPR, PRI, BBC, MSNBC, and numerous documentaries including National Geographic's "Years of Living Dangerously" which showed in 171 countries in 47 languages, and Discovery Channel's "MOSQUITO" which showed in 189 countries.

Thomas Ruppert P.A. Florida Sea Grant
Thomas Ruppert is a coastal planning specialist at the Florida Sea Grant College Program, and a licensed attorney developing legal and policy analysis for local governments on aspects of adaptive planning for sea-level rise, community resilience, and associated long-term challenges and opportunities for Florida's coastal communities. 
Dr. Brian J. Soden is a Professor at the University of Miami's Rosenstiel School for Marine and Atmospheric Science.
Dr. Soden specializes in the use of satellite observations to test and improve computer simulations of Earth's climate. He received his B.S. degree from the University of Miami, and M.S. and Ph.D. degrees from the University of Chicago. Dr. Soden has authored over 100 peer reviewed papers on weather and climate change. He is a Fellow of the American Meteorological Society and Lead Author for the Intergovernmental Panel on Climate Change which shared the 2007 Nobel Peace Prize with Vice President Al Gore. Other honors include the American Meteorological Society's Henry G. Houghton Award, the National Space Club's David S. Johnson Award, and the National Aeronautics and Space Agency's H.E. Reid Award. 
Miriam Soler Ramos was appointed to serve as City Attorney in 2017. Ms. Ramos is the chief legal officer and general counsel for the City, serving as counsel to the City Commission, City Officials, and City Departments, providing legal opinions and interpretations on behalf of the City, and supervising the City Attorney's Office and outside counsel. Ms. Ramos is Board Certified by the Florida Bar in City, County, and Local Government Law. Ms. Ramos served as the Deputy City Attorney and City Prosecutor for the City from March 2015 through November 2016. Ms. Ramos has 15 years of government experience including 9 in the area of local government ethics. Previously, Ms. Ramos served as Deputy General Counsel for the Miami-Dade Commission on Ethics and Public Trust (COE). 

The discussion will be moderated by Prof. Natalie Barefoot.

Natalie Barefoot is the Practitioner in Residence and Lecturer in Law for University of Miami School of Law's Environmental Justice Clinic. She teaches clinical classes and is the clinic's supervising attorney managing projects ranging from toxic torts to policies and practices that inequitably affect low-income and minority communities in Florida. Before joining the University of Miami Environmental Justice Clinic and faculty, Natalie Barefoot was the Executive Director of Cet Law where she worked to further the protection of cetaceans (whales, dolphins and porpoises) and their ocean and freshwater habitats.
Organized and sponsored by
THE ENVIRONMENTAL LAW SOCIETY &
THE ENVIRONMENTAL JUSTICE CLINIC