In 2017, The Abess Center for Ecosystem Science and Policy, and the Office of Sustainability proposed the addition of a SUST Class Attribute that allows students to search in Cane link for courses with a sustainability focus or component, and apply to the Sustainability Certificate administered by the Ecosystem Science and Policy (ECS) program. This initiative is one of our Sustainability Action Plan academic goals, that were defined after we received a Gold rating on the 2018 Sustainability Tracking, Assessment & Rating System. To help us in this endeavor, a group of faculty members from diverse schools at UM have agreed on the following
GUIDE TO SUSTAINABILITY DESIGNATION 2019
Sustainability in the Curriculum workshop
Feb. 13, 2020 from 12.30 pm to 2.30 pm; Ungar Building room 230C/D
RSVP now. Requirements for UM faculty:
Develop a syllabus for a new course or a course module that incorporates sustainability or environmental issues appropriate to your field. Please, once you rsvp, send us the syllabus you think about enhancing with SDGs and which goal(s) you want to address in your course, as well as which learning outcome(s) would likely be included in your class description (greenu@miami.edu)
You will be supported in this endeavour by our group of sustainability in the curriculum faculty experts
You will be invited to participate in a quarterly discussion session to share experiences and best practices.   
Contact greenu@miami.edu to learn more.
UM Libraries: Sustainable Development Goals research guide
The Sustainable Development Goals are diverse and apply to many disciplines. This 
new SDG resource from UM Libraries
 is meant to serve faculty and students, and can address specific class assignments. Feel free to give your feedback and ideas by contacting 
Terri Robar
.
Here is the definition of Sustainability we are using for the designation:
Sustainability
The American Association for the Advancement of Sustainability in Higher Education (AASHE) defines sustainability in a pluralistic and inclusive way, encompassing human and ecological health, social justice, secure livelihoods, and a better world for all generations (the UN Sustainable Development Goals cover a broad range of social issues like poverty, hunger, health, education, climate change, women empowerment, gender equality and social justice. Sustainable development is development that meets the needs of the present without compromising the ability of future generations to meet their own needs). Sustainability research is research that leads toward solutions that simultaneously support social wellbeing, economic prosperity, and ecological health.
Sustainability-focused program
Sustainability-focused programs are interdisciplinary academic programs that concentrate on sustainability as an integrated concept, including its social, economic, and environmental dimensions. The courses required for the successful completion of the program educate students about how different dimensions of sustainability relate to and support each other in theory and practice. The sustainability focus of such a program should be explicit in the program title or description.
Syllabus learning outcomes
In order to determine if a section of a course qualifies for designation as SUST-focused or SUST-related, faculty will assess whether the course section helps students build skills and act on at least two or three of the 20 objectives below.  Students will be able to:
1 - Explain the principles and ethical implications of the UN Sustainable Development Goals.  
2 - Describe the roles of personal and social responsibility in protecting Earth's abundance and beauty for future   generations.  
3 - Justify the significance of upholding the right of all living beings to a natural and social environment supportive of dignity, health and well-being in bringing about global sustainability. 
4 - Describe the relationship between respect for Earth, including life in all its diversity, and human and/or ecological health.
5 - Explain how cultural diversity, tolerance, compassion, nonviolence and peace contribute to global sustainability.
6 - Outline the history of Earth and the evolution of life.
7 - Examine situations and issues from a systemic perspective.
8 - Explain how feedback loops affect systems.
9 - Explain how humans can learn from nature to create resilient and efficient solutions.
10 - Discuss how access to education, health care and economic prosperity affect global sustainability.
11 - Illustrate how uncontaminated air, water, and soil are fundamental to healthy living systems.
12 - Analyze the interdependence of society, economics, and nature at local, regional, and global levels.
13 - Discuss the relationship between poverty, ethics, health, society, and the environment.
14 - Compare and contrast human actions and attitudes toward the community of life and their impact on global well-being. 
15 - Evaluate economic activity and institutions by their contribution to society in the larger ecological context. 
16 - Diagnose/research the impact of human activities on living systems, with consideration for these systems' limits, complexity, and diversity. 
17 - Explain the precautionary principle and identify how it can be employed to prevent unintended impacts on human and/or ecological systems.
18 - Document democratic principles that enhance global sustainability and peace.
19 - Apply knowledge to engage in behavior that fosters ecological sustainability. 
20 - Display personal and social responsibility toward achieving global sustainability through service learning/civic engagement.
Syllabi Case Studies
- Business: Law and Business: Beyond Environmental Compliance - Syllabus
- Law: Law and Sustainable Society course - Syllabus
- Nursing: Clinical Nursing, Developing Families - Syllabus
- Public Health: Megacities and Slums: Global Health and Sustainable Development - Syllabus
- Medicine: Sustainability Concepts in Physical Therapy Education and Clinical Care - Syllabus
- Arts and Science: The Past, Present, and Future of Food and Population - Syllabus 
For more case studies, visit the Piedmont Project at Emory
More Resources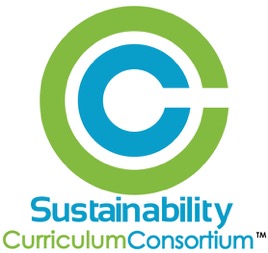 Become a member of the Sustainability Curriculum COnsortium and get access to even more resources: http://curriculumforsustainability.org/ 

https://www.as.miami.edu/ecs/sustainability-certificate/
http://www.aashe.org/events-education/workshops/  
http://piedmont.emory.edu/About.html
https://cft.vanderbilt.edu/guides-sub-pages/teaching-sustainability/
https://www.aashe.org/partners/centers-for-sustainability-across-the-curriculum/

For the list of classes included in the UM Sustainability Undergraduate Certificate:
https://www.as.miami.edu/ecs/sustainability-certificate/ 
To register and for more information, contact greenu@miami.edu