Do like our entire Real Estate and Facilities Department:
Get rid of your desk trash can and get Green U certified in no time!
NEW GREEN OFFICE PROGRAM V 2.0

You want to see more sustainable changes in your office?  Green U is here to help!
 


Get your office Green U Certified !
Step 1:
- Download the application, and the CHECKLIST
- Review the documents, and have the application signed by your Office Director.
Step 2:
- Invite Green U for a 20 min presentation to your next Staff meeting. You can also take the Sustainability 101 webinar to get Professional Development credits.
- Review the checklist with your team. Once they signed the application, send it to green u, and you can start the program!
Step 3:
- Implement the program by making sure you completed each item of the checklist.
- When you're ready, get your final score on our Point Calculator. The more points you apply to, the closer you get to Gold certification!
- When you feel ready, contact the Green U office to schedule a final audit. There is no deadline, you go at your own pace!

Medical campus: SILVER for our Dpt of General Surgery Residency Training Program. Special Thanks to our Green champion, Maria Otero. Here are examples from Maria's office on how to apply simple green principles in your office:
| | | | | |
| --- | --- | --- | --- | --- |
| | | | | |
| Reminders to turn off the lights | Plants improve air quality and wellness | Bring your lunch box, your coffee tumbler, your reusable water bottle, and a small trash bucket > we don't really need that big trask desk bin, most of what's in an office is recyclable! | Make sure you have copier cartridges recycling, single stream recycing and a Shredit bin. | |

GREEN OFFICE PROGRAM INCENTIVES:
- 10 reusable bottle to the first 10 offices applying to the Green U Certification program.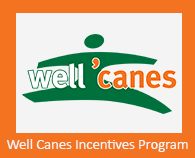 - Earn 50 points in the Well 'Canes Incentive Program. To qualify, office teams need to sign up for
the Green Office Certification Program and trade their desk trashcans for communal trash bins.
As research shows, employees who keep only recycle bins at their workstations not only walk more,
but significantly increase single-stream recycling in the workplace!



GREEN OFFICE TOOL KIT:
- Visit our Green Tips PAGE
- Download the Turn off the light stickers, print them on 5167 labels
- Download the Green Pledge stickers, print them on 5264 labels.
- Download our U Conserve Campaign poster > Print in color
- Download our Recycling at UM presentation
- Download the "Set Double Sided B & W printing by default on your PC" document
- Download the "Take back the Tap" link
- Download the Carpool board document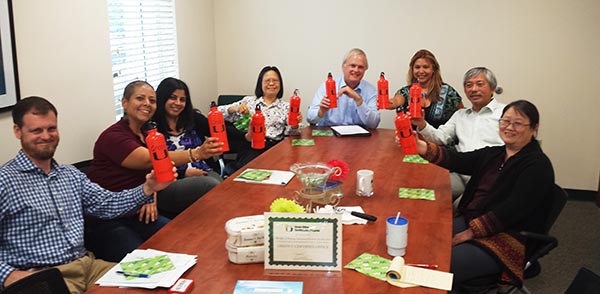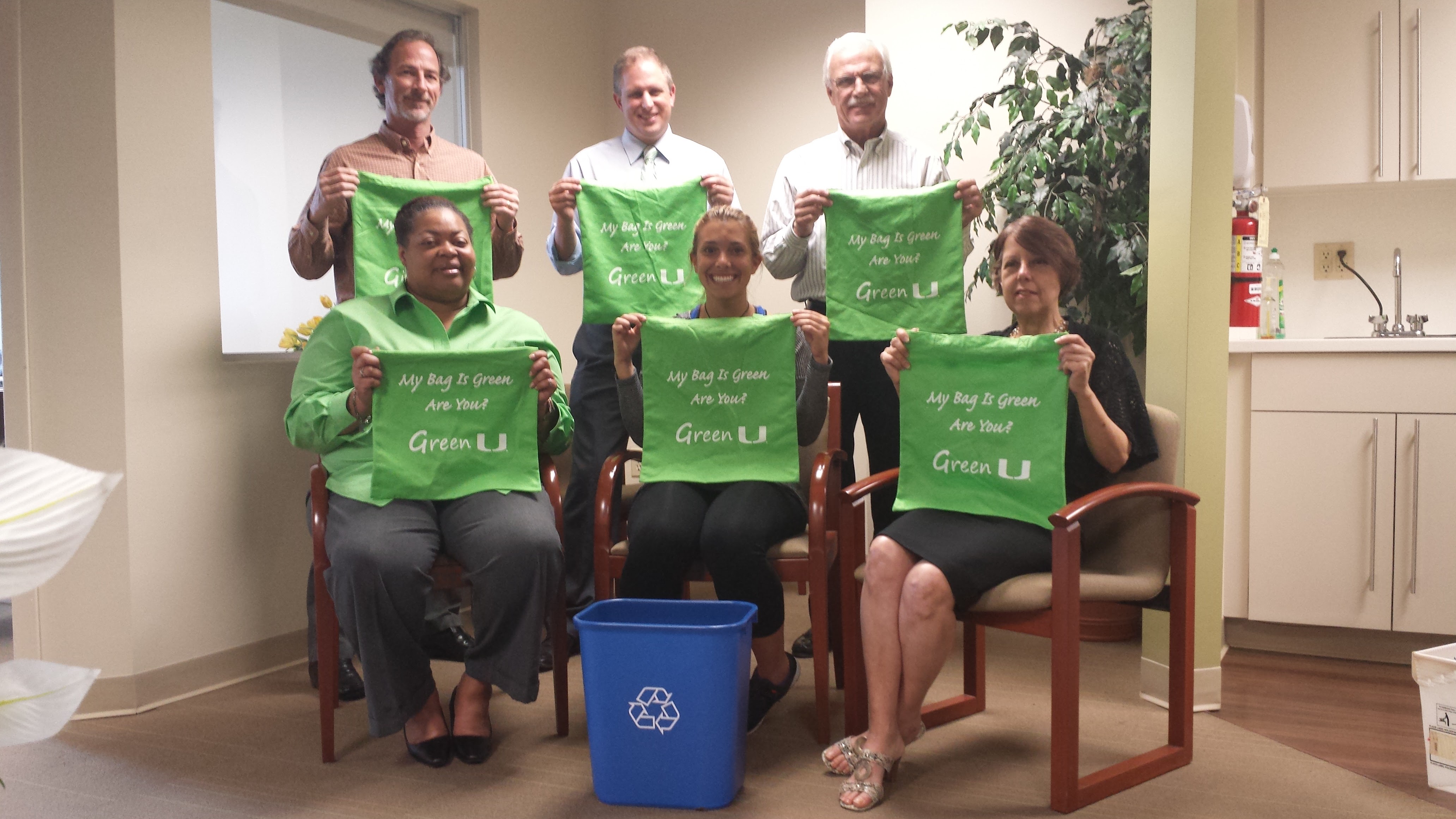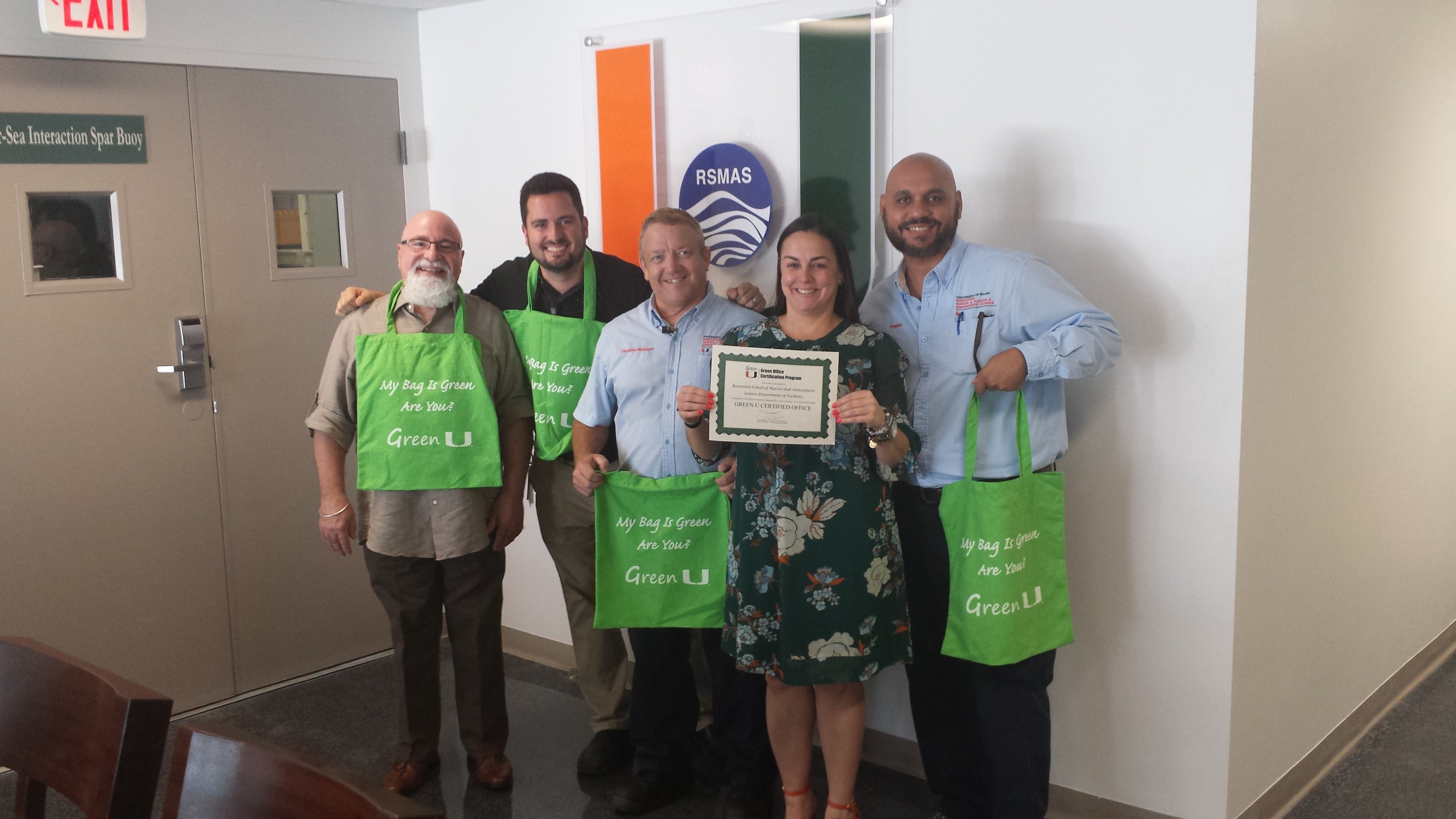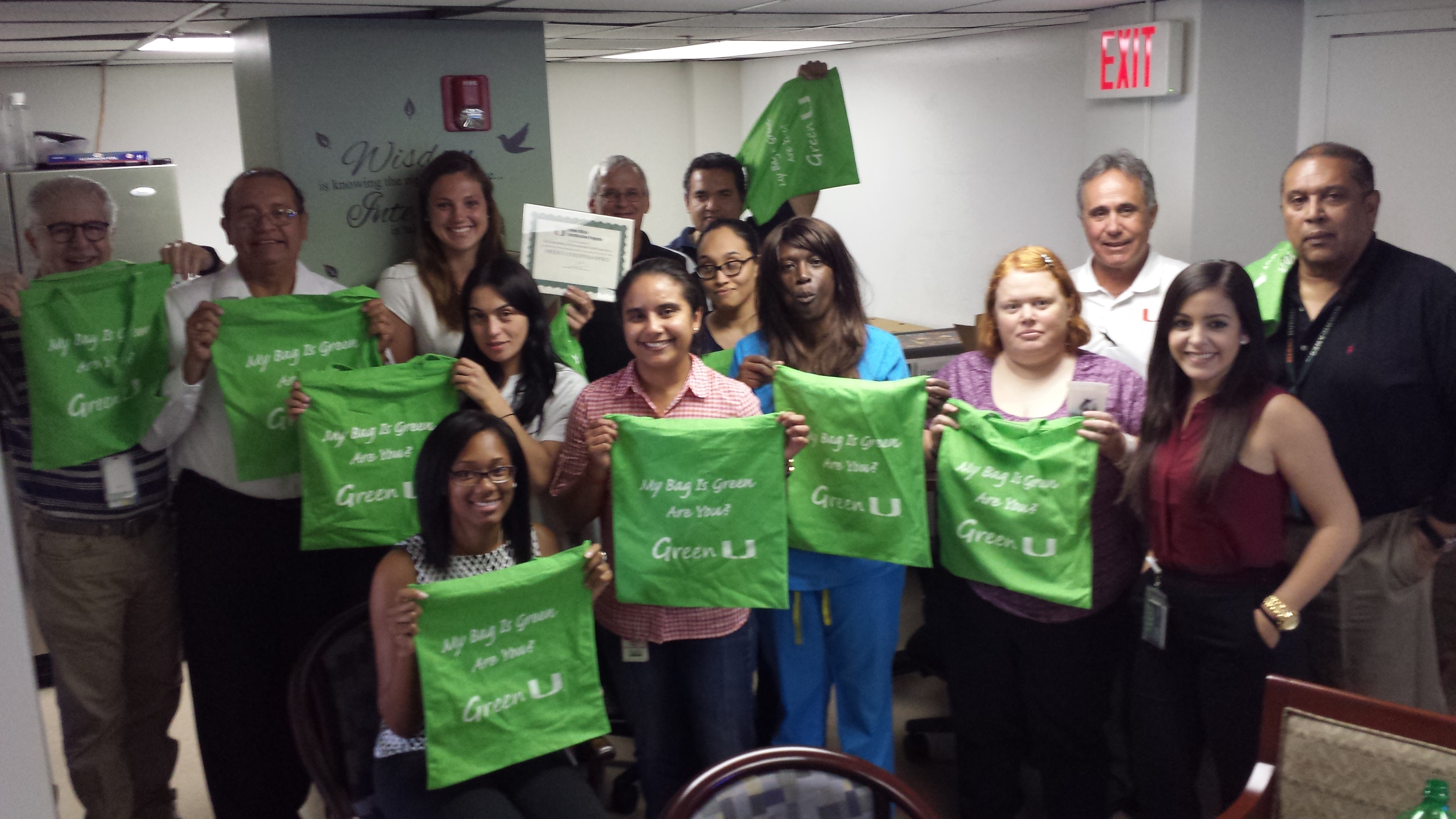 The Office of Planning, Institutional Research, and Assessment; The Office of Real Estate; The Office of Faculty Affairs; Facilities Management RSMAS campus; Environmental Health and Safety
************************


CREATE YOUR OWN GREEN TEAM AT UM
What are Green Teams?
Small groups of faculty, staff, or students passionate about the environment and willing to volunteer to take on innovative projects and make their school, department, lab or office more sustainable.
Green U will help you form your Green Team program, identify 2 to 3 projects and support you with information resources and training. A specific Facebook platform will help Green Teams share their experience and successes online.
What projects Green Teams will be working on?
Paper reduction, Coffee ground collection, Terra cycle programs, Green Lab certification, Green OR guidelines, ECO Art exhibits, local food CSA promotion…You decide!
Why joining a Green team?
It's always more fun to work with a team! Joining the growing network of green leaders on campus allows you to exchange ideas and best practices with co-workers. You can also bring attention and recognition to your department.
You will be invited to quarterly Green Team breakfasts and will receive updates on the latest in sustainability training.
5 tips on how to build a successful Green Team:
- Identify a small group of people that will be committed
- Begin with the "low hanging fruits", focus on 1 or 2 projects first
- Define realistic goals
- Meet regularly to discuss strategy and evaluation
- Don't be shy, ask for help! Green U, Facilities, IT, Managed Print Services, Auxiliary Services,... UM has a plethora of great experts that will give you precious advice.
For more information, contact greenu@miami.edu or call 305.284.8520


The Department of Purchasing-Medical just got their office certified! Special Thanks to Claudia Laurindo, their green leader.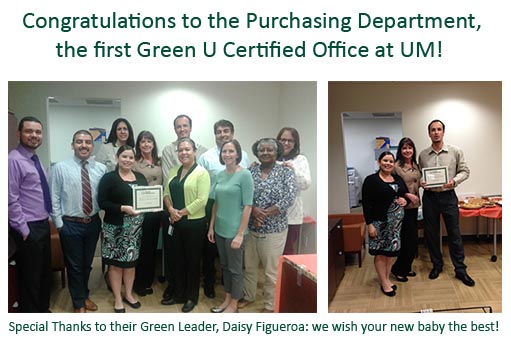 Welcome to the Department of Housing and Residence Life!
They just joined the growing family of UM offices that decided to go green. Congratulations!