EARTH DAY - HUG THE LAKE 2017
Come celebrate Mother Earth on the Lakeside Patio April 21st from 10 am to 3 pm!
On Friday, April 21st at 12PM, University of Miami Random Acts of Kindness will be presenting our 11th annual Hug the Lake event at Lake Osceola.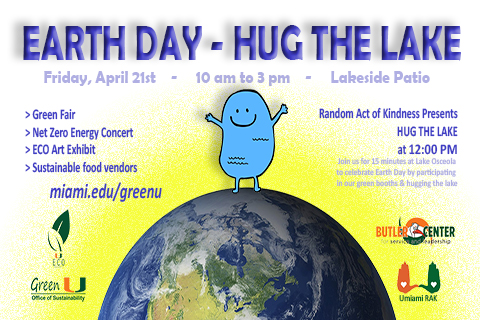 Join us for 15 minutes to celebrate Earth Day by participating in our green booths and hugging the lake! Free donuts will be available for green booth participants and free eco-friendly shirts will be provided to everyone who participates in the hug! If you're interested in volunteering please fill out the google form below. Don't forget to RSVP on Facebook and/or OrgSync and invite your friends!
Volunteer Form: https://docs.google.com/forms/d/e/1FAIpQLSdjQj91eiNXfdJUR9PX5he_NCla7Waz2VXptxu-Nl_Rsxg5dw/viewform?c=0&w=1
Facebook Event Link: https://www.facebook.com/events/204909860002518/
OrgSync Event Link: https://orgsync.com/55333/events/1900319/occurrences/4424507
We Hope to See You There!    Abbie Auster - RAK President

SCHEDULE:
- 10 am: Green Fair - ECO art exhibit
- 12 pm: HUG THE LAKE
- 1 pm to 3 pm: Net Zero Energy Concert with Frost School of Music
During the day, you will have a chance to:
- Pass by the ECO- Green U table to get your punching card, visit our booths and start learning while having fun.
- Learn from our partners how they promote Sustainability in our region: Check the list of vendors from the Green Fair below.
- Win sustainable prizes like reusable water bottles, recycled fiber bags or Sustainable food vouchers.
- Listen to a Frost School of Music sponsored Concert. The electricity used for the concert will be offset by Renewable Energy Credits, making the concert NET ZERO ENERGY.
- Admire the Eco-minded work of art from UM School of Art's professors.
HUG THE LAKE
presented by Random Act of Kindness and the Butler Center for Service and Leadership:
At 12 pm, you are all invited to Join us for 15 minutes at Lake Osceola to celebrate Earth Day by participating in our Green Booths & hugging the lake.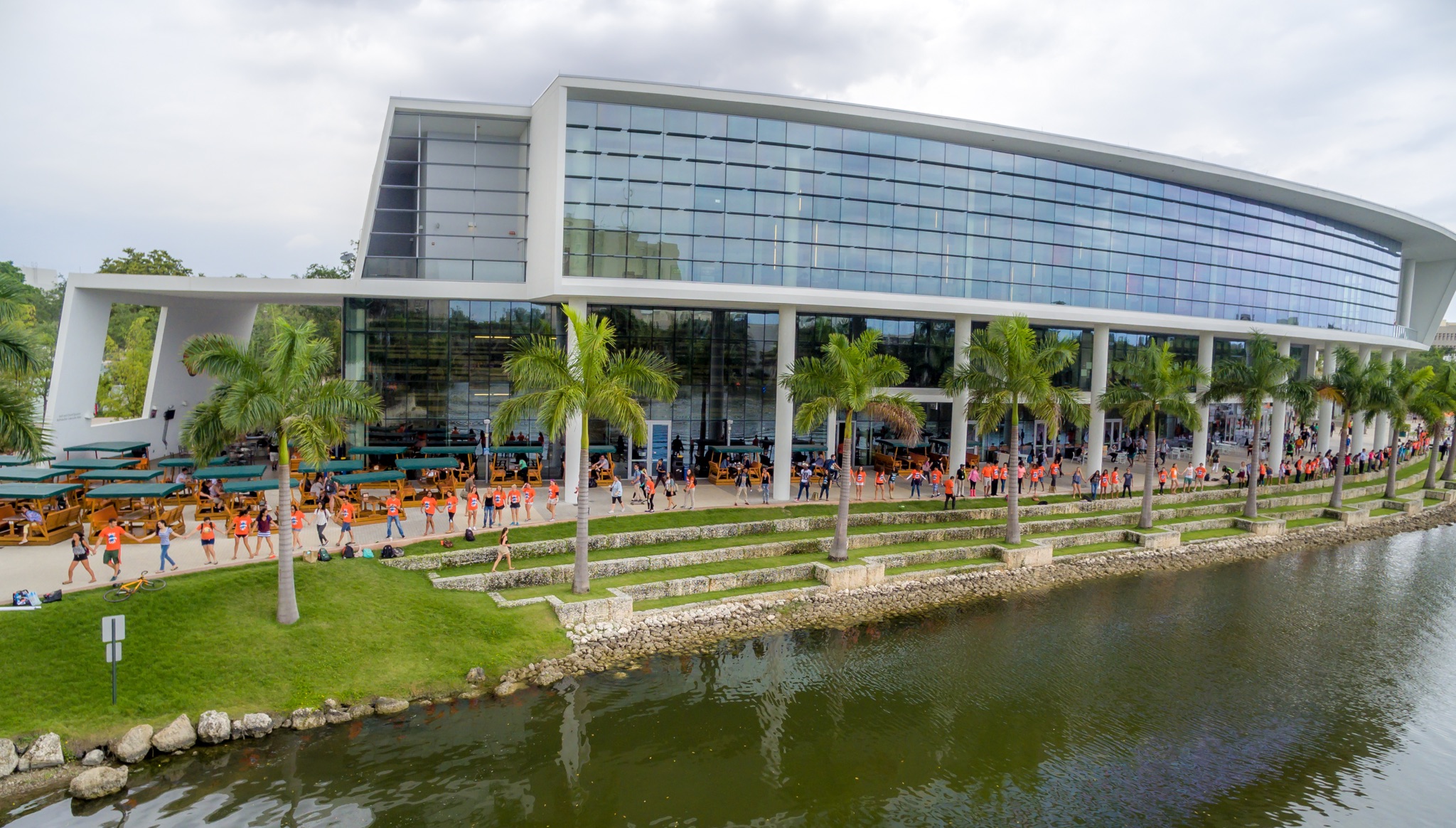 **********************
GREEN FAIR List of themes and vendors:
Waste Diversion(Waste Management, Dade Recycling, Shred-It);  Water (Coca Cola, Miami-Dade Water and Sewer Dpt); Green Purchasing (VWR, Staples); Green Building (USGBC); Renewable Energy (Alternate Energy Company); Alternative Transportation (Zipcar, SemaConnect EV charging station; UM Parking &Transportation)
Local Non Profit and Government: Coral Gables Office of Sustainability, Dream in Green, Citizen Climate Lobby, Treemendous, UF Extension - MDC Florida Yards & Neighborhoods .
Sustainable Food: UM Dining Services, Herbert Wellness Center, Solar Smoothies with UM Student Health, and Ice Cream at Ben & Jerry!
UM Student organizations: USGBC Student Chapter; CommUnity Garden Club; Environmental Law Society; Green Committee; Plant Based Canes; Food recovery Network
**************** 
WINTER BREAK - Energy Conservation Initiative
This Winter break, Green U, Facilities Management and the Student ECO Agency are inviting all faculty, staff and students to support UM's Energy Conservation Program. With your support, the University can substantially reduce its carbon footprint during this semester break. Prior to leaving for the break, please take the following energy-saving measures:
• For any spaces that will be unoccupied during the entire break period, please contact Facilities Management at (305) 284-8282, or facilities@miami.edu (Coral Gables) or at 305-243-6375 (Medical) to submit a temperature & occupancy setback request.
• Turn off all lights, PCs, Office equipment and Electronics. This includes equipment chargers, copy machines and all other personal electronics.
• For Personal and office refrigerators: clean out contents, defrost and unplug prior to the break period.
• Review all offices, classrooms, labs, gyms, locker rooms, media centers, restrooms, cafeterias, kitchens and break rooms, and report to Facilities Customer Service for temperature adjustment.
• Shut the fume hood sash in labs.
• Ensure all exterior doors and windows are properly closed. Contact Facilities Management with any issues that require corrective action.
• Submit any requests for facility-related repairs on items that may impact energy, water or occupancy usage to Facilities Work Control by December 18.
If your department has any continuity-of-service needs, and you are not sure exactly what to do, PLEASE CALL Facilities Management by Friday, December 18, at 305-284-8282 ( Coral Gable) 305-243-6375 ( Medical), or email at facilities@miami.edu (Coral Gables).
You want to get your office Green U certified in 2016? Apply now !
***********

Come visit our booth on March 22nd on the Rock to celebrate World Water Day.
- Learn how to conserve water with Miami Dade County Water Use Efficiency manager, and get your free shower timer or low flow shower heads*.
* Bring up to two old shower heads and receive two new high efficiency models
- Learn how to collect Rainwater for your garden and plant Florida-Friendly Landscape with the professional team from UF/IFAS Extension.
- Learn about how Coca Cola is promoting sustainable water projects around the world.
Pass by the Take back the Tap table and try our tap water blind tasting, you will be surprised!


Watch this video

Take Back the Tap Campaign
Food & Water Watch is working with students at colleges and universities across the United States to promote tap water over bottled water on their campuses.
Private companies are bottling up our most essential resource and selling it back to us at thousands of times the cost, depleting local water supplies, polluting our waterways with plastic waste and contributing to climate change in the process. Students running Take Back the Tap campaigns are rejecting bottled water on their campuses and leading the fight to protect our essential water resources for current and future generations.  Learn more
UN World Water Day
Water is the essential building block of life. But it is more than just essential to quench thirst or protect health; water is vital for creating jobs and supporting economic, social, and human development.
Visit the United Nations World Water Day website