You work on the Coral Gables campus,your office is moving or you simply need to buy a small order of office supply?
REUSE STORE at CORAL GABLES is your first stop.
1- You are moving out:
*When you place your moving work order, you will be reminded to place all the small office supply leftovers in a box and label it REUSE STORE.
It will be picked up and stored in our Gables One Tower basement storage.
*Contact greenu@miami.edu  to benefit from our FREE ReUse Store moving boxes.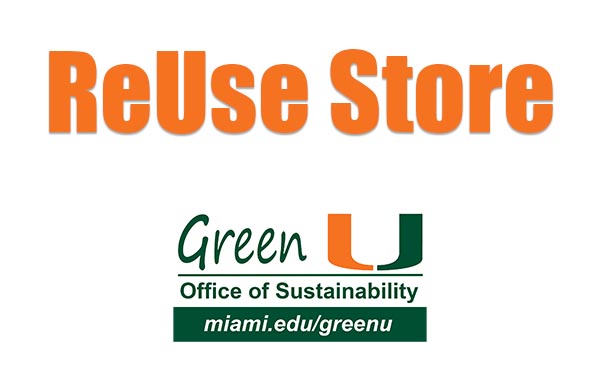 2- You are moving in:
*Flatten and pile up your empty moving boxes and contact greenu@miami.edu  for pick up.
*Check the items we have below, if you are interested, schedule a meeting with greenu@miami.edu to pick your items. IT IS FREE supply for UM offices!!
Items currently in inventory:
> Fewer than 20 items:
- Hole punchers, electric staplers, binders.
> Over 100 items:
- Clips, paper clips, binder clips, rubber bands
- Holders, file folders (legal and letter),
- File tab hanging folders, legal letter, envelopes, (11 x 17, 9.5 x 12.5) , paper (8.5 x 14, 11 x 17, letter)
> Unique items:
- Small Shredder
- Christmas Trees with their decorations !