In 2005, the University launched Green U, under the direction of Alan J Fish (The Vice President of Business Services at the time) in order to officially categorize and direct the numerous sustainability efforts of the University. Green U's first aim was to make UM: "a community leader in the acquisition of environmentally responsible products and the practice of ecologically sound maintenance and operations procedures."
In 2007, President Donna E. Shalala signed the American College and University Presidents Climate Commitment. This historical event sent a strong and unequivocal message about University of Miami's dedication to sustainability. As part of this commitment, a Climate Action Plan was designed in 2009 (download here). The University of Miami, since then, has taken steps towards carbon neutrality and has engaged in the path of Greenhouse Gas emissions reduction.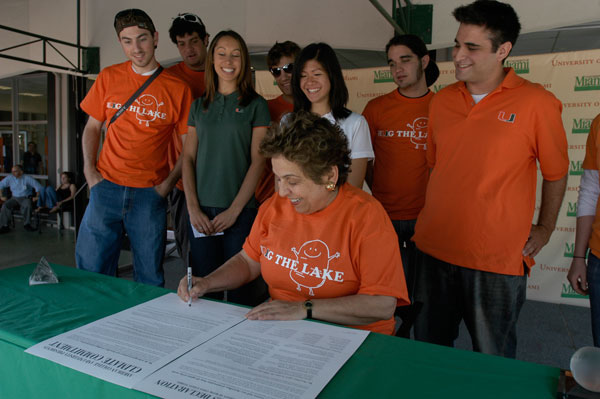 The 2nd Nature - American College and University Presidents' Climate Commitment (ACUPCC) is a project developed by the Association for the Advancement of Sustainability in Higher Education (AASHE), from which  the University of Miami is an active member. The commitment provides a framework and support for America's colleges and universities to become Carbon neutral. As a member of the elite Leadership Circle, President Shalala was one of the original signatories.
"The University of Miami is recognized for preparing students to be environmental thinkers and responsible citizens of the world… Now we are making a commitment to a sustainable future by broadening our approach to educating students on environmental sustainability and by fostering a culture of environmental awareness at the University." - President Shalala on her historic signing (April 18th, 2007)
Mission Statement of the Sustainability Committee at UM:
The main goals of the Green U program are coordinated through the Department of Facilities, Operations and Planning. This is currently an exciting time for Green U and the University of Miami as we make strives to reduce waste, energy, water consumption, and increase education for the community and beyond. Green U is a cultural movement at the University; each community member's participation is essential for success.  
The Sustainability Committee is composed of a panel of diverse stakeholders and community members of our campus. It strives to promote a culture of environmental awareness through the university community, making sustainability one of the core value of our institution; we want to engage our students, faculty, staff, alumni and community as whole in improving our ecological footprint. We want to diffuse sustainable practices that acknowledge the necessary balance between humans and their surrounding environment, and that minimize the impacts on our natural resources; At the U, we transform lives through teaching, research and service. The mission of this committee is to develop an operational model that guarantees this commitment to sustainability.
Since 2017, we have decided to use the Sustainability Tracking Assessment and Rating System as the most appropriate tool for this endeavor. The Sustainability Tracking, Assessment & Rating System™ (STARS) is a transparent, self-reporting framework for colleges and universities to measure their sustainability performance. UM is an active member of the Association for the Advancement of Sustainability in Higher Education.  In 2017, UM received a Silver rating on STARS for its achievments in sustainability performance. It allowed us to build a Sustainability Action Plan 2019 that will be reviewed every three years, after submitting our STARS application.