Are you a student resident at UM with a passion for the environment, or do you just want to have a positive impact on your peers and improve sustainability on your campus? 

 
Become a Green Committee member! 
Small groups of students passionate about the environment and willing to volunteer to help with event logistics, take on innovative projects and make their school, department, lab or office more sustainable. If you are interested, contact Stefanie Getz at srg128@miami.edu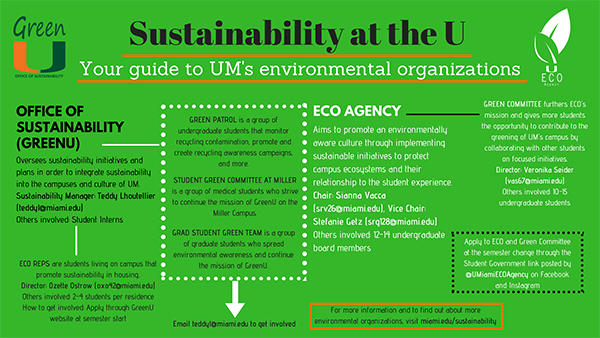 UThrift is UM's free on-campus thrift store that takes place
every Wednesday at the Farmer's Market!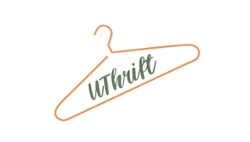 We are looking for individuals with a passion for sustainability and fashion to volunteer at the booth on Wednesdays and contribute to UThrift's development as a sustainable thrift store. Our mission is to divert perfectly good, clean, and pre-loved items from the waste-stream as much as possible and find them a loving home in our UM community! Instagram & Facebook: @umuthrift 
For more information contact Veronika Seider at vas67@miami.edu
Learn more
Green Grad Group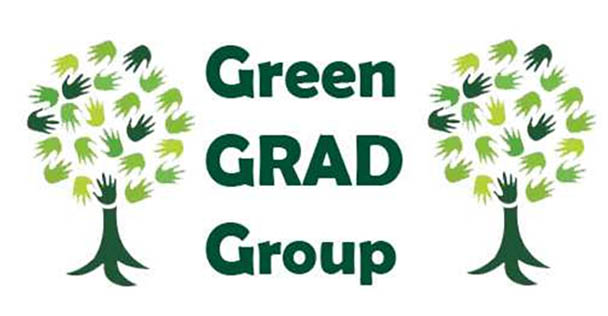 If you are a graduate student who cares about our environment, join the Green Grad Group. Help unfold the disposable plastic free campaign at the U! Contact Kenya Rothstein or greenu@miami.edu for more information.
Learn more.


Student Green Committee at Miller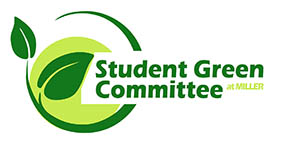 If you are student in the School of Medicine, join our Green Team! In collaboration with Student Government, our group of passionate students promote current programs like the Green Lab program and work on new initiatives. Learn more, visit our SGC at Miller page.

*****


For local food lovers and gardeners at UM:
Help get the word out about the UM CommUnity Garden Club new Food Garden project at the Arboretum in the Spring 2019! Contact Terri Hood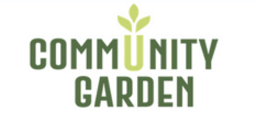 Visit CommUnity Garden on Facebook. Preliminary design from CommUnity Garden for the Food Garden at the Arboretum. Check out this video

Join the UMiami USGBC Students
U.S. Green Building Council Students is a group for all students who are interested in sustainable (green) building and urbanization. We are constantly working to create a greener campus, and raise awareness both on campus and in the community. Visit UMiami USGBC Students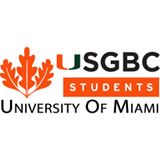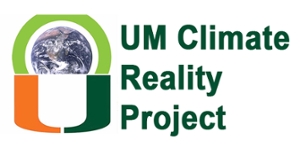 UM Climate Reality Project
We are 100% Committed to switching UM to 100% renewable
electricity by 2030.Visit our FB page; Learn more about us
***** 
To find more UM Student organizations that have an impact on sustainability progress on campus and in the community, contact greenu@miami.edu or visit Org Sync
UM Climate Reality Project
Miami Business School Sustainability Club

Environmental Law Society
UM Ecocinema Group
Grad Green Team
Alternative Breaks:

 

Student Activities and Student Organizations; Service/Social Action
U Cycle: Bike repairs, weekly rides, visit http://www.facebook.com/groups/umiamibikes/ 
Plant Based Canes: promoting the health, environmental, and ethical benefits of a plant based lifestyle. @PlantBasedUM 
U Cook- to learn cooking skills.

 

http://www.facebook.com/umcookingclub/ 
Ocean Awareness Week
Marine Mammals Rescue Team

___________________________________________________________________________________


The University of Miami has many Student Organizations with Environmentally related activities please see links below for more information. Contact other organizations on campus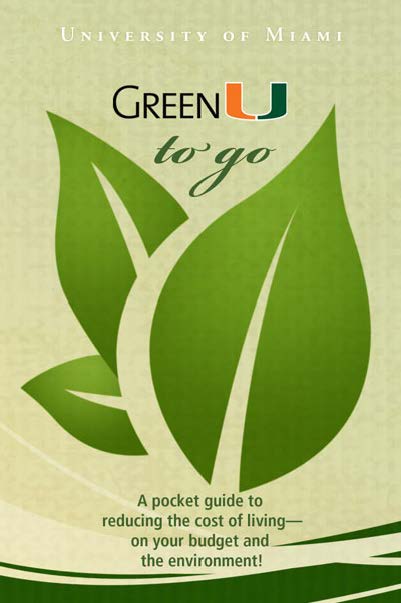 > Student Government Resolution
> Student Government


Here are Green tips for your daily life: Check our Green Living Brochure
********
 
Welcome to the "Sustainability at the U" module
Are you a freshman, transfer student or resident on campus?
Check out this video on all the great green features our beautiful campus has to offer and hear what President Frenk has to say about Sea Level Rise in our region.
In this module you will learn about renewable energy, water conservation, and proper recycling in Miami Dade.
After viewing the video, please take this short survey. It will help you learn how to play your part at keeping our campus eco-friendly. To inquire about all the things you can do to make your campus more sustainable, reach out to Green U, our Office of Sustainability.
If you want to get even more involved and leave a green legacy on campus, contact our Student Government ECO agency.
Thank you and keep it Green!
Green Grad Group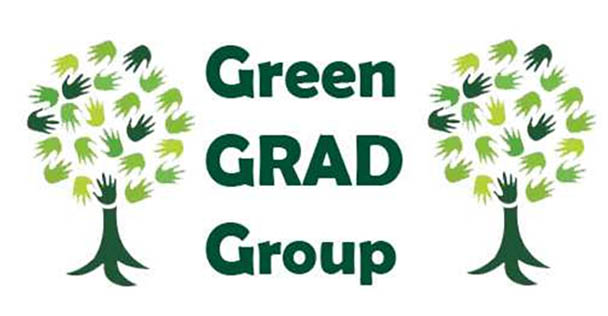 If you are a graduate student who cares about our environment, join the Green Grad Group. Help unfold the disposable plastic free campaign at the U! Contact Kenya Rothstein or greenu@miami.edu for more information.


Board memers:
Kenya Rothstein (GGG President)

J.D Candidate 2021

I started my environmental studies at UC Berkeley where I double majored in Society and the Environment & Legal Studies. During my undergraduate I assisted local communities in addressing their socioeconomic and environmental problems through an internship with the Sierra Club. Before attending law school I worked as a legal assistant at Fragomen Worldwide, a business immigration law firm. I chose to pursue my law degree to develop a skill-set to ensure future generations have clean air, water, and land. I am interested in pursuing a career at the intersection of environmental, business, and sustainable law.

 

Angela McGaugh (GGG Vice President)

1st Year MD/MPH Student.

I am first year MD/MPH student at the University of Miami Miller School of Medicine. I plan on obtaining my Masters in Public Health and a medical degree in internal medicine with specialization in infectious disease in order to pursue a career in infectious disease research and environmental policy. I aspire to advocate for environmental and public health issues by conducting research on the influence of climate change on vector-borne diseases to bolster campaigns for stricter environmental regulations regarding deforestation and air and water quality.

Kristen Ranges (GGG Secretary)

J.D. Candidate 2020 

I started my higher education at the University of Delaware, College of Earth, Ocean, and Environment where I majored in marine sciences with a concentration in biology and minored in pubic policy. After research-based experiences in the field of marine biology, I decided to turn my path away from marine science to conservation of the marine environment through policy and law. I  foster this interest through courses that involve environmental, coastal, and maritime law as well as through an ongoing externship with a local non-profit organization, Miami Waterkeeper.

Kelly Beck (GGG Treasurer)

J.D. Candidate 2021

My name is Kelly Beck and I attended the University of Illinois at Urbana-Champaign for undergrad where I studied political science and psychology. I am now pursuing a law degree to advocate for juveniles and domestic violence victims. I am currently working as a research intern at the law school conducting community focused research regarding discrimination and segregation in Coconut Grove. My hope with the GGG is to get more involved with bettering the community during my time here at Miami School of Law.

Adam Roberti 
is the Outreach Coordinator for the Office of Sustainability.  He graduated Cum Laude from the University of Miami with a BA in Ecosystem Science & Policy and Marine Affairs.  Adam is continuing his education as a graduate student at UM in the Environment, Culture, and Media MPS program, focusing primarily on improving environmental communication strategies. 

 "I believe that to promote conservation and close the widening gap between science and the public, strides in communication are imperative.  Everyone needs to understand the magnitude of the damage being done to our planet if we expect any substantial change to future policies."
****
March-April 2019 calendar of events with ECO:
3/6, 12 pm - 2 pm: Kale Yeah! in the Shalala Student Centere-2nd floor.  We will be giving out lunchboxes, tupperware, and pub subs for a sustainable lunchtime and educational event
3/19:  Lorax T - Shirt Giveaway at the UC Canopy - More information coming soon
3/21, 10 am to 1 pm: Ocean Awareness Week - ECO will give away metal straws to remind us to live disposable plastic free at the Hecht-Stanford Bridge.


3/28, 12 pm - 2 pm: Kale Yeah! Come get your free lunchbox and reusable tupperware. Live disposable plastic free at the U. Student Shalala Center 3rd fl


4/12, 2 - 4 pm: Pampering without Plastic! Make your own environmentally friendly body lotion, at the UC Canopy. 
Reusable utensil set giveaways


4/16, 6:30 pm: Teaching Kitchen: Zero Waste Edition, the Hecht-Stanford Dining Hall at the Eat. Learn more


4/22 - EARTH DAY EVENTS: 
11 am - 2 pm:
Earth Day Fair/Hug the Lake
on the UC lakeside Patio. ECO will table and invite everybody to pass by, learn  about the environment, sustainability and get a chance to wear our new T-Shirt.
Learn more
4:30 pm - 6:30 pm: ECO Rep at the U on the Rock Plaza; Learn about our green move out, conservation education, and creative sustainability - 
More information @UMiamiECOAgency
4/24, 5 pm: Arbor Day in the Giford Arboretum: Edible fruit tree tour, Concert, Tree Campus USA recognition, Concert by Frost School of Music band. Learn more


4/26, 6 pm: Baseball Green Game against Virginia Tech - Learn more
 For more information, contact ECO Board
*****