Eco Rep is a program of the Office of Sustainability, Housing and Residence Life, and the Student Government ECO Agency.

Know our ECO reps team
Recruitment:
Students will be selected after filling up an online application


2 ECO-Reps per building working in pair, reporting monthly to the Sustainability manager and the ECO Agency coordinator.
Once selected, candidates will go through a 1h training session
Incentives:
- VIP invitation to ECO's Green Banquet
- 1 ECO-Rep polo shirt
- Yearly Certificate of Completion from UM Office of Sustainability
USE our ECO guide to Sustainable Living at the U: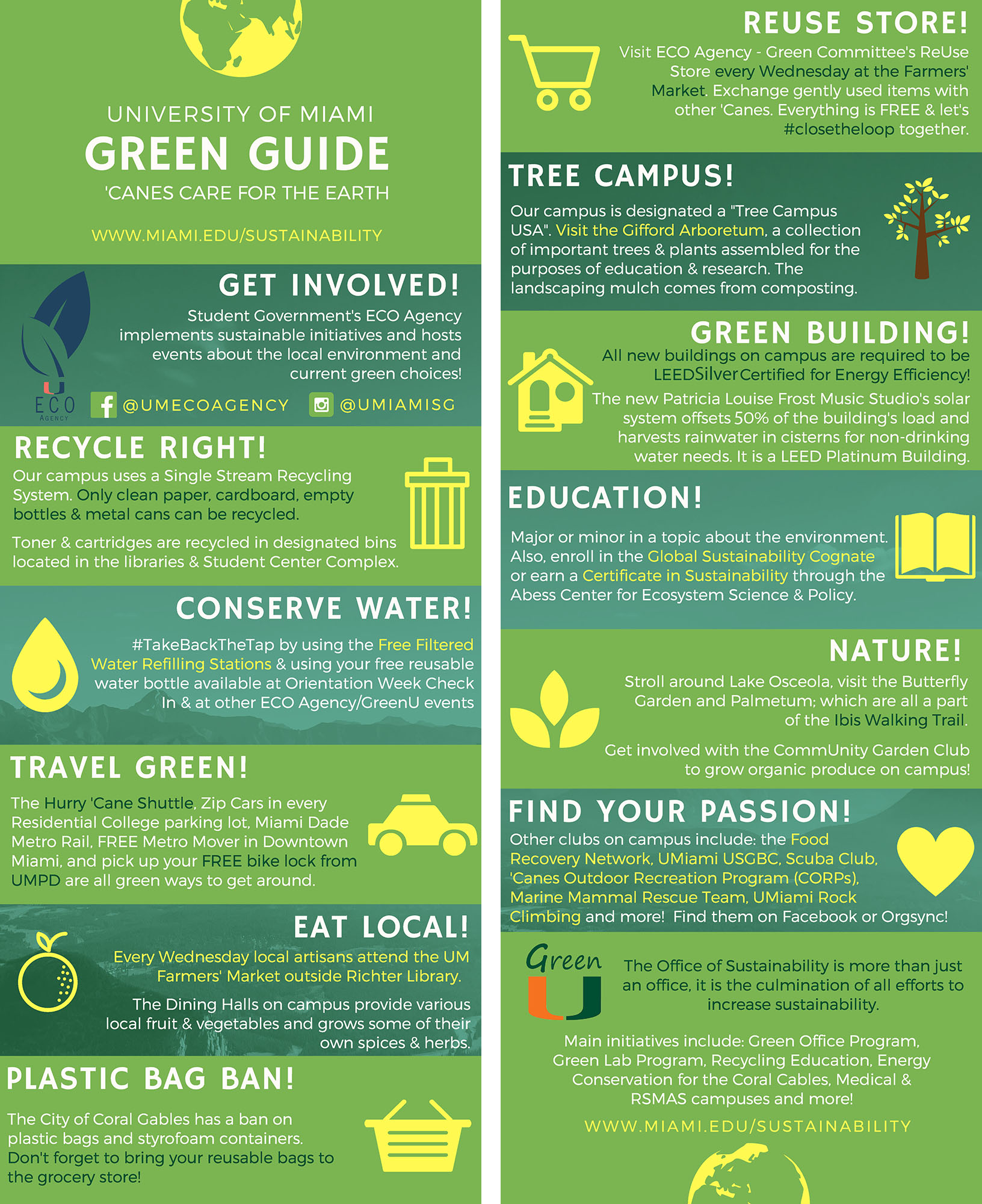 Job Description:
Eco-Reps are enthusiastic students with a passion for environmental stewardship. Any resident student is eligible.
The pair of ECO Reps assigned to each building NEED to be RESIDENT STUDENTS.


Eco-Reps educate the students in their halls on environmental issues like waste reduction, food integrity, green purchasing, water and energy conservation by planning activities, outreach campaigns and events.


Time commitment: 1-2 hours / week. Since most work is done independently, students can work any time that best suits their schedule — from early morning to the middle of the night!


Benefits:
> Leadership experience from your first semester at the U!
> You will work with multiple UM Departments and have a chance to network on campus.
> You will receive training in sustainability management
> As an individual, you will have a lasting impact on residence life at UM
> You will help build a sustainable future for your campus.
> You will be featured on our staff website and will get references for future employment.
> ECO rep is a very good way to build your resume, especially for those applying to an RA position
ECO Reps' responsibilities:
Regular schedule: 1-2 hours per week that can be worked at any time of the day or night (except for events, masterclasses and meetings). 


Bi-weekly email reports to Sustainability manager and ECO coordinator covering items we will go over during your training:

Recycling outreach
Water and energy conservation in HRL outreach
Audit of our recycling bins and other waste diversion programs
Audit of our water consumption
Reports on energy consumption
Personal interest outreach (chosen among the topics listed in the application form)



Each ECO-Rep team will be responsible for organizing 2 sustainable living workshops per year on the topic of their choice (examples given during training session)


Each ECO-Rep team will organize 2 Green events per year in their building with the help of the ECO Agency and the Office of Sustainability (1-hour event: Speaker, Movie screening, Green Café debate, coordinate tour of utilities with our Facilities Dpt> see below for examples)


Post Green Tips through HRL (screens, emails/newsletter) every month and promote ECO/Green U events


Coordinate the Green Move Out next Spring with HRL, the ECO Agency and the Office of Sustainability
Example of Green events:
- Invite Miami Dade Water and Sewer Department to talk about water conservation in the residences.
- Invite Wholefood or a local organic restaurant to talk about food integrity and bring samples.
- Work with Butler Center's liaisons for Volunteering opportunities
- Support On campus engagement with the Gifford Arboretum and student organizations like the CommUnity Garden Club.
- Organize tours of the Gifford Arboretum, or tours of a LEED Platinum building on campus.
Future Projects: Develop a Green Residential College program; Design a competition on either waste, water or energy (Recyclemania; Killawatt...)
Stefanie Getz - Student Government ECO Agency Coordinator for the ECO rep program
Stefanie is a junior majoring in environmental engineering and working toward a certificate in sustainability. This is her second year in ECO Agency and previously, she was on Green Committee. She is now the coordinator between ECO Agency and the ECO Rep program. She also is on the eboard for the Florida Water Environment Association, Club Swim Team, and is involved with SCUBA club. She hopes to work in sustainability management or environmental engineering after graduation. She is dedicated to living sustainably and helping and educating others to do the same.
srg128@miami.edu 
Madison Darish -  Walsh Tower
My name is Madison (Maddie) Darish and I from Troy, MI. As of now, I am an undecided STEM major. I wanted to be ECO rep because I strongly believe that our individual actions are pivotal in the movement to protect our ecosystems and environment in the upcoming future. I am most interested in educational outreach on lifestyle changes, such as the food we chose to eat, waste reduction, and green purchasing. I am very excited to work in our small dorm community and hope to see the positive effect this program will have!
mkd57@miami.edu  

Jorge Jaime-Rivera - Rosborough Tower


My name is Jorge Jaime-Rivera, I am from the suburbs of Chicago, Illinois. I am majoring in computer science with a minor in mathematics and ecosystem science.  I am hoping to be able to double major in ecosystem science. I decided to apply to be an ECO rep because I was very inspired after taking an environmental science class my senior year of high school. The teacher was very passionate and the class changed the way I think. I am now hoping to pursue a career in which I can improve the environment. My ideal future job would be to develop for an environmental firm, and keep pursuing the improvement and protection of the environment.
jmj147@miami.edu  

Olivia Wigon - Rosborough Tower


My name is Olivia Wigon and I am a double major in Marine Affairs and Human and Social Development on the Community and Program Development track. I am from just outside of Boston, Massachusetts. I wanted to be an ECO rep because I am very passionate about environmental conservation and want to be involved in bring awareness to the environmental impact that
the University of Miami has and ways to reduce that impact.
oew3@miami.edu
Alexandra Mills - Mc Donald Tower
Major: Psychology and Human Social Development; Hometown: Venice, FL; Why I'm an Eco Rep: I like spreading awareness about the environment to my fellow students and I want to make UM more eco-friendly.
axm2180@miami.edu 

Alexis Cambridge - Eaton Res. College


My name is Alexis Cambridge and I am a freshman from Slidell, Louisiana (outside of New Orleans). My major is Ecosystem Science and Policy on a Conservation Biology track. I have been a vegetarian for almost 9 years and I have recently began transitioning to zero-waste living! I decided to become an Eco-Rep to help make our campus as eco-friendly as possible and to help spread my own passion for environmental sustainability. I could not be more excited for the remainder of this year and to see what being an Eco-Rep will bring!
axc1753@miami.edu 

Benjamin (Ben) Coleman - Rosborough Tower
I'm from North Kingstown, RI. I am majoring in Neuroscience and Spanish, with minors in Chemistry and English. As an ECO rep, I hope to spread awareness of the various environmental issues plaguing our campus and the world today. I have noticed that many do care for the environment, but often feel their contribution doesn't do enough to help. I also hope instill that change begins with the individual and that everybody's contribution, no matter how small, DOES make a difference!
bwc26@miami.edu

Margaux De Onaindia - Mc Donald Tower
My name is Margaux De Onaindia and I am a freshman at UM from Boulder, Colorado and am majoring in Biochemistry and Human Nutrition on the Premed track. In my free time I enjoy being with my family, exercising, the outdoors, singing, baking, and being with kids! I wanted to be an ECO Rep because I am passionate about sustainability- specifically about sustainable food, and I see a huge potential for improvement in the "green-ness" of our freshman dorms. I look forward to working with my fellow freshman Canes to make UM even better!
med172@miami.edu 
Chidera O. Nwosu - University Village
My name is Chidera O. Nwosu and I am a junior from Palm Beach, FL. My primary concentration is Industrial Engineering. It is essential for collegiate students to understand that the ecosystem in which we live provides natural services for humans and all other species that are essential to our health, quality of life and survival. We must not allow it to perish. Therefore, I believe that it is important for individuals to recognize the importance of being aware of sustainability and green practices. 
Sabrina Ullman - Mc Donald Tower
Elizabeth Irving - Rosborough Tower
Anais Mamery - Rosborough Tower
Chuyan Wan  - Rosborough Tower
Saketh Yanamala -  McDonald Tower
Isabel Perez-Rios - University Village
Ozette Ostrow - University Village
Sara Li - Walsh Tower