Get rid of your desk trash can and get Green U certified in no time! You want to see more sustainable changes in your office?  Green U is here to help!

Get your office Green U Certified !
Step 1:
- Download the application, and the CHECKLIST
- Complete the checklist items: Double click hyperlinks for more information. Actions marked with a "P" are Pre-requisite and will need to be implemented for final certification.
- Review the documents, and have the application signed by your Office Director.
Step 2:
- Invite Green U for a 20 min presentation to your next Staff meeting. You can also take the Sustainability 101 webinar to get Professional Development credits.
- Review the checklist with your team. Once they signed the application, send it to Green U, and you can start the program!
Step 3:
- Implement the program by making sure you completed each item of the checklist.
- When you're ready, get your final score; the more points you apply to, the closer you get to Platinum certification!
- When you feel ready, contact the Green U office to schedule a final audit. There is no deadline, you go at your own pace! 
'Canes Central team rallies to adopt
sustainable office practices

While participating in the Green Office Certification Program, the co-workers united to incorporate changes. And they even earned platinum-level status, the first achieved by any group at the University. Learn more

Big kudos to the 'Canes Central team! They are now part of the Green Office certified community! They even reached Platinum by adding new ideas to our checklist, educational games on recycling in the kitchen, promotion of the Green U site on QRCodes at each desk, reusable tote bags and utensils for each employee...
Special thanks to their Green Liaison, Samantha Valea. 
Green teleworking
We all know that by teleworking we are offsetting our commute pollution. However, working from home has its own carbon footprint. Here are five tips to make your remote work life greener:

Minimize paper usage, or use Forest Stewardship Council (FSC) certified 30% recycled paper.

Choose a laptop rather than a PC, and set it to start sleep mode after 10 minutes or less of inactivity.

Use a smart strip to turn off all appliances at once, and visit your FPL Account Energy Manager for more tips.

Apply to FPL Solar Together to run on solar energy without installing panels.

Use the time you gained not commuting to take care of your health, the ones around you, and the planet. Spend more time planting in the garden, on your balcony, or cooking fresh food.

There are so many ways to conserve water too. SImply follow Miami Dade County recommendations. Learn more.
Kudos to UM Purchasing Department. They reached Gold in Spring 2020!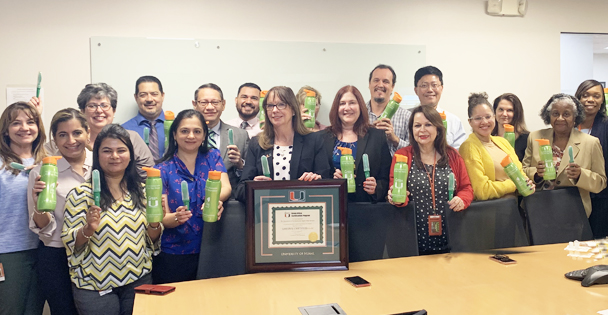 There are a lot of sustainable practices we can adopt in the workplace to become
better stewards of our environment. Facilities, Operations and Planning (FO&P)
decided to push the "green" envelope this Fall. The division is in the process of
being Gold certified through the Green Office program. They not only traded desk
trash cans for central waste stations, which promotes higher rates of recycling and
hygiene, they are also the first ones to include a coffee pouch recycling system in
their kitchens.
Through their most recent initiative, FO&P will offer each staff member a coffee
tumbler knowing that paper cups, once used, are not fit for our single stream
recycling system. The goal is simply to step away from disposable items and to
bring awareness about the benefits of reusing. Next time your department needs
to order kitchen supplies, try to compare years of disposable cups versus a
onetime purchase of reusable mugs, and you may be surprised by the benefits,
not only to the Planet, but also to your bottom line.
Live Disposable Plastic Free



Find Environmentally Preferred Products on U Market Place
Buy recycled office supply from Staples Sustainable Earth
Medical campus: SILVER for our Dpt of General Surgery Residency Training Program. Special Thanks to our Green champion, Maria Otero. Here are examples from Maria's office on how to apply simple green principles in your office: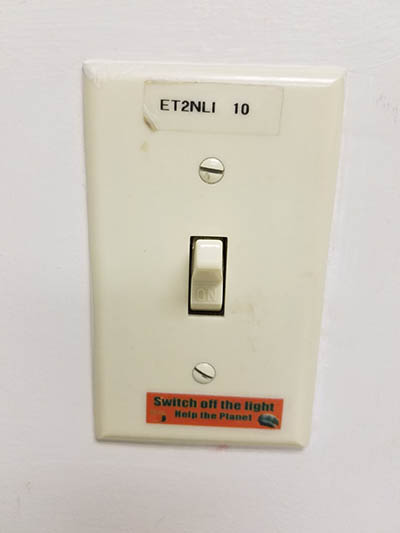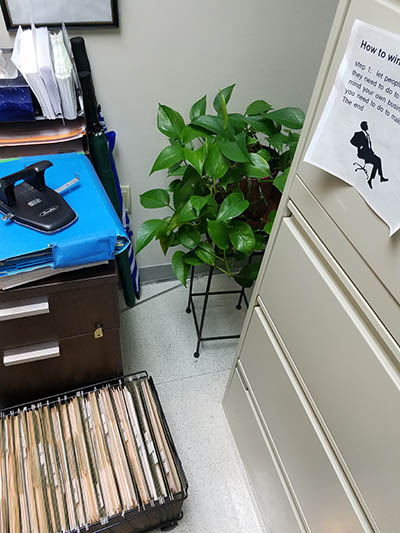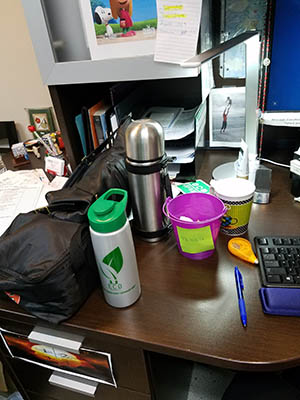 Reminders to turn off the lights / Plants improve air quality and wellness / Bring your lunch box, your coffee tumbler, your reusable water bottle, and a small trash bucket > we don't really need that big trask desk bin, most of what's in an office is recyclable! 
 HERE is an example of a very motivating email from a green leader to her team: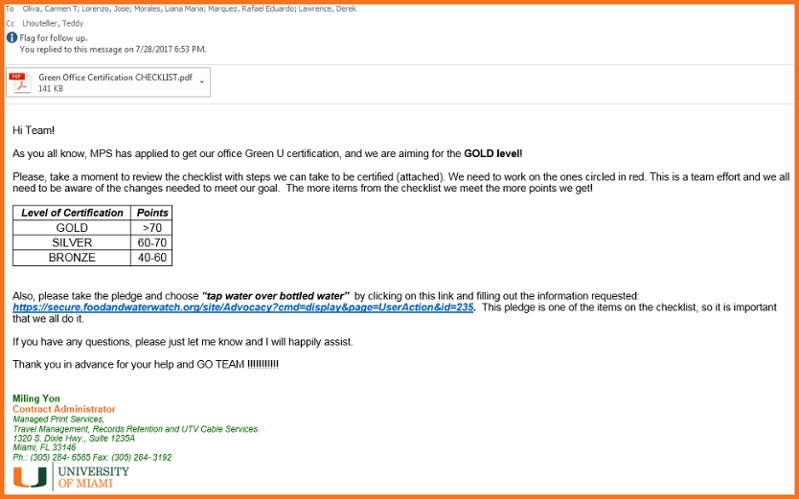 GREEN OFFICE PROGRAM INCENTIVES: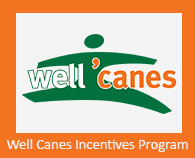 - Earn 50 points in the Well 'Canes Incentive Program. To qualify, office teams need
to sign up for the Green Office Certification Program and trade their desk trashcans
for communal trash bins.

As research shows, employees who keep only recycle bins at their workstations not only walk more, but significantly increase single-stream recycling in the workplace!



GREEN OFFICE TOOL KIT:
- Visit our Green Tips PAGE
- Download the Turn off the light stickers, print them on 5167 labels
- Download the Green Pledge stickers, print them on 5264 labels.
- Download our U Conserve Campaign poster > Print in color
- Download the "Set Double Sided B & W printing by default on your PC" document
- Download the "Take back the Tap" link
- Download the Carpool board document
 Green tips  -  Sustainable coffee