Sustainability Manager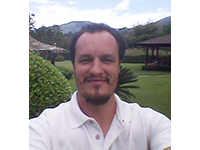 Teddy Lhoutellier is the current Sustainability Manager for the University of Miami. Renewable Energy, Sustainability and Environmental Science are his passion. He started at the U in 2014, implementing the University's first comprehensive Sustainability Action Plan, after receiving a Silver ranking through the Sustainabiilty Tracking and Assessment Rating System program. Today, the University of Miami is a STARS Gold University. The office of sustainability's team he manages help initiate, monitor, track, promote, and advertise sustainability initiatives across divisions, schools and campuses. Green U, as the office is commonly known, is spreading sustainable development values everyday among UM community members.
Teddy graduated Magna Cum Laude from Florida International University, holding a MS degree in Environmental Studies - Energy Policy. He also holds a LEED Green Associate and a Project Management Professional certificate. He worked for four years as an Environmental Science and Environmental Policy Instructor at Florida International University, and was the Outreach Coordinator for a Miami based Solar Panel Distributor. He's an active member of various environmental organizations in Miami Dade.

"Our main challenge as a local community is to adapt to the impacts of Climate Change. But we should also tackle the roots of the problem and try to become Carbon neutral as fast as we can. When we think about what needs to be done to stop the trend in Human induced Global Warming, we can adopt various attitudes, we can either keep on living our life, business as usual, hoping that "they" will fix the problem, OR we can start acting now, either by being a more active citizen, or by being a more conscious consumer. We have the power to change things. Join us to make a difference right here at UM for a better, greener campus !"
Contact Teddy at teddyl@miami.edu


| | |
| --- | --- |
| 2021 | Sustainability Data Analyst |
| | Joe Corcoran is the Sustainable Operations Coordinator for the Office of Sustainability. He is currently a graduate student at the Miami Herbert Business School pursuing a Master of Science in Sustainable Business. Prior to his time at the University of Miami, Joe received a bachelor's degree in Engineering Physics from Augustana College in Rock Island, Illinois, and worked in several engineering roles |
| 2019-21 | Outreach and Communication Coordinator  |
| | Kaitlyn Riopelle is the Community and Outreach Coordinator for the Office of Sustainability. She is currently a graduate student at the Environment, Culture and Media MA program at the Abess Center for Ecosystem Science and Policy. Prior to her time at the University of Miami, Kaitlyn served as the Public Programs/Visitor Services Coordinator at the Museum of the Grand Prairie in Champaign, Illinois, and received a BA in Art History from Oakland University in Rochester, Michigan. |
Green Athletics Intern 

2021 - Louis Hedley

Delivered one of best seasons ever by Miami punter…Named finalist for Ray Guy Award, honoring nation's top punter…Recognized with Associated Press second-team All-America honors…Earned second-team All-ACC recognition…Named ACC Specialist of the Week twice…Ranked No. 2 in FBS in regular season in punting (47.3 yards per punt)…Helped lead Miami to FBS-leading net punting average during regular season…

Lou is also a fervent steward of the environment, and adopter of a plant based diet.

Fall 2020 - Tonya Johnson
Tonyia is a senior majoring in Political Science & Sports Administration. She spends her free time painting and volunteering at a local elementary school. She is passionate about law, sports and sustainability and plans to study Sports and Environmental Law after finishing her undergraduate degree. Tonyia also enjoys gardening as she created an independent study course in the Sustainability Garden under Dr. Hood. While Tonyia will be graduating soon, she is determined to create a better relationship with UM Athletics and on-campus organizations to make the U more green/sustainable. 

Office of Sustainability Program Coordinator

Fall 2020
Katrina Cocson 
Kat is a junior majoring in Ecosystem Science & Policy and minoring in GIS and Conservation Biology. They love cooking and gardening. On their down time, they also advocate for LGBTQ+ issues with orgs on campus and works as the Events Coordinator for FIND, an organization spread throughout the East Coast working towards the empowerment of Filipinos. Interning at the garden has allowed them to learn a lot and better their mental health and they hope to make gardens accessible for everyone regardless of background and to start a garden of their own. Kat's long-term goals include protecting marine life and to go back one day to the Philippines to make conservation efforts whilst conducting research.