Sustainability Director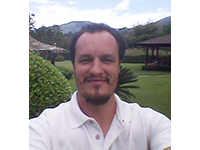 Teddy Lhoutellier is the current Sustainability Director for the University of Miami. Renewable Energy, Sustainability and Environmental Science are his passion. He started at the U in 2014, implementing the University's first comprehensive Sustainability Action Plan, after receiving a Silver ranking through the Sustainabiilty Tracking and Assessment Rating System program. Today, the University of Miami is a STARS Gold University. The office of sustainability's team he manages help initiate, monitor, track, promote, and advertise sustainability initiatives across divisions, schools and campuses. Green U, as the office is commonly known, is spreading sustainable development values everyday among UM community members.
Teddy graduated Magna Cum Laude from Florida International University, holding a MS degree in Environmental Studies - Energy Policy. He also holds a LEED Green Associate and a Project Management Professional certificate. He worked for four years as an Environmental Science and Environmental Policy Instructor at Florida International University, and was the Outreach Coordinator for a Miami based Solar Panel Distributor. He's an active member of various environmental organizations in Miami Dade.

"Our main challenge as a local community is to adapt to the impacts of Climate Change. But we should also tackle the roots of the problem and try to become Carbon neutral as fast as we can. When we think about what needs to be done to stop the trend in Human induced Global Warming, we can adopt various attitudes, we can either keep on living our life, business as usual, hoping that "they" will fix the problem, OR we can start acting now, either by being a more active citizen, or by being a more conscious consumer. We have the power to change things. Join us to make a difference right here at UM for a better, greener campus !"
Contact Teddy at teddyl@miami.edu
Sustainability Analyst

Carlie Laughlin is the University's Sustainability Analyst. A graduate of the University of Kentucky's Applied Environmental Sustainability Studies MA program, she began working for the U in Summer 2022. She helps maintain GreenU programs and tracks the University's consumption of vital resources. She previously worked as a Faculty Programming Coordinator for the University of Kentucky's Office of Sustainability for almost two years, managing their Sustainability Challenge Grant program and serving as a core member of the WholeSumKY team. She also holds LEED Green Associate and Sustainability Excellence Associate certifications.
Green Athletics Intern 

2023 - Mason Napper is a senior that is majoring in Sports Administration with a minor in Exercise Physiology. He plays football and His position is long snapper. He is the Green Athletic Liaison currently and is very passionate about keeping our beaches and oceans clean. His goal is to educate and inspire people to stop using single-use plastics.

2022 - Rodrigo Maza

My name is Rodrigo Maza, a freshman and sports administration major from Mexico City, Mexico. I am the current Sustainability Athletic Liason, passionate about helping the community and looking for solutions in a positive and sustainable way. I love sports, especially soccer, family, learning, and podcasting, I am looking to keep growing and developing, and after graduating pursuing a master's degree specifically in soccer in sports administration and one long-term goal is to have my own youth academies in underprivileged communities in Mexico in order to help kids and offer opportunities through soccer.

Office of Sustainability Program Coordinator

My name is Henry Fisher, I am a sophomore here at the University of Miami studying marketing in the Herbert Business School. I am from Los Angeles, California, and the current University's Campus Sustainability Coordinator. I am an avid soccer player, rock climber, and skater. I have always grown up conscientious about the environment and I wanted to instill my passion into the University of Miami's culture. I am here to lead passionate students to make our beautiful campus as green as can be. I strive achieve this by focusing on the little things people usually look over which have a large effect on our planet's fragile ecosystem. I direct, supervise, and participate in sustainability audits on all the buildings around campus. Once I obtain the data from these audits, I brainstorm ways to maximize sustainability where opportunity appears.  

Sustainability Garden and Compost Coordinator

Lauren Baltazar - 2023

Lauren Baltazar is a freshman majoring in Ecosystem Science and Policy on the Pre-Law track. She has previously engaged in sustainability through both urban forestry and citizens philanthropy, and is passionate about environmental justice policy implementation and sustainable development. She aspires to inspire more people to understand the importance of access to healthy food, not wasting food, and how handling organic scraps responsibly is the best, most regenerative practice that we can all participate in. Lauren has an affinity for the outdoors & loves dancing, photography and learning about different cultures through travel, food, and music.

 

Outreach and Communication Coordinator 

2022

Nicholas Edwards-Martin is a Motion Pictures student in the general track and the current communication coordinator. He began working as communication coordinator as of Fall 2022. He finds video editing, video games, and weightlifting as his hobbies. As communication coordinator he hopes to make a difference in bringing a wider audience to Green U through video