Know our team of Interns and Volunteers


Sustainability Manager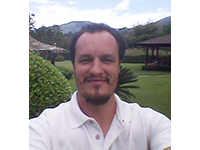 Teddy Lhoutellier is the current Sustainability Manager for the University of Miami. Teddy graduated Magna Cum Laude from Florida International University, holding a MS degree in Environmental Studies - Energy Policy. 

Renewable Energy, Sustainability and Environmental Science are his passion. He's a solar advocate, and a big supporter of Distributed photo-voltaic systems and smart grids. As an Environmental Science and Environmental Policy Instructor at Florida International University, he has been a constant partner of the Go Green Team. He encouraged his students to work in coordination with the Office on different green projects. He spent 4 years as an Outreach Coordinator for a Miami based Solar Panels Distributor. He built an International Training program that aimed at promoting Photo-voltaic distributed systems among Electrical Engineering students. Through his career as an instructor, he has always pushed his students to get involved and participate in Community projects. He's an active member of many environmental organizations in Miami Dade, and try to help volunteering with his 2 daughters every time he can.

Our main challenge as a local community is to adapt to the impacts of Climate Change. But we should also tackle the root of the problem and try to become Carbon neutral as fast as we can. When we think about what needs to be done to stop the trend in Human induced Global Warming, we can adopt various attitudes, we can either keep on living our life, business as usual, hoping that "they" will fix the problem, OR we can start acting now, either by being a more active citizen, or by being a more conscious consumer. We have the power to change things. Join us to make a difference right here at UM for a better, greener campus !"
Contact Teddy at teddyl@miami.edu


Office of Sustainability Outreach and Communication Coordinator 
2019-20

Aishwarya Navale

I am a Visual & Interaction Designer with an objective to create extraordinary interactive experiences in digital applications by leveraging my ability to work in a fast-paced environment with creativity, speed, and accuracy along with my coursework and handson
development experience.

Currently, I am pursuing my master's in Interactive Media design from the University of Miami, Florida. The courses that I am learning are Prototyping, Human-Computer Interaction, Augmented Reality, Virtual Reality, Data Visualization and User ExperienceResearch.

2018-19

Adam Roberti is the Outreach Coordinator for the Office of Sustainability.  He graduated Cum Laude from the University of Miami with a BA in Ecosystem Science & Policy and Marine Affairs.  Adam is continuing his education as a graduate student at UM in the Environment, Culture, and Media MPS program, focusing primarily on improving environmental communication strategies. 

 "I believe that to promote conservation and close the widening gap between science and the public, strides in communication are imperative.  Everyone needs to understand the magnitude of the damage being done to our planet if we expect any substantial change to future policies."
Interns

Green Athletics Intern 

Wyatt Kopelman 2019

Wyatt Kopelman is the Green Athletics Coordinator for the Office of Sustainability. He is a Sport Administration major as a freshman here at the University of Miami with a strong passion for both sustainability and sports. He is dedicated to educating the UM Athletics fanbase about the growing awareness for sustainability in collegiate athletics and continues to strive to form a stronger bridge between the Office of Sustainability and the UM Athletics Department.

Paula Da Silva

Paula is a current junior studying Biochemistry. Her work in the Office of Sustainability includes updating the Green Events Checklist and serving as a Compost Manager in the Sustainability Garden. She aspires to contribute to bioconservation and environmental justice one day. 

Federal Work Study - 2016-18

Taryn Dennie

Taryn is an Ecosystem Science and Policy major, active board member of the ECO Agency. She has been working on our new Green Office certification program, our Recycling Education Outreach program and event planning for the Fall of 2016.

"Until two years ago, I had never even heard of "sustainability". I probably could have given you a simple dictionary definition, but I had no idea what it meant as a concept or lifestyle. When I took AP Environmental Science my senior year of high school, it changed my life in every way. To me sustainability is living your life only taking what you need, and leaving the rest for others and other generations.  Being able to contribute further to the sustainability of this campus is a dream position for me"

Intern - Spring 2018

Mingya Xu
Mingya is a senior and majoring in Public Health. She has a huge passion to make the world a better place for the next generation by providing them an eco-friendly environment. She has a strong public health background. She is passionate about building a bridge between public health and sustainability. When she did her exchange program in Japan, she gained  knowledge about waste minimization and recycling.   

Kendall Cromartie
Kendall is a senior from San Diego, California majoring in Ecosystems Science & Policy and minoring in Creative Writing. She has a passion for sustainability and for preserving the earth's natural spaces, and is interning with Green U in order to help to create a more sustainable environment on our campus. Her interests include hiking, global environmental issues, and film. 

Intern - Fall 2017

Alexander Briel - Renewable Energy projects
Born: Springfield, Virginia; Current Home: Silver Spring, Maryland; Major: 5 yr B.S./M.S. in Architectural Engineering

Passion: integrating renewable energy into urban design, Improving resilience of energy infrastructure

Why Sustainability: Sustainability (economic, social and environmental) are all crucial components of resilience

Lorenzo Martino - Energy conservation projects
Born: Italy, Torino. Double major in Ecosystem Science and Policy and Economics, Minoring in Entrepreneurship.

A professional and dynamic college student very interested in developing and increasing sustainable ideas, with a strong desire to become an entrepreneur in this field. Wishing to acknowledge the people on the importance of preserving and conserving our planet and its resources.

Intern - Spring 2017
Nick Berman - Energy conservation projects
Jeremy Penn
Jeremy is a senior majoring in Ecosystem Science and Policy, Physics, and Geography. She grew up hiking outdoors with her family and vividly remembers her first trip to the Everglades. Jeremy has served on the ECO Green Committee of Student Government since her freshman year. Her current responsibilities include working on the STARS credits review project, establishing a Reuse Store for students, and working on the 'Map the Arboretum' Project.

Intern - Fall 2016
Elizabeth Tran
Elizabeth is an Ecosystem Science and Policy major, member of the Green Committee. She has been involved in the planning of many Green events, among them Earth Week and Recyclemania.
Fall 2016, she has been working on the STARS data collection process and building a team of data collectors for the Real Food Challenge.



Volunteers - Green Patrols
2017

Courtney Sparger
Courtney has been heading the Coffee ground for Plants program for the Fall 2016.
Courtney Sparger is a senior majoring in neuroscience with hope of attending medical school. She loves spending time outdoors whether at the beach, snorkeling or hiking in the mountains. She is a member of the Green committee of ECO because she is committed to conserving the environment and educating others about the need for conservation. She loves helping with the Coffee Grounds project and hopes that it will continue growing in the future!

Maxwell Wray
Maxwell is a freshman Neuroscience major from Bel Air Maryland whose views on environmental awareness were forever changed after taking AP environmental science. He is passionate about preserving the environment and currently performs small tasks for Green U.

Kimberly Overton
Kim is currently a sophomore majoring in Biomedical Engineering. She is focused on making a positive impact on the environment through small changes on campus, such as being involved with the Toner Recycling Program.