Learn about UM Dining Sustainability initiatives
Visit UM DINING SUSTAINABILITY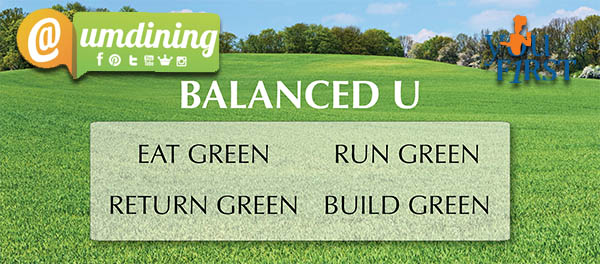 Healthy Organic, Local, Ethical, Seasonal, Fulfilling Food at UM…
Learn more about our Dining Hall's menu sustainability efforts, click here


Every Wednesday from 9 am to 2 pm in the Walkway from UC to Richter Library
Come visit and buy from vendors selling fresh fruit and vegetables, kettle corn, cheeses, and MORE!
To apply to be a vendor at the Farmer's Market please contact The Market Company via email at claire@themarketcompany.com
NOW AVAILABLE on the Medical Campus: Every thursday in front of the Calder Library


BE A FLEXITARIAN !
Vegetarian and Vegan options on campus, here
A flexitarian is someone who actively incorporates meatless meals into his/her diet but isn't necessarily a vegetarian. Our new "Be a Flexitarian" initiative takes steps toward providing healthy meals to our customers while building sustainable communities by offering meat-free meals for meat lovers and vegetarians alike. By making a slight change in our diets and simply eating one meat-free meal a week, we can make an impact on both our health and the environment. How easy is that!  Look for the Flexitarian signage in both resident dining facilities and the Hurricane Food Court!
MEDICAL CAMPUS
Our 3 hospitals on the Medical campus are serving meals that follow some important sustainability principles:
- Use of local farmers and fair trade practices as much as possible
- Reduce the use of antibiotics in chicken, turkey and pork
- Commit to healthier oceans with sustainable seafood purchasing policies
- Support sustainable agriculture and healthy rural economies
- Promote farm animal welfare with the use of cage-free shell eggs, the elimination of artificial rBGH from milk and yogurt products, and the phase-out of gestation crates for sows.
If you want to learn more about those practices, visit our partner's website
*********

Nutrition Week 2015 - March 30 to April 3
presented by UM Student Health Services, P&A. Herbert Wellness Center, UM Dining, with the participation of Green U
Solar Power Smoothie on the Rock on Thursday 12 pm to 2 pm.
Full Schedule: Learn More