The Coral Gables campus has sustained a growth trend over the past 5 fiscal of 6.8% totaling approximately 350,000 gross square feet. This sustained growth has resulted in both major and minor renovations to existing facilities, demolition of aged facilities and the addition of new building construction. This steady and sustainable growth is planned to continue well into the future based on the Campus Master Plan Projections, the addition of 198,349 GSF, an increase of 3.6% of GSF for FY-14

HISTORY OF ENERGY CONSERVATION
The Coral Gables campus is a very dynamic and expanding landscape. The infrastructure and the facilities are constantly changing and growing to meet the needs of the students, Faculty, Staff and Visitors of the University. Energy costs are a substantial portion of the operating budget, requiring careful and constant scrutiny. Energy Conservation practices, efficient equipment operation and maintenance has been a part of the Facilities Operating Plan for well over 18 years.

ELECTRICITY CONSUMPTION
For the purpose of the Baseline comparisons FY-09 has been established to be our base year. From FY09 to FY13, the campus consumed 362 Million Kilo Watt Hours (Mkwh). This represents an annual average consumption of 72 Mkwh per year or an annual decrease of approximately 5.2% in yearly consumption as compared to our base year FY09.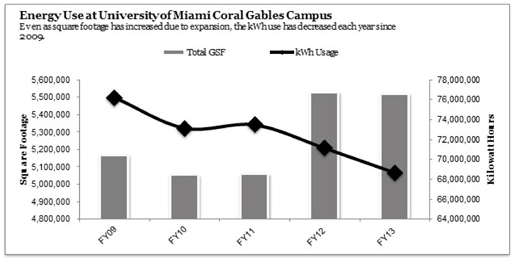 FY13 represents our most successful Electricity energy savings over this term. The Total consumption for FY13 was 68 Mkwh representing a 9% consumption savings as compared to FY09.
Electrical Conservation Actions (Past & Current):
The majority of quick payback energy saving actions has been accomplished. Going forward additional savings will be attained through careful monitoring and analysis of building systems and utilities consumption data, resulting in modifications and adjustments of existing building systems to maintain and improve energy consumption efficiencies.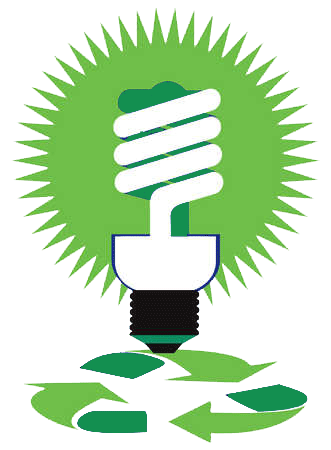 Electrical consumption reduction has been the main focus over the past 5 years. Significant energy conservation improvements and activities during this period have included:
- Construction of new LEED Buildings.
- Improved management of our Utility Plants CHW loop control strategies and set points to reduce the cost of Chilled Water production.
- Refrigerants upgrades to improve our chilled water loop system performance.
- Interior Lighting retrofit from T12 to T8 lamps with electronic ballast.
- Exterior LED and CFL lighting retrofits reducing wattage.
- Occupancy sensors in all buildings.
- BACnet EMS installation.
- Utility Plants upgrade of chiller to High performance energy efficient units to address additional load.
- High Efficiency Motor replacements.
- Campus wide efficiency setback of thermostats during campus break.
- Establishment of a campus Wide Set point of 74 Deg (+/- 1.5)
- On-going routine and preventive maintenance of building mechanical systems equipment to maximize their efficiency.
- Energy Audits: FPL in 2011 found the campus to be advanced in energy saving activities and improvements.

FUTURE ELECTRICITY CONSERVATION ACTIONS:
- Continue load shifting to off peak hours.
- Continue including lighting retrofits, EMS and multi-zone Variable-Air-Volume HVAC systems, Variable Frequency Drives on Air Handler Units and pumps on major and minor building remodel projects as appropriate.
- Continue Interior lighting retrofits as equipments fail.
- Continue installing occupancy and daylight harvesting sensors where applicable.
- Continue installing converting exterior lighting from timers to photocell.
- Continue High Efficiency Motor replacements as motors fail.
- Continue EMS retrofits during major remodels.
- Consolidate off period activities into selected energy efficient buildings so less efficient buildings can be set to unoccupied status.
- Expand "Energy Saving Awareness Campaigns"
****


This Summer break, Green U and Facilities Management are inviting all faculty and staff to support UM's Energy Conservation Initiative.
With your support, the University can substantially reduce its carbon footprint. Prior to leaving on break, please take the following energy-saving measures:
• Turn off all lights, PCs, Office equipment and Electronics. This includes equipment chargers, copy machines and all other personal electronics.
• For Personal and office refrigerators: clean out contents, defrost and unplug prior to the break period.
• Review all offices, classrooms, labs, gyms, locker rooms, media centers, restrooms, cafeterias, kitchens and break rooms, and report to Facilities Customer Service for temperature adjustment.
• Shut the fume hood sash in labs.
• Ensure all exterior doors and windows are properly closed.
• Submit any requests for facility-related repairs on items that may impact energy usage to Facilities Management.
If your department has any continuity-of-service needs, and you are not sure exactly what to do, PLEASE CALL Facilities Management at 305-284-8282./ Medical: 305-243-6375