SUMMER 2018 U CONSERVE RESULTS

Thanks to those buildings for being part of the top 12 who have reached their 5% energy consumption target:

- Weeks Music Library
& Tech Center
- Dooly Memorial
Building
- Meyer Law
Administration (C)
- Campo Sano
- Wolfson Building
- Hecht Athletic Center
- Pick Hall
- Meyer Law Library (D)
- Ferre Building
- Merrick Building
- Lowe Art Museum
- Pentland House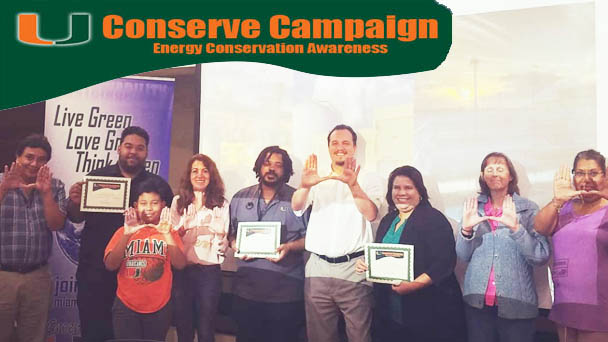 Congrats to Merrick, Dooly Memorial and the other 10 buildings who reached their U Conserve Energy target this summer. Special thanks to FPL, Lucid Energy Dashboards and MDC Water and Sewer Dpt for supporting this campaign.


Here are our Survey winners:
Dacia Antonette Simpson - Classroom Management
Alicia Corral - Planning and Development
Daniel Medina - MBS Faculty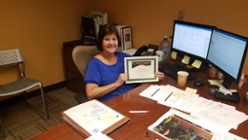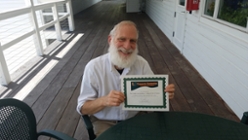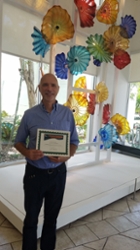 Law Complex, Campo Sano, Lowe Museum and more... 
*****
Building and facility Energy use is a major contributor to green house gas emissions, as the more energy is required the more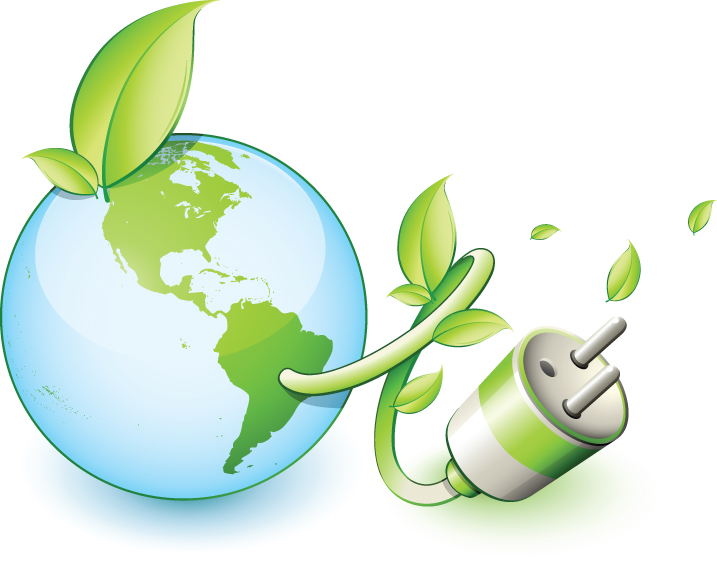 work a plant must provide to supply that energy. As a result the University of Miami is constantly looking for ways to reduce energy requirements. Please click on the links for each campus to get more information. 

MEDICAL - visit Green U Health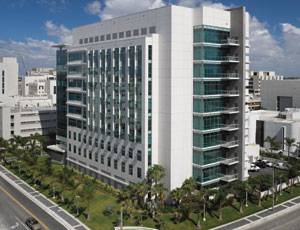 The following is a list of energy conservation initiatives and best practices implemented by the Energy Management department.

CHILLER PLANTS
HVAC is a major component of the total energy expenditure in a building, Campus Facilities are heavily reliant on the utilization of air conditioning and humidity control systems.  Chiller plants are major systems that produce refrigerated chilled water needed to deliver air conditioning to commercial/ institutional buildings.  Our Chiller Plant initiatives include:
■ Expansion plan to increase central chilled water plant production to eliminate inefficient standalone equipment.
■ Migration and expansion of campus wide Energy Management Systems (EMS).
■ A robust preventive maintenance (PM) program ensures the equipment operates optimally and extends its useful life.
■ Curtailable electrical rate in exchange for the ability to shut down utility plant equipment during periods of peak demand.
■ Monitoring of equipment run times to adjust to the academic calendar needs. 
■ Modification of operational schedules to reduce equipment run-times (ex: cleaning schedules).
■ Coordination with the Office of the Registrar to complete shutdown of select buildings.
■ Ongoing benchmarking and programs to perform test and balance to ensure equipment optimization meet building demands.
■ Monthly energy reporting to monitor building occupant energy consumption.
BUILDING MECHANICAL SYSTEMS
Building mechanical systems consist of equipment needed to distribute chilled water to air conditioning equipment, and in turn distribute conditioned air to the occupied spaces within the building.  Our Building Mechanical Systems initiatives include:
■ Use of Energy Management Systems (EMS) to monitor and adjust equipment run times to satisfy building needs.
■ Implementation of efficiently engineered mechanical systems such as Variable Air Volume (VAV) systems.
■ Installation of Variable Frequency Drives (VFD) in air conditioning and pump motors.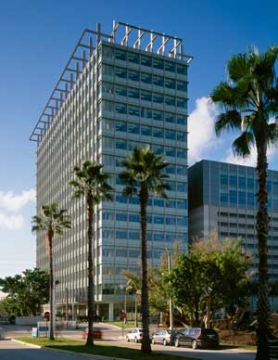 ■ Installation of energy recovery systems that use return air energy from the occupied
space to assist in conditioning incoming fresh air.
■ Implementation of a robust preventive maintenance program to ensure equipment optimization and extend useful life.
■ Standardization of room temperatures throughout all campus buildings

LIGHTING SYSTEMS
Interior lighting is a major component of the total energy expenditure in a building
and is heavily reliant on the utilization of automated lighting systems and controls. The Interior lighting retrofit initiative / program objective is campus-wide for buildings and facilities in the standards, design of lighting and implementation of energy efficient
lighting technologies.  Our Lighting Systems initiatives include:
■ Installation of occupancy sensors in restrooms, common areas, hallways, offices, and classrooms.
■ Elimination of all T-12 fluorescent lamps and magnetic ballasts and conversion to T-8 fluorescent lamps with electronic ballasts.
■ Elimination of incandescent lamp uses and purchases on campus.
■ Program to install Light Emitting Dioxides (LED) lamps and compact fluorescent (CFL) lamps for improved energy savings and lighting quality.
■ Implement daylight harvesting where applicable.
■ Relamping program to consistently upgrade/update to latest lamp technology.
■ Continuous research of innovative lighting system technologies.
Exterior Lighting is a major component of the total energy expenditure on campus.  The department is committed to an exterior lighting retrofit program with the most energy efficient lighting technology while keeping campus grounds secured for all students, employees, and visitors.  Our Exterior Lighting initiatives includes:
■ Installation of LEDs and CFLs in pedestrian walkways (Ashe, Cox Plaza, Alumni Building parking lot).
■ Retrofitting of over 20 exterior areas of campus from halogen lamps to LEDs and CFLs.
■ Retrofitting of all campus parking garages to compact fluorescent lamps (CFLs).
■ Installation of 2 standalone solar lamp systems.
Recent Lighting retrofits have resulted in an instant wattage reduction exceeding over 100,000 kWh and significant reduction rates are expected through our ongoing retrofit programs.
Building Electrical Loads
Building electrical loads ("plug loads") comprises of office equipment, refrigeration, computers, residence halls, appliances, and other loads that plug into an electrical receptacle.  Our initiatives in this area include:
■ Installation of power monitoring devices, including campus vending machines that shut down after a period of inactivity.
■ Implementation of a purchasing policy mandating the acquisitions of Energy Star appliances/ equipment.
Water Systems
The Energy department has implemented aggressive standards, practices and technologies to optimize the campus's water use and further promote the University's water conservation efforts.  Our Water initiatives in this area include:
■ Replacement of all student resident halls and apartments shower heads to low flow models.
■ Installation of timer setting controls on the campus irrigation systems.
■ Ongoing aggressive leak detection program to prevent excessive water consumption.
■ Ongoing replacement program of urinals and toilets to low flow models.
■ Ongoing conversion of campus irrigation systems to well water in lieu of domestic water usage.
Building Envelope
Included continuously surveys and inspection of the structural systems of all campus buildings in order to identify needed improvements to prevent energy consumption.  Our Building Envelope initiatives in this area include:
■ Implementation of an aggressive roof inspection program.
■ Installation of window tinting with energy saving film. 
■ Building inspection program to identify and repair areas to reduce energy consumption.
Fleet Management
Real Estate and Facilities Management understands the environmental impact of fossil fuels and the contribution of gas powered vehicles utilized on campus.  The department is committed to the reduction of the campus emissions footprint contributed by its service vehicle fleet.  Our Fleet initiatives include:
■  Implementation of an "anti-idling" policy for the department's service fleet.
■  Replacement program of inefficient gas powered vehicles to electrical powered utility vehicles.
■  Reduction program of high fuel consuming utility vehicles from the department's service fleet.
■  Monthly monitoring of fuel consumption to identify opportunities to reduce fuel consumption.
*****
The Coral Gables campus has sustained a growth trend over the past 5 fiscal of 6.8% totaling approximately 350,000 gross square feet. This sustained growth has resulted in both major and minor renovations to existing facilities, demolition of aged facilities and the addition of new building construction. This steady and sustainable growth is planned to continue well into the future based on the Campus Master Plan Projections, the addition of 198,349 GSF, an increase of 3.6% of GSF for FY-14

HISTORY OF ENERGY CONSERVATION
The Coral Gables campus is a very dynamic and expanding landscape. The infrastructure and the facilities are constantly changing and growing to meet the needs of the students, Faculty, Staff and Visitors of the University. Energy costs are a substantial portion of the operating budget, requiring careful and constant scrutiny. Energy Conservation practices, efficient equipment operation and maintenance has been a part of the Facilities Operating Plan for well over 18 years.

ELECTRICITY CONSUMPTION
For the purpose of the Baseline comparisons FY-09 has been established to be our base year. From FY09 to FY13, the campus consumed 362 Million Kilo Watt Hours (Mkwh). This represents an annual average consumption of 72 Mkwh per year or an annual decrease of approximately 5.2% in yearly consumption as compared to our base year FY09.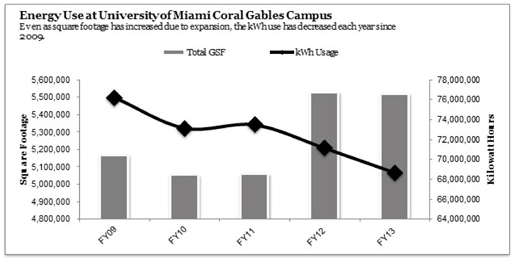 FY13 represents our most successful Electricity energy savings over this term. The Total consumption for FY13 was 68 Mkwh representing a 9% consumption savings as compared to FY09.
Electrical Conservation Actions (Past & Current):
The majority of quick payback energy saving actions has been accomplished. Going forward additional savings will be attained through careful monitoring and analysis of building systems and utilities consumption data, resulting in modifications and adjustments of existing building systems to maintain and improve energy consumption efficiencies.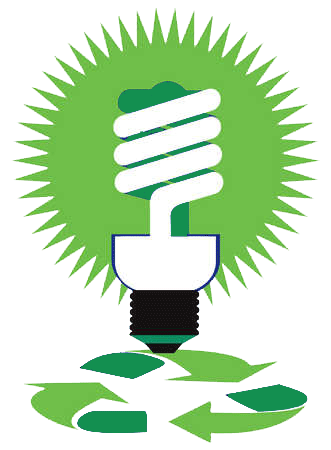 Electrical consumption reduction has been the main focus over the past 5 years. Significant energy conservation improvements and activities during this period have included:
- Construction of new LEED Buildings.
- Improved management of our Utility Plants CHW loop control strategies and set points to reduce the cost of Chilled Water production.
- Refrigerants upgrades to improve our chilled water loop system performance.
- Interior Lighting retrofit from T12 to T8 lamps with electronic ballast.
- Exterior LED and CFL lighting retrofits reducing wattage.
- Occupancy sensors in all buildings.
- BACnet EMS installation.
- Utility Plants upgrade of chiller to High performance energy efficient units to address additional load.
- High Efficiency Motor replacements.
- Campus wide efficiency setback of thermostats during campus break.
- Establishment of a campus Wide Set point of 74 Deg (+/- 1.5)
- On-going routine and preventive maintenance of building mechanical systems equipment to maximize their efficiency.
- Energy Audits: FPL in 2011 found the campus to be advanced in energy saving activities and improvements.

FUTURE ELECTRICITY CONSERVATION ACTIONS:
- Continue load shifting to off peak hours.
- Continue including lighting retrofits, EMS and multi-zone Variable-Air-Volume HVAC systems, Variable Frequency Drives on Air Handler Units and pumps on major and minor building remodel projects as appropriate.
- Continue Interior lighting retrofits as equipments fail.
- Continue installing occupancy and daylight harvesting sensors where applicable.
- Continue installing converting exterior lighting from timers to photocell.
- Continue High Efficiency Motor replacements as motors fail.
- Continue EMS retrofits during major remodels.
- Consolidate off period activities into selected energy efficient buildings so less efficient buildings can be set to unoccupied status.
- Expand "Energy Saving Awareness Campaigns"
U CONSERVE 2016
The last
results of the 2016 survey
 helped us
prioritize our energy conservation efforts and save even more energy. UM has invested heavily in Green buildings in the past 10 years, buildings that are reducing our total energy consumption despite a growing campus. Our goal at Green U is for the University to lower its Carbon footprint even more, because we all know that the more energy we use, the more impact we have on the climate. We may sometimes feel powerless, even though we are really concerned by the health of our community and our planet as a whole. The good news is that there are many things that we can do in the workplace to improve the situation and reach that goal.