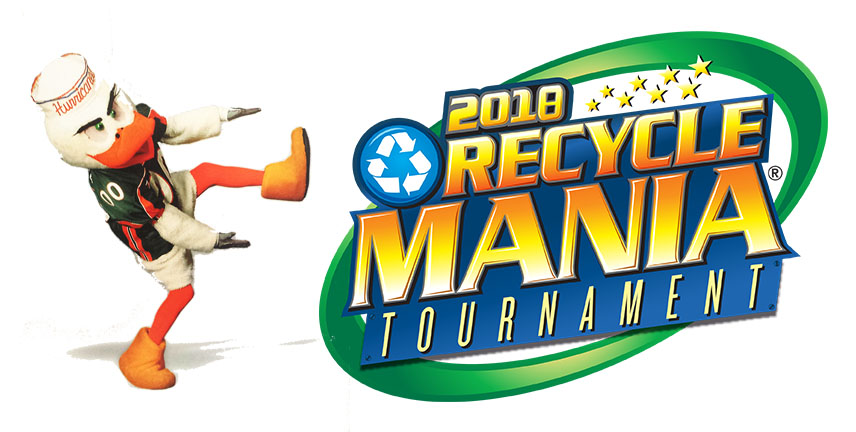 RECYCLEMANIA 2018 Kick Off  -----  TAKE our RECYCLING SURVEY

Thursday Feb. 22nd from 11am to 2 pm - Lakeside Patio Canopy
You're wondering what kind of plastics are recyclable in Miami Dade County? you want to learn more about waste minimization, and single stream recycling? Pass by the Lakeside patio canopy to play our recycling games, win prizes and taste delicious crepes.
WHEN?  From mid-February to March 2018
HOW DOES IT WORK? Every week, we will announce our ranking of Per Capita recycling among other  Florida universities on the Green U Facebook page
HOW CAN I GET INVOLVED?  Recycle a lot during those 2 months and visit miami.edu/recycle for updates 
> If you live on campus, go see our ECO Rep teams in the lobbies to recycle and win prizes. You're interested in helping? Become an ECO Rep, join the team, apply now!
Remember: if non-recyclable items are placed in the blue bin, the entire thing is considered soiled and will be thrown in the trash!  During RecycleMania, signage thoroughly explaining what can and cannot be recycled will be displayed on the screens in all freshman dorms throughout. Check this great flyer: DEBUNKING the RECYCLING MYTHS at the U. 

> If you are part of a Fraternity or a Sorority, help us recycle and make Greek Life parties "Green Event" certified. Contact Talula Thibault at tbt18@miami.edu
WHO PARTICIPATES? Florida State University / Florida International University / Florida Gulf Coast University / Nova Southeastern University / University of South Florida / The University of West Florida
... and remember to RECYCLE OFTEN and RECYCLE RIGHT!   Learn more
****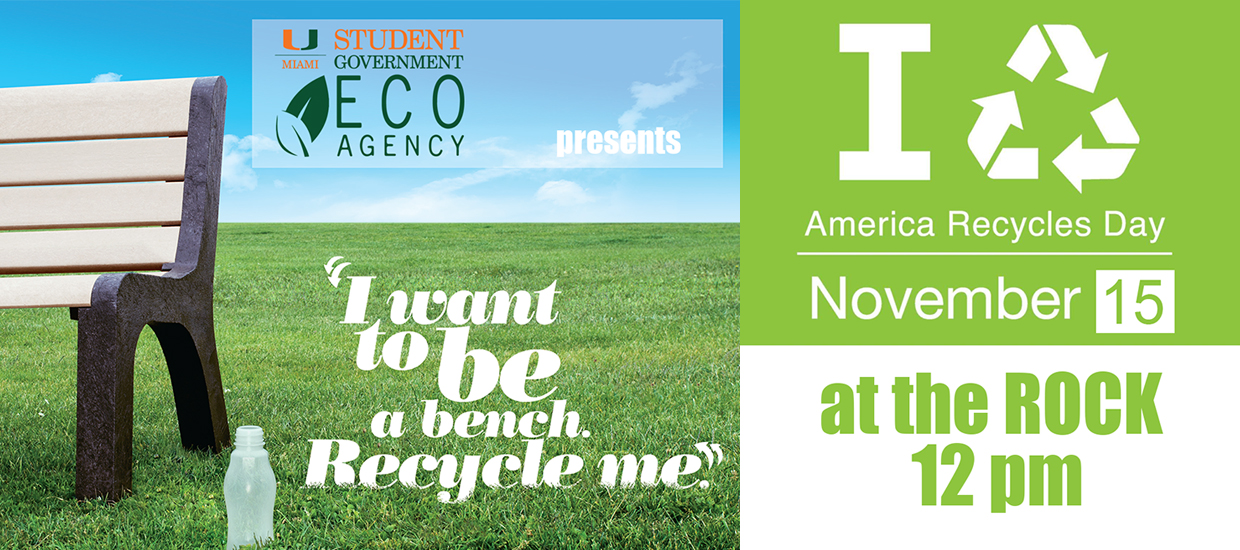 Event sponsored and organized by the Student Government ECO Agency 
at the UC Rock Plaza on November 15 from 12PM-2PM.
Students will learn about Single Stream Recycling and what can't be recycled in Miami-Dade County. 
Ben & Jerry's will be present as well giving out FREE ICE CREAM to all students who attend! 
America Recycles Day, a program of Keep America Beautiful, is a nationally recognized day dedicated to promoting and celebrating recycling in the United States. Please, take the Pledge here.
****
Reducing the generation of waste also reduces the flow of waste to incinerators and landfills, which produce greenhouse gas emissions, can contaminate air and groundwater supplies, and tend to have disproportionate negative impacts on low-income communities. Source reduction and waste diversion also save institutions costly landfill and hauling service fees. In addition, waste reduction campaigns can engage the entire campus community in contributing to a tangible sustainability.
Waste Diversion Rate - Coral Gables
Waste diversion is the prevention and reduction of generated waste through source reduction, recycling, reuse, or composting. Waste diversion generates a host of environmental, financial, and social benefits, including conserving energy, reducing disposal costs, and reducing the burden on landfills and other waste disposal methods.