Personal Devices
The UM Bookstore is now offering Electronic Waste recycling services for all students, staff and faculty.
If your laptop or electronic equipment is not eligible for the Trade It In program featured in the store, make sure it will be recycled safely thanks to the "e scrap" program!  Ask our associates to help you properly dispose of your electronic device - Bookstore hours.
Trade it In
Turn to e books and use your buyback funds to get a new laptop or a new tablet. Visit the UM Bookstore Done with your PERSONAL old APPLE device? Trade it in!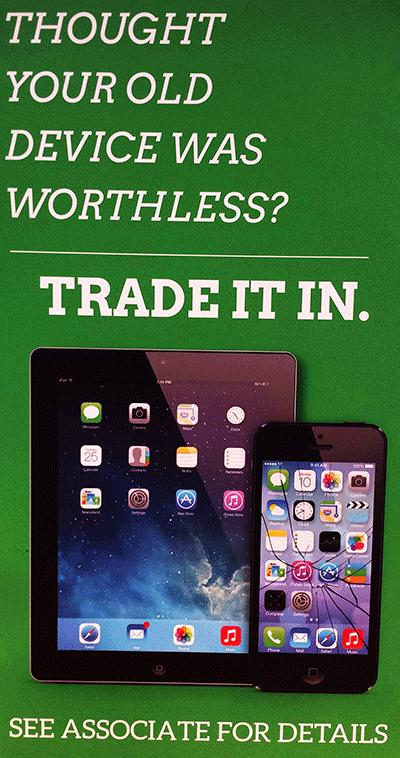 Yep, the U Tech Source will take that old technology off your hands. Simply bring in your device or visit shopUofMiami.com to receive a trade-in quote for your device. The device doesn't even need to work! You'll receive your trade-in value on a UM Bookstore gift card, so you can use it toward the
 purchase of a new device or anything in the bookstore. Best of all, your trade-in will be recycled to help the environment!
You want a quote now? visit miami.tradeitin.net
UM Media

How to Dispose of Media: 
In order to properly destroy data from media devices such as laptops, workstations, and/or desktop computers, please complete the Equipment Transfers/Surplus form and email the completed form to: surplusproperty@med.miami.edu. Once the request is processed, a UMIT representative will schedule a visit at your location within five to seven business days to pick up the media device(s) that will be destroyed.

In addition, each of the following campus drop-off locations will accept easily portable media devices such as hard drives, USB thumb drives, tablets, magnetic tapes, floppy disks, and/or mobile phones for media disposal:
Coral Gables campus: Ungar Building, Room 114, open Monday-Friday, 1-5 p.m.

Medical campus: Don Soffer Clinical Research Center, Room 107, open Monday-Friday, 12:30-4:30 p.m.

RSMAS campus: Marine Science Center Building, Room 227, open Monday-Friday, 8:30 a.m.-5 p.m.
*Please note: Workstations and/or desktop computers will not be accepted at the drop-off locations. Only easily portable computers such as laptops and tablets will be accepted at the drop-off locations.
For best practices on how to dispose of enterprise equipment such as servers, please email the UMIT Service Desk at: itsupportcenter@miami.edu 
For more information about media disposal, including FAQs, please visit the media disposal service webpage. If you have any questions or concerns, contact the UMIT Service Desk at: (305) 284-6565 or itsupportcenter@miami.edu.