NEW OFFICE PAPER RECYCLING on the Coral Gables campus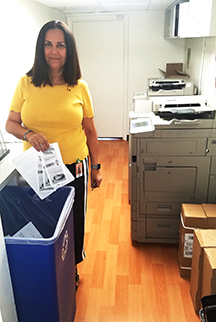 You 've heard about US recycling contamination challenges. UM wants to be at the fore front of better, cleaner recycling practices in our region. You can post this new signage in your copier area.With your help, we can get there!
Take your clean office paper periodically to the bin located in your copier area, either the tall blue bin or the grey rolling cart.


Keep on recycling your empty cans, bottles, lightweight cardboard and newspapers in your kitchen/lounge/hallway tall blue recycling bins, but NOT in the copier area, nor in the grey rolling carts! And don't forget to flatten your cardboard boxes before dropping them next to the recycling bins.  
With paper comprising up to 40% of the municipal solid waste stream, paper recycling is an obvious and easy way to reduce waste in the workplace. By recycling paper and using recycled paper, trees are spared - every ton of paper made from recycled fiber saves approximately 17 trees. 

Recycling Office Paper separately from the Single Stream Recycling makes also good business sense. When customer are able to provide clean office paper, a rare commodity in the current contaminated world of single stream recycling, recycling companies are often ready to provide rebates, decreasing the over whole cost of hauling. The Coral Gables campus diverts 41% of its waste from landfills, including vegetative waste, electronic waste and donations. Single Stream Recycling accounts for 9% of it, but could increase that number by getting less contaminated recyclables. Getting non-contaminated recyclables is hard when everything is mixed together. That is why, with our hauling partner, the university decided to collect office paper separately.   
*****

University of Miami to Receive Recycling Bins  through Coca-Cola/Keep America Beautiful Public Space Recycling Grant Program
Latest Public Space Recycling Bin Grant Cycle Awards 3,250 Recycling Bins through 2017 Bringing Total Recycling Bins Donated to 1 Million. 
UM received 20 bins that will be deployed for outdoor events when additional recycling containers are needed. The model is specially designed for events where most of the recyclables are cans and bottles, they come with a restrictive opening that will help us control recycling contamination.
The Coca-Cola Company, with the help of national nonprofit Keep America Beautiful and many other partners in communities across the country, reached a milestone this year. The Company and its partners achieved the 1 million mark for recycling bins donated to communities.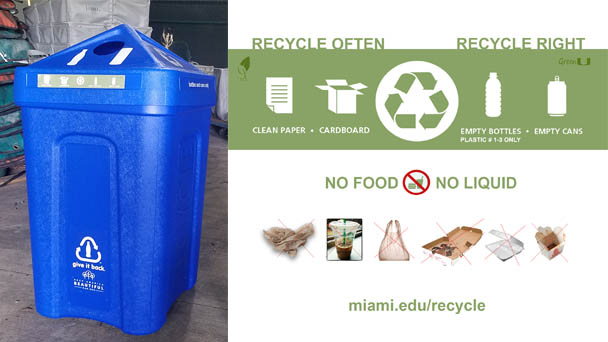 "Coca-Cola has a long history of supporting community recycling programs in an effort to ensure that our packaging is recycled and reused," said Bruce Karas, vice president of sustainability, Coca-Cola North America. "Through partnerships like Keep America Beautiful, we are able to improve access to recycling while also continuing to make progress towards our global goal of collecting and recycling a bottle or can for every one we sell."
*****

Download and print this sign if you need signage in your office, your lab, your dorm... and remember: 
NO FOOD - NO LIQUIDS - NO PLASTIC BAGS  in the Recycling bins.

For any Heavy Recycling, Clean Out or Move out, Please place a Work order at 305-284-8282 (Coral Gables/RSMAS) or 305-243-6375 (Medical)




Add this footer (Here is how) to your emails to promote good recycling practices:

Our outdoor recycling bins made out of reclaimed milk jugs are now spread along
Coral Gables campus' Green Pathways.
The lumbers are made primarily from post-consumer material, milk jugs. Each pound of Max·R Lumber™ is
made up of 8 – 10 milk jugs. As the purest grade of recycled plastic, the lumbers used for those new bins
can be recycled again extending the product life-cycle. 
WM Single Stream recycling diversion rate Oct 2018: