Local Food Panel
Locally Grown: Food Advocacy and Sustainability in South Florida
Michele Benesch, Slow Food Miami
Michele Baker Benesch is a Miami native with a passion to helping our community stay true to its roots while becoming a mecca power city. She graduated from Palmer Preparatory High School, then earned her undergraduate degree from University of Miami with a BA in Business Marketing. After working in corporate marketing for ten years, Michele opened a division of her family's company, Menu Men, in New York City.  Upon returning to Miami to assume the leadership role with Menu Men, Michele realized the lack of awareness for fresh local produce and products in the community she cherished. She immediately became a member of Slow Food Miami and supported the movement through attending events. Five years ago Michele wanted to help make a difference and joined the Board of Directors as the Farm to Table Director. She created the Hidden Kitchens fundraising program as well as initiated The Snail of Approval Program here in Miami. Three years ago Michele accepted the Presidency and has been passionate about helping Slow Food Miami grow and make a difference in our community through all of their amazing outreach programs. Michele also sits on the Miami Children's Hospital Wine, Women and Shoes Committee; the Big Brothers, Big Sisters gala committee; and is the Beaux Arts Miami organization. ?
Allyce Perret-Gentil, Wellness in the Schools
Allyce Perret-Gentil was born and raised in Miami, Florida. She graduated from Westminster Christian School and from there received her Bachelors of Science in Nursing from Florida Gulf Coast University. After having difficulty finding a hospital nursing job, Allyce was offered to teach a High School Health class. Her spark for education grew, especially in health education. It became a goal of hers to encourage children and teens to eat vegetables and take care of themselves. She worked for five years as the school nurse at St. Philip's Episcopal School in Coral Gables. She started a Board of Health at her school, with the help of some parents, and their goal was to introduce fresh and local snacks to the children at their school on a daily basis. Allyce always tells children in her classes, "Some of us may choose careers that involve more math than history or more English than science. Yet being educated on how to take care of ourselves affects everybody". Although Allyce loved her position at St. Philip's, she was offered a very exciting position to help start the non-profit organization Wellness in the Schools down here in South Florida. Allyce is now the Program Director for Wellness in the Schools, South Florida. Wellness in the Schools teaches kids healthy habits to learn and live better.
Art Friedrich, Urban Oasis Project
 Art Friedrich is a dedicated food activist on many fronts. Art believes food unites us across all cultures and backgrounds and preserves our health and heritage. He sees his passion for healthy food as a spiritual matter as well as a basic human right and need. He builds coalitions with diverse groups that show dedication to improving our health landscape.  Urban Oasis Project has supported the local food movement for 9 years, and has operated Farmers Markets that double SNAP dollars, a Fruit & Veggie Prescription program, built over 100 home gardens and much more.
Asha Loring, Health in the Hood
Asha Walker is the Executive Director and founder of Health in the Hood, a non-profit organization that builds vegetable gardens in underserved communities. Health in the Hood urban gardens serve as living classrooms where children and families enjoy free, healthy foods and nutrition & fitness workshops. Asha Walker is the Executive Director and founder of Health in the Hood, a non-profit organization that builds vegetable gardens in underserved communities. Health in the Hood urban gardens serve as living classrooms where children and families enjoy free, healthy foods and nutrition & fitness workshops. Asha believes that growing vegetables for families in food deserts creates connections to food choices and makes healthy eating attainable and exciting.  She hopes that by building community gardens and providing health education in low-income neighborhoods, Health in the Hood is putting children on the path to healthy futures, preventing disease, giving parents helpful information and creating environments that support healthy choices.
Taryn Dennie, UM's Food Recovery Network Chapter
Taryn is an Ecosystem Science and Policy major, active board member of the ECO Agency. She has been working on our new Green Office certification program, our Recycling Education Outreach program and event planning for the Fall of 2016. "Until two years ago, I had never even heard of "sustainability". I probably could have given you a simple dictionary definition, but I had no idea what it meant as a concept or lifestyle. When I took AP Environmental Science my senior year of high school, it changed my life in every way. To me sustainability is living your life only taking what you need, and leaving the rest for others and other generations. Margaret Mead once said, "Never doubt that a small group of thoughtful, committed citizens can change the world. Indeed, it is the only thing that ever has." While this quote is very well known, it's what I base my life on. I have seen it come to fruition through the small group of passionate teachers who led me down this path to the work that I get to participate in on ECO. Being able to contribute further to the sustainability of this campus is a dream position for me"
Drigo Richardson, Drigo the Alchemist
Drigo Richardson is a Miami based health-supportive Culinary Alchemist. He is a natural foods chef, cooking class instructor, and wellness consultant specializing in raw food, vegan, vegetarian & plant based cuisine. Drigo grew up around griots who told stories with their food. He comes from a family of restaurateurs, cooks, dubbers, bubblahs, and rubbas. Generations of history from several Caribbean islands are encoded in his DNA, so the saga of heritage speaks through his food. The term "Culinary Alchemist"™ refers to a person who uses organic ingredients creatively and carefully transforms them into nutritious and healing dishes. Keeping in mind flavor profiles, the consumers' optimal health and using the freshest, local, sustainable produce into amazing dishes. Drigo is known to prepare diverse traditional dishes into healthy vegan options for those with dietary constraints that miss that good home cooking. He is knowledgeable of most dietary requirements including but not limited to: Vegan, Hypertension, High Cholesterol, Diabetic, and Gluten free.
*****
Food Day 2017
October 24, 6 pm - "The World That Food Made"by
Award winning writer and Food Security expert, RAJ PATEL

Free Admission - Shoma Hall, School of Communication (room 3053 - Communication International Building - map)
Reception with food and refreshments from 6 pm to 6.30pm  - Please RSVP now
Raj Pa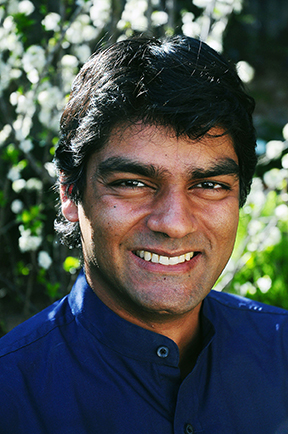 tel is an award-winning writer, activist and academic. He is a Research Professor in the Lyndon B Johnson School of Public Affairs at the University of Texas, Austin and a Senior Research Associate at the Unit for the Humanities at the university currently known as Rhodes University (UHURU), South Africa.

He is also a Food and Community Fellow at the Institute for Agriculture and Trade Policy. He has testified about the causes of the global food crisis to the US House Financial Services Committee and is an Advisor to the United Nations Special Rapporteur on the Right to Food. In addition to numerous scholarly publications in economics, philosophy, politics and public health journals, he regularly writes for newspapers all over the country. His first book, Stuffed and Starved: The Hidden Battle for the World Food System (2007), suggests steps to regain control of the global food economy, stop the exploitation of farmers and consumers, and rebalance global sustenance.

His latest, The Value of Nothing (2010), explores the corporate capture of government and our current financial crisis and argues that the larger failure beneath the food, climate and economic crises is a political one. He is currently working on a documentary about the global food system with award-winning director Steve James.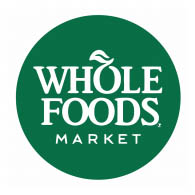 Full bio

Please RSVP now                                            Buffet sponsored by 
******
 Cooking Master class VIDEO by the Wellness Center: Learn how to cook delicious and easy to make recipes and taste some samples right on the spot
Recipes: Set 1  -  Set 2
***********
2016 Event:
MONDAY, OCTOBER 24 - Free Admission
- 11 AM - 2 PM FAIR FOOD FAIR  in the UC Lower Lounge (map)      
      Come enjoy a free local dish, a Moringa drink, learn about healthy eating, local farming, community gardens, and get involved with the UM Real Food network!
- 1 PM - "Tropical Fruit Crush" Panoramic Picture - in front of the U Statue - Participate in a national social media effort to raise awareness about eating better diets and expanding access to fresh fruit and vegetables. Come eat a FREE local fruit!
STUDENT SPONSORS: Green Committee / ECO Agency, CommUnity Garden,
- 6 PM to 8 PM - KEYNOTE SPEAKER in the Shoma Hall, room 3053 - Communication International Building (map) 
"Healthy bodies, healthy minds: inspiring wellness for the next generation"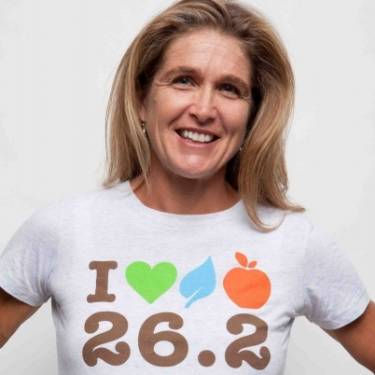 NANCY EASTON, Executive Director and Co-Founder of Wellness in the Schools (WITS), will discuss the childhood obesity epidemic and how her organization is leading the healthy food and fitness movement for kids in public schools across the nation.
More than a decade ago, Nancy founded WITS in a New York City classroom. Under her leadership, WITS now reaches 50,000 students in 100 schools nationwide. In the 2016/2017 school year, WITS started bringing wellness to kids in four South Florida schools.
Before founding WITS, Nancy spent 15 years as a teacher, mentor, and school leader at the New York City Department of Education. She is a regular commentator and speaker on school food and child wellness and has been recognized for her leadership from First Lady Michelle Obama, chef-food activist Jamie Oliver,  Ann Cooper, the "Renegade Lunch Lady," and Manhattan Borough President Gale Brewer.
Bio - Wellness in the Schools
  
The Keynote Speaker event is sponsored by UM Department of Public Health Sciences 

Panel Leading to Food Day- Oct 18 at 7.30 pm:
"World Food Day 2016: Climate is changing. Food and agriculture must too"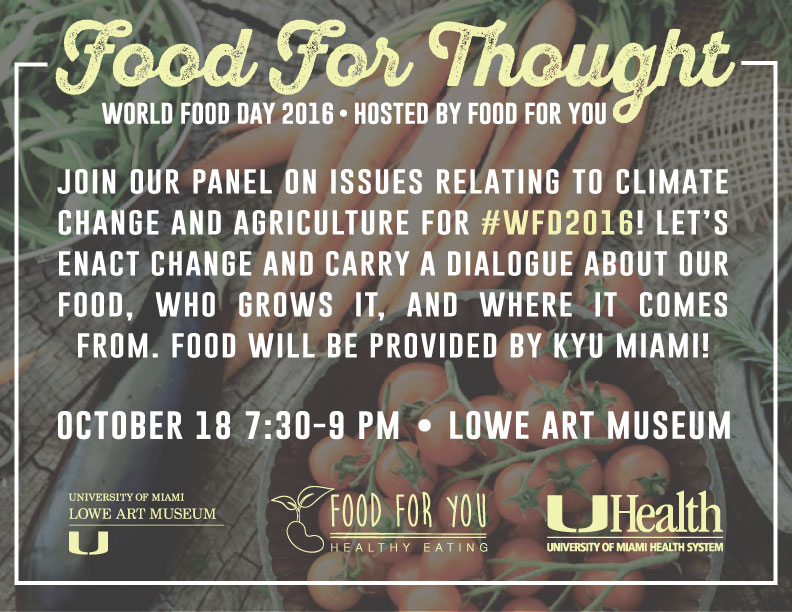 Climate change is affecting the health of our planet and changing our world. It is causing more natural disasters and environmental problems, which make it harder for us to grow food. Growing food is part of the problem too, as we have been taking shortcuts and harming our planet, with the aim of producing what we need. In order to feed a growing population set to reach 9.6 billion by the year 2050, we will have to learn to grow what we need in a sustainable way - a way that doesn't continue to destroy our planet.
Panelists: Dr. Linda Parker; Dr. Andrew Porter; Dr. Thomas Harris