SCHEDULE:
- 10 am - 11.30 am: Green Fair - Net Zero Energy Concert with Frost School of Music
- 12.05 pm - 12.20 pm: HUG THE LAKE
- 12.30 pm - 2 pm: Food vendors
GREEN FAIR List of themes and vendors
Waste Diversion(Waste Management);  Water (Coca Cola Sustainability);  Green Building (USGBC); Renewable Energy (Solar Smoothie); Alternative Transportation (UM Bike; Nissan Leaf); Wellbeing (Wellness Center; U Cook); Nature Outdoors (Miami Dade ECO Adventures)
Sustainable Food: Organic Ice cream, Herbert Wellness Center, Solar Smoothies with UM Student Health!
UM Student organizations: USGBC Student Chapter; CommUnity Garden Club; Environmental Law Society; Green Committee; Plant Based Canes; Food recovery Network; Climate Reality Project; U Cook.


HUG THE LAKE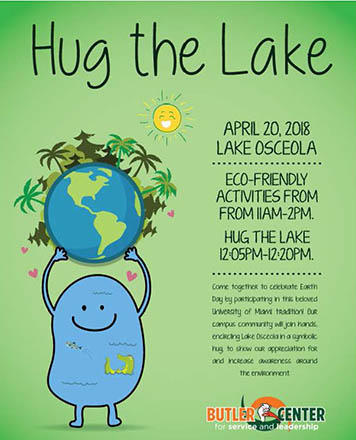 At 12.05 PM, the Butler Center for Service and Leadership invite you to join us for our annual Hug the Lake event at Lake Osceola.


To learn more and to book your Hugging spot, visit miami.edu/leadandserve