Welcome to "Sustainability at the U" modules
Watch this short video, and take the interactive quiz to learn about the many ways you can get involved in making our campus and your workplace more sustainable.
*********

You want to go Green in the workplace? 
Green U is here to help! Learn more





If you work in a lab, manage a lab, study in a lab, and you want to make it more sustainable, Green U is here to help!
Click here to learn more



**********


Create your own Green Team
What are Green Teams?
Small groups of faculty, staff, or students passionate about the environment and willing to volunteer to take on innovative projects and make their school, department, lab or office more sustainable.
Green U will help you form your Green Team program, identify 2 to 3 projects and support you with information resources and training. A specific Facebook platform will help Green Teams share their experience and successes online.
What projects Green Teams will be working on?
Paper reduction, Coffee ground collection, Terra cycle programs, Green Lab certification, Green OR guidelines, ECO Art exhibits, local food CSA promotion…You decide!
Why joining a Green team?
It's always more fun to work with a team! Joining the growing network of green leaders on campus allows you to exchange ideas and best practices with co-workers. You can also bring attention and recognition to your department.
You will be invited to quarterly Green Team breakfasts and will receive updates on the latest in sustainability training.
5 tips on how to build a successful Green Team:
- Identify a small group of people that will be committed
- Begin with the "low hanging fruits", focus on 1 or 2 projects first
- Define realistic goals
- Meet regularly to discuss strategy and evaluation
- Don't be shy, ask for help! Green U, Facilities, IT, Managed Print Services, Auxiliary Services,... UM has a plethora of great experts that will give you precious advice.
For more information, contact greenu@miami.edu or call 305.284.8520


The Department of Purchasing-Medical just got their office certified! Special Thanks to Claudia Laurindo, their green leader.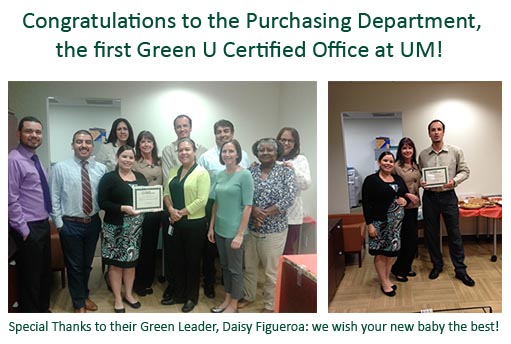 Welcome to the Department of Housing and Residence Life!
They just joined the growing family of UM offices that decided to go green. Congratulations!