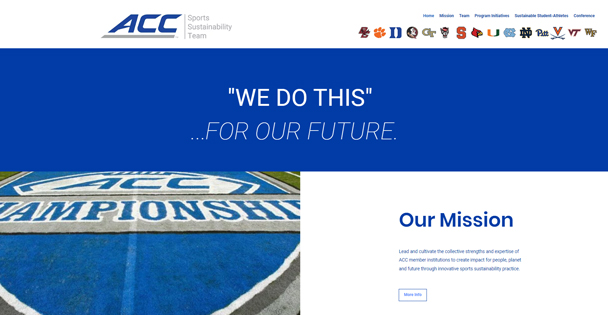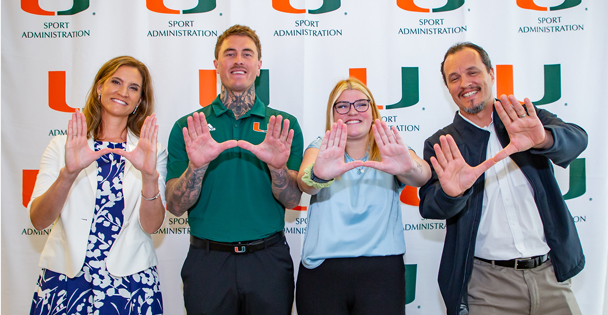 SPORT INDUSTRY CONFERENCE – SUSTAINABILITY PANEL
THURSDAY, APRIL 14 FROM 11-11:50 A.M.
Collegiate sports are on a mission to protect our planet. Join us on Thursday, April 14 from 11-11:50 a.m. for an exciting panel on Sustainability in Sports with experts in the field: Dave Newport, CU Boulder Sustainability Director/PAC-12 Sustainability Conference; Sadey Rodriguez, ACC Student Athletes for Sustainability; and Lou Hedley, Hurricanes Punter and Green Athletics Liaison. Learn more
GREEN BASEBALL GAME - SATURDAY, APRIL 9 AT 6 P.M.
Come support our Baseball team and participate in our "U can act on Climate" campaign on Saturday, April 9 at 6 p.m. Visit our community partners tables to learn more about Climate Action. Don't miss the "U can act on Climate" videos with former student athlete Nkosi Muse, Environmental Science and Policy PhD student at the University of Miami's Rosenstiel School for Marine and Atmospheric Sciences and Abess Center.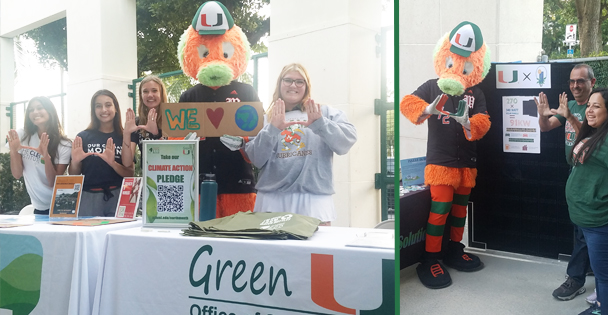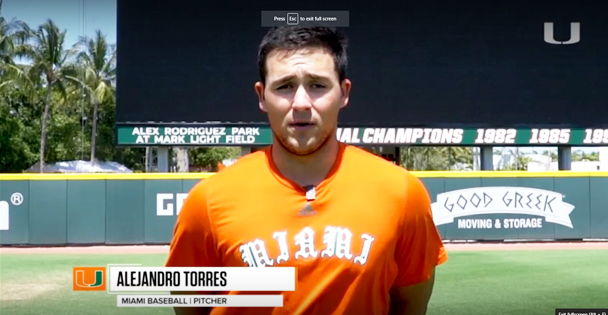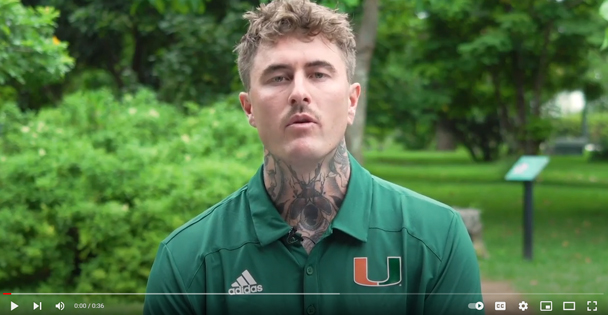 Lou Hedley is the first Hurricanes football player to represent collegiate sports sustainability at the U. As a Green Athletics Liaison this summer, he helped raise his concerns for our planet, he let his teammates and his fans know about the importance of staying connected to nature, and lead by example. Farewell to a great punter, a great 'Cane, and a great Green Champion! Watch the video
GREEN TAIL GATE with ECO and CAT 5!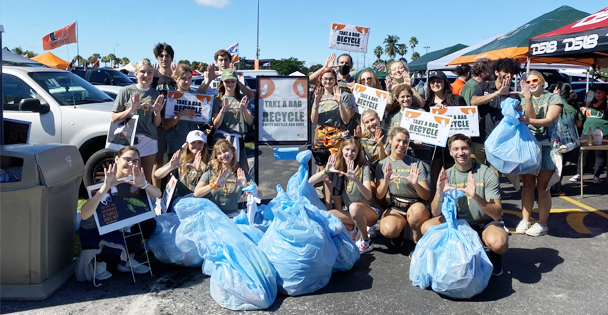 30 bags of cans and bottles in just one lot for 2 hours!
Our team of Green Volunteers were amazing,
even Fans were picking up recycling bags from our stand!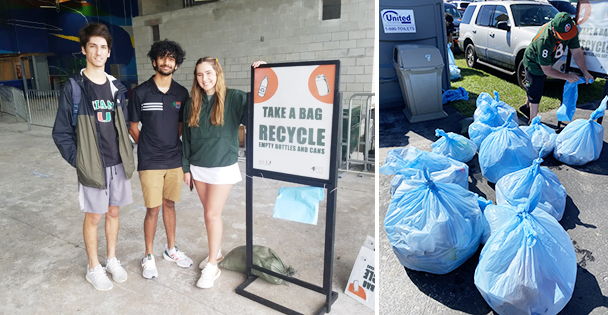 GREEN GAME - UM vs GT: Come support your football team on Nov 6!

For this home game against the Georgia Tech, Hurricanes player Lou Hedley will send a message to all our fans on reducing single use plastic. Don't miss Lou's message at half time, take our Plastic Free Pledge on the Miami Hurricanes App, and receive a nice reusable utensil kit (first come, first served)
GREEN TAIL GATE with ECO and CAT 5!  Starting at 4 pm 

Pass by the ECO-Cat5 table in the student Fan Zone to take our Plastic Free Pledge and get a sustainable fabric T-shirt.
Our volunteers will be there to help tailgaters recycle right. If you want to help and volunteer with our Green Team that day, please contact greenu@miami.edu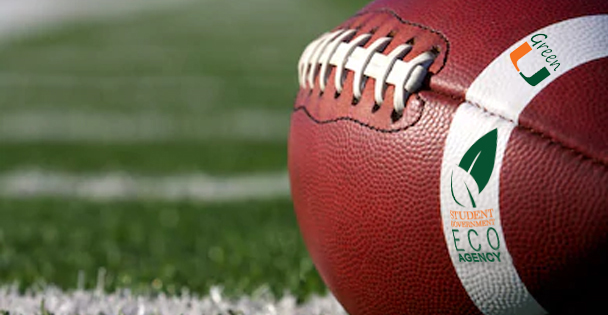 Go Plant Based!
On Earth Day, our little community athletes learn about the benefits of composting,
planting trees,...and adding plant based to their diet.
 Special message from Coach Manny Diaz: Quit Single Use Plastic!
On Aug. 3, 2020, UM Athletics Director, James Blake signed the UN Sports for Climate Action framework, reaffirming the University of Miami's commitment to carbon emission reduction.
Restoring College Sports Amid Covid-19: Leveraging Climate Action
Four highly respected collegiate athletic directors will present their plans to help restore college sports by leveraging climate action, health and wellness, and diversity/inclusion practices during an upcoming webinar on August 3, 2020 at 1PM EST. Athletic Directors Rick George of the University of Colorado Buffaloes; Gene Smith of The Ohio State University Buckeyes; John Currie of the Wake Forest University Demon Deacons; and Blake James of University of Miami Hurricanes will each make presentations and take questions regarding their approach to restoring college sports in the post-Covid world. Led by these ADs, these sports-sustainability programs have learned to leverage their assets and fan preferences to advance campus sustainability goals, open up sponsorship revenue opportunities, cost savings and significant campus and fan support.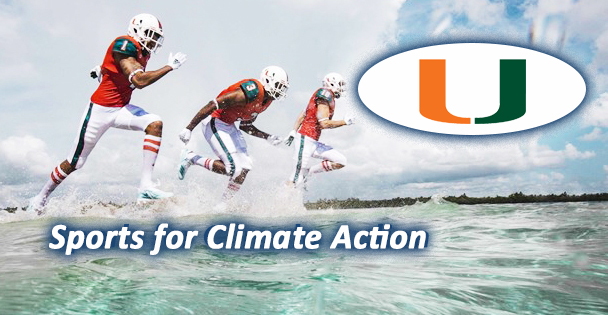 All four campuses have all committed to implement the UN Sports for Climate Action framework, the first US collegiate athletic programs to do so. Over 120 sports organizations ranging from the International Olympic Committee to the NY Yankees and the NBA have already signaled their commitment to this global accord. The goal of the webinar is to bring together campus sustainability personnel with their athletics counterparts to better advance campus goals, increase each campuses leadership, respond to student/community preferences for sustainable college sports, and showcase revenue opportunities resulting from these actions. The webinar is presented by the Association for the Advancement of Sustainability in Higher Education (AASHE). Meghan Fay Zahniser, the Executive Director of AASHE, will host the program.
About the UN Sports for Climate Action Framework
The U.N. Sports for Climate Action Framework has two overarching objectives: to achieve a clear trajectory for the global sports community to combat climate change and to leverage sports as a unifying tool to drive climate awareness and action among global citizens. Signatories of the framework commit to five core principles:  undertaking systematic efforts to promote greater environmental responsibility; reducing overall climate impact; educating for climate action; promoting sustainable and responsible consumption; and advocating for climate action through communication. 

Green Athletics Donations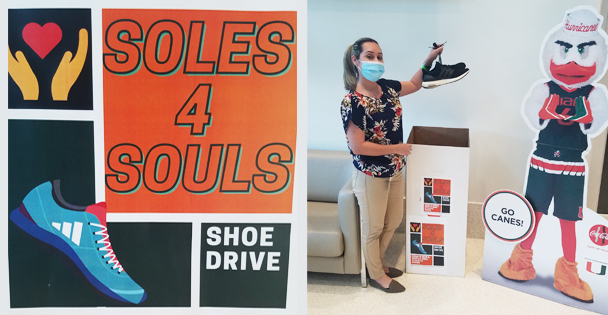 Thanks to our Athletics Department for their generosity. Green U and Soles4Souls drive collected more than 150 pairs of new and gently used shoes. Soles4Souls turns unwanted shoes and clothing into opportunity, by keeping them from going to waste and putting them to good use – providing relief, creating jobs and empowering people to break the cycle of poverty. "Something as simple as a pair of shoes can make a big difference".



Collegiate  Sports  Sustainability
The Atlantic Coast Conference leads the nation in collegiate athletics, academics and sustainability programs. The second annual ACC Sports Sustainability Conference will serve as an opportunity to unite and leverage these strengths to showcase our collective impacts, learn from our peers and create a national platform to magnify our winning traditions. May 20 - 21. Recap and presentations available here!
Greening the game!
March 4 at 8.30 pm the Hurricanes Men's Basketball team will play Virginia at the Watsco Center.
Come support your team the Green way! Our Green Team will be promoting best practices in reducing single use plastic. Take our ECO pledge, and pass by the Green U table to claim your sustainable giveaway.
Go Green, Go Canes!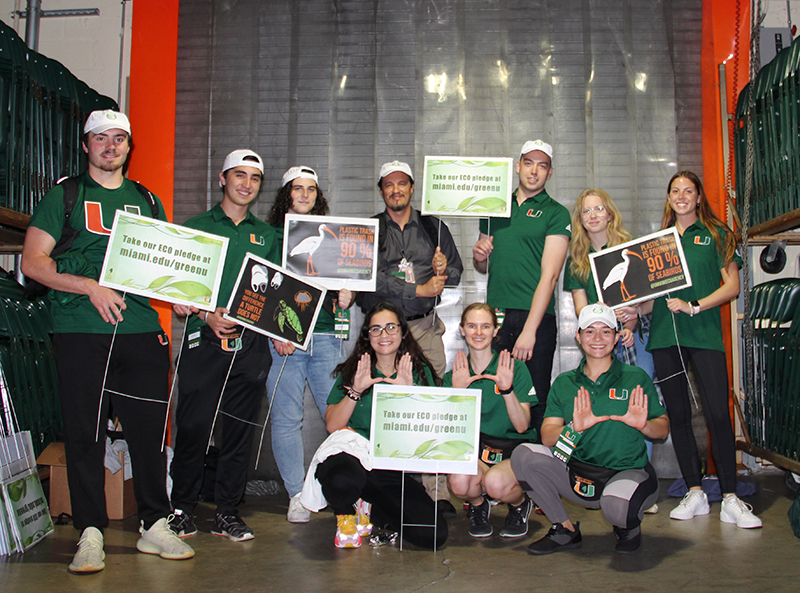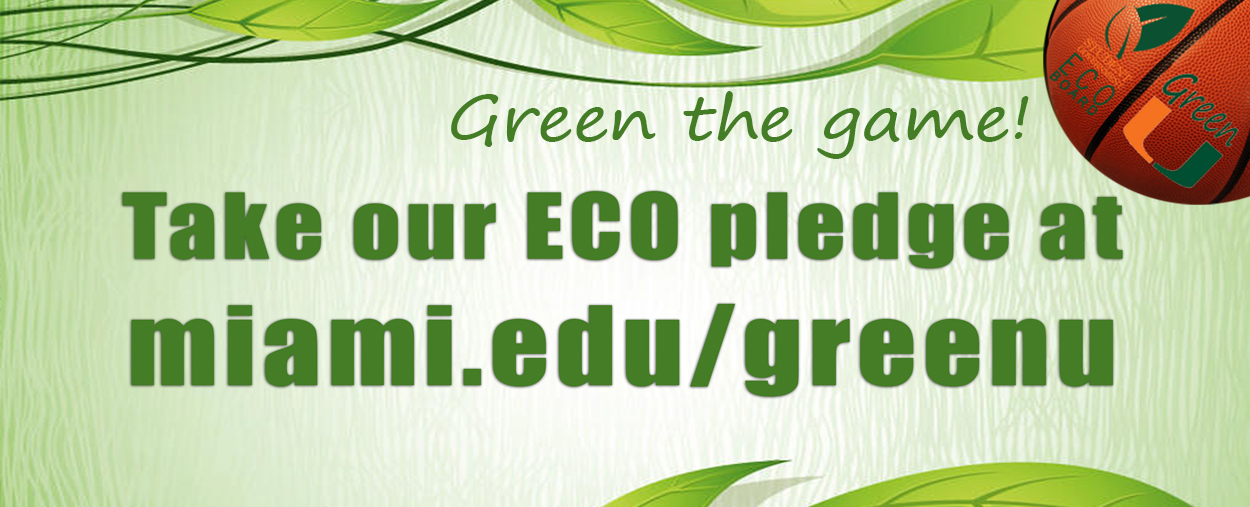 Screening: The Game Changers

Feb 27 at 8 pm in the Iron Arrown room - Student Shalala Center. A plant based diet is what Athletes recommend, you'd better listen. Come enjoy the movie with some vegan goodies. Sponsored by Plant Based Canes. Email greenu@miami.edu for more information
Green Tailgate on Oct 11
****
On April 26 at 6pm, come support our team for
a special Green Baseball Game!
UM vs Virginia Tech at Alex Rodriguez Park 
Our Green U Team will be there, along with our partners, Adidas-Parley, Coke Florida, Miami Dade County Water and Sewer Department and Debris Free Ocean with giveaways and information about water conservation and ocean plastic pollution. 
Nov. 7 - 12 pm to 1 pm in the Schwartz Center auditorium (map)
Lunch will be served  - Free Admission - RSVP now
We want to learn from the professional world on how to make collegiate sports socially, economically, and environmentally sustainable. From energy/water conservation, fans engagement, waste diversion or eco-friendly apparels, sustainability is a win-win for collegiate sports stakeholders.
Jeff King
Vice President, Facilities - Miami Marlins

"Marlins Park was designed with many aspects of sustainability in mind. From the energy-efficient lighting, heating and cooling systems, to water use reductions, Marlins Park is the most sustainable facility in Major League Baseball.  It is the first professional sports facility in the world with a retractable roof to earn LEED Gold Certification from the U.S. Green Building Council."
In 2014,  the Florida Department of Environmental Protection recognizes the Miami Marlins organization for its impressive 51% recycling rate.


Dave Newport 
Director, Environmental Center - University of Colorado Boulder


Nearly twenty years ago, Dave became the Florida Gators' first Sustainability Director and piloted green sports efforts in The Swamp and created the nation's first corporate sponsorship of an in-game sustainability activation in 2002. After moving to Colorado in 2006 to become Director of the University of Colorado Boulder Environmental Center, the Buffalos became the nation's first NCAA Div.1 athletics program with a comprehensive sustainability program, with zero-waste, zero-carbon, zero-pesticides, zero-net energy facilities, 2MW of installed solar PV, and a car-free/zero-waste tailgate, among other efforts.  He is currently a member of the Green Sports Alliance Board of Directors Executive Committee.
Green Athletics Conference at the U - 2017
Join us on Nov. 10 - 12 pm to 2 pm in the Schwartz Center auditorium (map) - Lunch will be served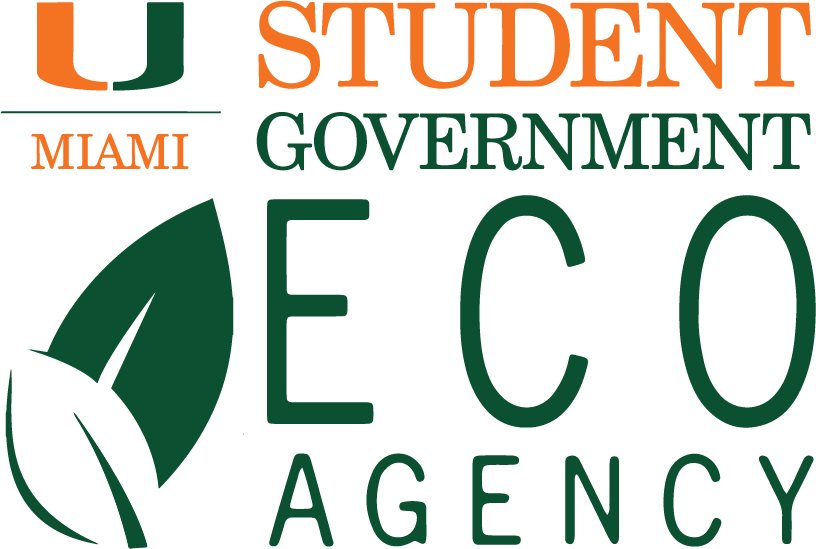 sponsored by  
Who says sustainability and Sports are not compatible?  
A nationally recognized partner, the Green Sports Alliance put it this way: 
"The Alliance inspires professional sports leagues, college conferences, sports governing bodies, colleges, teams, venues, their partners and millions of fans to embrace renewable energy, healthy food, recycling, water efficiency, safer chemicals and other environmentally preferable practices."