National Clean Air Month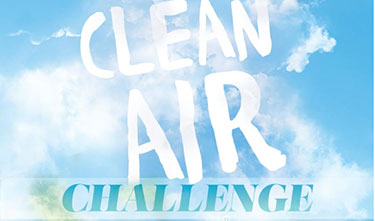 In support of National Clean Air Month—and a more sustainable environment—Green U encourages all UM commuters to take South Florida Commuter Services' Clean Air Challenge. Commuters who pledge to carpool, ride transit, vanpool, bicycle, or walk at least once this May will be entered into a drawing to win one of four $500 Visa gift cards.  Learn more

*********************
GREEN FAIR - NOV. 4 - 11 AM to 2 PM
LAKESIDE PATIO
Carbon Footprint Interactive displays, ECO Art happenings, Recycling games, Art Craft with reused material (soap, bags, and t shirt…) Learn how to get engaged with UM' Sustainability programs ( Singles Stream Recycling, Cartridges recycling, new Plastic bag collection program, Green Building, Energy Efficiency, Green purchasing…)
WIN PRIZES, FOOD VOUCHERS from Fresh Fusion and Jamba Juice!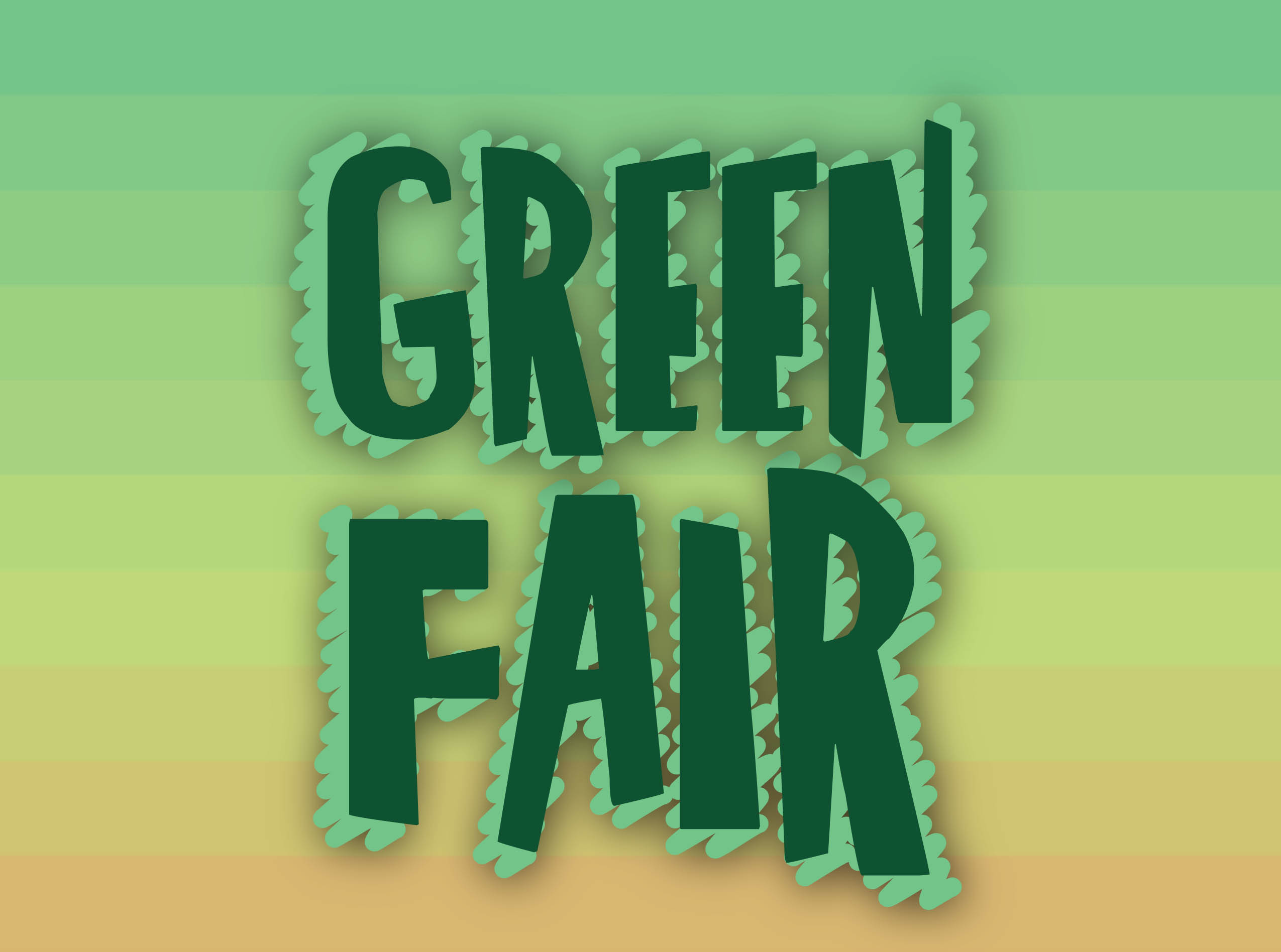 Come visit UM's vendors and learn about their initiatives to lower our impact on the Planet:
1: Waste Management: Single Stream Recycling   Dade Recycling: Toner and Cartridge Recycling   Shred-It: Confidential paper recycling, Healthcare recycling programs
2: Staples: Easy on the Planet line of products
3: Paramount: Sustainable Coffee options   UM Dining- Chartwells: Green Initiatives in our Dining Halls
4: Canon/UM Managed Print Service: Paper reduction and Green printing
5: VWR: Healthcare supply Sustainability programs
6: Renew Merchandise: Clothes and UM branded items made with recycled plastic bottles   UM Bookstore Trade it in program: E Waste Program to avoid sending electronic devices to landfills
7: City of Coral Gables & City of South Miami: Sustainability actions in our municipalities, from Medicine recycling programs to Green space and Biking options
8: Spinnaker Group: LEED Certified building at UM
Siemens: Energy Efficiency provider
9: Zipcar: Alternative to owning a car and a good way to lower our carbon footprint
10: Verve Living Systems Bio digester: Diversion of tons of food waste from landfills   Tallow masters Used Cooking Oil: reuse of Use oil to make cosmetic products and Biodiesel.
*********************************
University of Miami - Coral Gables Campus has been designated TREE CAMPUS USA 2014 by the Arbor Day Foundation.

Arbor Day Observance Day in the Gifford Arboretum on April 15 at 5.30 pm.
Steve Pearson and our Tree Campus Committee received the award from Mr. Mark Torok, Senior Forester for the Florida Forest Services.
Food and Music followed with the School of Music "Arboretum Concert"
From Left to right: Dr. Don Olson Professor at the Dpt of Ocean Sciences; Joe Natoli, Senior Vice President for Business and Finance; Mark Torok, Senior Forester from the Florida Forest Services; Teddy Lhoutellier, Sustainability Manager; Steven Pearson, Director of the John C. Gifford Arboretum; Son Vo, Sr. Manager, Facilities & Operations - Contracts Administration; and Humberto Speziani, Asst. VP, Business Services, Financial Operations.
The University of Miami -Coral Gables Campus is proud to have been designated "Tree Campus USA" by the Arbor Day Foundation.
Colleges and Universities all over America are working right now to make their campuses greener and cleaner, University of Miami is doing its part.
The Arbor Day Foundation began in 1972 and is one of the world's largest nonprofit dedicated to planting trees. It has been working with the U.S. Forest Service and the National Association of State Foresters to plant trees in National and State forests. Mark Torok, Senior forester for the Florida Forest Services honored us with his presence on April 15 for the award ceremony.
Arbor Day Foundation has recognized more than 3,000 communities through the Tree City USA program, among them the City of Coral Gables and the City of South Miami.
The Tree campus USA recognition will benefit UM. It is the confirmation that our canopy significantly reduces the amount of energy our campus needs to generate, it sequesters Carbon dioxide, purify the air, and give students, faculty and staff a peaceful setting to study.
Our campus has a unique landscape architecture with elements designed specifically for its climate and natural setting. It conveys a positive and unified sense of place, coherency, and consistency. Its thoughtful landscape planning has become renown worldwide as a "campus-in-a-tropical garden". The campus enjoys a number of important vegetated areas which include Lake Osceola, The Gifford Arboretum, the Ibis Natural Trail, the Palmetum and the Butterfly Garden. Our goal is to preserve and enhance the following important features. Our general purpose is to guarantee that the standards of beauty, sustainability and environmental stewardship are respected and applied on our campus landscape.
More specifically, we strive to promote the use of Native plants or low-maintenance plant species, increase species diversity and tree canopy, develop environmentally friendly landscape designs to conserve energy and water, reduce the urban heat island effect on campus, and promote improvements in air quality, and finally to protect existing campus canopy during construction and renovation projects.
Learn more about the Arbor Day Foundation and Tree Campus USA
*************************
"CLIMATE CHANGE: What lies ahead?"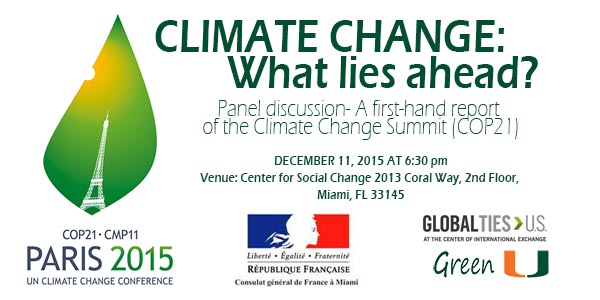 December 11, 2015 at 6:30 pm
Global Ties Miami at the Center for Social Change
2013 Coral Way, 2nd Floor, Miami, FL 33145
Registration at www.ParisInMiami.eventbrite.com
Panel discussion- A first-hand report of the Climate Change Summit (COP21): What are the impacts on local communities and how does South Florida address the climate issue?
Opening remarks – Françoise Laine, President of the Board of Global Ties Miami
Introduction – Philippe Létrilliart, Consul general of France
Panelists:
      - Harold R Wanless, Ph.D.-  Chairman UM Department of Geological Sciences
      - Jim Murley - Chief Resilience Officer at the Miami-Dade County
      - Dr Larry Frolich – Professor in the Biology department/ Miami Dade College
Moderator: Joseph B Treaster, PhD , Professor UM School of Communication
As we are closing the 21st Conference of the Parties to the United Nations Framework Convention on Climate Change (COP21), the annual meeting of all countries taking initiative for the climate held in Paris-Le Bourget, France, from Nov. 30 to December 11, the organization Global Ties in collaboration with the Consulate general of France in Miami invite you to an evening dedicated to the climate issue.
Background: Global surface temperature is rising. It will probably be 1.5 °C higher at the end of the century compared with the pre-industrial era (1850-1900). Biodiversity, coastal regions, the oceans, health and even our cultural heritage are affected by the impacts of climate change. This was the essential message of the 5th report of the Intergovernmental Panel on Climate Change (IPCC) published in 2014.
Impacts already visible: Climate change is a reality. Disturbances are already being seen in the ecological balance of large ecosystems: a changing physical environment and living things that are trying to adapt or disappearing. We are also beginning to envisage the consequences for human societies: forced migrations, an increase in the number of conflicts (use of water resources, appropriation of fertile soils, etc.)
Local impacts and local actions: Thanks to the participation of the Consul general of France, Professors and local leaders, the objective of this evening focusing on climate change is to discuss the impacts of the COP21 negotiations in South Florida and the involvement of the local communities.
Harold R. Wanless
Harold R. Wanless, Ph.D., is chairman and a professor in the Department of Geological Sciences and Cooper Fellow in the College of Arts and Sciences. He is available to discuss effects of hurricanes on coastal environments, coastal erosion and post hurricane recovery processes.  He has an active research program documenting hurricane effects on coastal environments; and also documenting the geologic and historical evolution of the coastal and shallow marine environments, and influences of sea level rise and anthropogenic stresses.  Dr. Wanless chairs the science committee for the Miami-Dade Climate Change Advisory Task Force.
College of Arts and Sciences / Department of Geological Sciences
James F. Murley
Jim Murley has spent over three decades working on public policy issues important to Florida. Jim served has Secretary of the Department of Community Affairs under Governor Lawton Chiles working on comprehensive planning, economic development, energy and emergency management issues. He has served on various state commissions including the Florida Housing Finance Corporation, Florida Communities Trust and most recently served three years as the Chair of the Florida Energy and Climate Commission.
Jim spent over 10 years with Florida Atlantic University overseeing research on urban and environmental issues.
Jim currently holds the position of Executive Director of the South Florida Regional Planning Council.  In that capacity he is helping to lead an effort for the seven counties in Southeast Florida to develop a Regional Prosperity Plan. Jim is a member of the South Florida Water Management District's Water Resources Advisory Commission and on the Board of Director for the Greater Fort Lauderdale Alliance.
He is a graduate of Leadership Florida and a Fellow in the National Academy for Public Administration.
Chief Resilience Officer at the Miami-Dade County
Dr Larry Frolich, Miami Dade College
Larry Frolich is a Professor in the Natural Sciences/Biology department at Miami Dade College's Downtown Wolfson Campus and Editor of the Journal of Sustainability Education. He is part of the team that is implementing an online Master's Program in Community-Based Resource Management with the Catholic University of Ecuador, Ibarra (PUCE-SI), sponsored by a Fulbright Scholarship in Ibarra-Ecuador.
Joseph B. Treaster
Joseph B. Treaster is a professor, journalist and author at the University of Miami.  He worked as a prize-winning foreign correspondent and reporter for The New York Times for more than 30 years before joining the university in 2008 with a five-year appointment as the Knight Chair in Cross-Cultural Communication. He holds the rank of full professor at the University of Miami and is a Visiting Fellow of the Woodrow Wilson National Fellowship Foundation. He is the editor of two environmental magazines online, TheMiamiPlanet.org and OneWater.org. His most recent book is Hurricane Force: In the Path of America's Deadliest Storms.
Françoise Anne Laine, President of the Board of Global Ties Miami
Françoise Laine has been calling Broward, Dade and Palm Beach Counties home for over 25 years. During this time, she has been involved in many non-for-profit organizations promoting social and entrepreneurial activities. Prior to her nomination as the President of the Board of Global Ties Miami, she has been member of the Board of the French American Chamber of Commerce in Miami and of the Miami Council of International Visitors as well as the Chair of various committees at the Greater Fort Lauderdale Board of Realtors.
****************************
FOOD DAY
WEDNESDAY, OCTOBER 21st - FREE ADMISSION

Food Day inspires Americans to change their diets and our food policies. Every October thousands of events all over the country bring Americans together to celebrate and enjoy real food and to push for improved food policies.
- 9 AM to 2 PM - Well 'Canes Marketplace at the Foote University Green - Featuring several local, vegetarian and vegan vendors.
- 6 PM to 7:30 PM
          - FOOD FOR THOUGHT: Film Screening and Panel Discussion (View film preview)                   
          - Florida Cooking and Food Justice Exhibit from UM Libraries Special Collections
            in the Shalala Student Center Activities Room North (Room 304), free and open to the public
 
Panelists: 
- James Jiler, Executive Director of Urban GreenWorks, http://www.urbangreenworks.org/meet-the-staff
- Margie Pikarsky, Owner Bee Heaven Farm in the Redlands, www.beeheavenfarm.com, UM alumna
- Dr. Terri Hood, Assistant Director of the Ecosystem Science & Policy undergraduate program, and faculty in the Department of Geological Sciences
- Gretchen Schmidt, editor of Edible South Florida, now approaching its seventh year exploring local foods in our community by season, via our quarterly magazine, online and in social media
- 6:30 PM to 8:30 PM - Vegetarian Cooking Class - Wellness Center (Pre-registration encouraged and payment required)

THURSDAY, OCTOBER 22nd - FREE ADMISSION

- 11 AM to 2 PM     FAIR FOOD FAIR   in the UC Lower Lounge 
Enjoy a free smoothie and other free food, learn about healthy eating, local farming, community gardens, and get involved with the Miami Real Food community!

- 1 PM - "Fruit Crush" - in front of "The U Statue" at The Rock – Participate in a national social media effort to raise awareness about eating healthier and expanding access to fresh fruit and vegetables.
FAIR FOOD FAIR COMMUNITY MEMBERS:
     
UM Dining Services: Greener Fields Together initiative and samples from Fresh Fusion.
UM Community Garden Club and Organic Gardens from the Miami Baptist Collegiate Ministry: Plant your own garden in raised beds and learn about growing small food plants.
UM Wellness Center: Learn how to cook easy, healthy and delicious recipes. Taste free samples!
Miami Dade County Community Gardens: Learn about opportunities to volunteer for Community Gardens, help underprivileged areas grow healthy produce and fight "food deserts."
Student Health Services & Green U: Come taste our fresh smoothie made with SOLAR powered blenders.
Bee Heaven Farm: Learn about Community Supported Agriculture (CSAs) and how you can support local South Florida farmers.
Urban GreenWorks: Learn about this non-profit that provides environmental programs and green job training to incarcerated men and women and at-risk youth, combining science education, horticulture therapy and vocational training.
Common Threads: Learn how you can help children learn how to choose and cook their own healthy food! Improve the health of families by sharing your love of cooking.
UF/IFAS/Miami Dade County Extension: Learn about water conservation and composting from this organization which brings cutting edge conservation research to our South Florida gardens, farms and community!
Feeding South Florida: Did you know that 1 in 5 children in South Florida go to bed hungry? You can help. Feeding South Florida's mission is to end hunger in South Florida by providing access to nutritious food.
UM Office of Civic & Community Engagement and the Butler Center: Learn about how you can get more involved in the Food Justice issues you are passionate about – on and off campus.
Plus, visit tables from UM Student Organizations who care about Food Justice in the Breezeway!
Sponsors: Abess Center for Ecosystem Science and Policy, SEEDS (a SEED for Success) Program, Student Health Services, Special Collection UM Library, P.A.H. Wellness Center
Involved student organizations: Green Committee / ECO Agency, CommUnity Garden, U Pride, UBS, Yellow Rose Society, Women's Leadership Symposium, Earth Alert        
Cooking Master class VIDEO by the Wellness Center: Learn how to cook delicious and easy to make recipes and taste some samples right on the spot
Recipes: Set 1  -  Set 2
*********************************

REUSABLE WATER BOTTLES

As Orientation week kicks in, a Green U and ECO tradition is back: a reusable bottle was offered to every freshman.
People are using them, they LOVE TAP WATER! Next step: sign the pledge on Takebackthetap.org


***************************
Sustainability in Healthcare
Green U Hosts Sustainability Forum for South Florida Hospitals
The University of Miami's Green U – Office of Sustainability recently hosted the Florida Hospital Association's Annual Roundtable titled "Sustainability in Healthcare Facilities." Held at the medical campus, the July 1 forum brought together more than a dozen South Florida hospital representatives and featured industry speakers who discussed innovative ideas for making hospital operations and patient care more sustainable.

UM administrators from a cross-section of departments joined attendees from Broward Health, Baptist Health South Florida and other local hospital systems.
"The whole idea of this event was to share a wealth of resources and information with staff and leadership at the medical campus' three hospitals," said UM Sustainability Manager Teddy Lhoutellier, who coordinated the forum. The meeting, he said, also allowed attendees to network and gain insight into how other local and national health systems are employing "green" initiatives.
Among the featured speakers, Julie Moyle, M.S.N., R.N., an outreach specialist with the Healthier Hospitals Initiative of Practice Green Health, gave an extensive overview of the benefits of greening hospital operations and made a presentation on a free web tool that provides resources and sustainability challenges in areas of engaging leadership, energy savings, water conservation, food and wellness and greening purchasing.
Ridding hospital foods of antibiotics, green cleaning options, reducing regulated medical waste and carpooling were among other topics discussed.
UM's Green U initiative launched in 2005 as part of the University's commitment to safeguard the environment by reducing waste, energy use, and water consumption, and increasing education for the community and beyond. In 2007 former UM President Donna E. Shalala also signed the American College and University Presidents Climate Commitment. The historical event sent a strong message about the University of Miami's dedication to sustainability.
"The medical campus has already done a lot to lower its environmental impact," said Lhoutellier. "With the help and resources provided by the Healthier Hospital Initiative, we would like to get a step further and build a roadmap to sustainability for our health care facilities."
To learn more about UM's Green U initiatives, click here.
***************************
Get excited for University of Miami's Earth Week 2015!
Each day we will have ECO-activities, free food, and cool prizes.
Like University of Miami Student Government ECO Board and #UMiamiEarthWeek on Facebook, Twitter, and/or Instagram during the event to enter a chance to win a solar-powered watch, solar-powered charger, or $25 Chipotle Gift Card.
The more days you post, the more entries you will have. Please have your posts public for recording purposes. Join here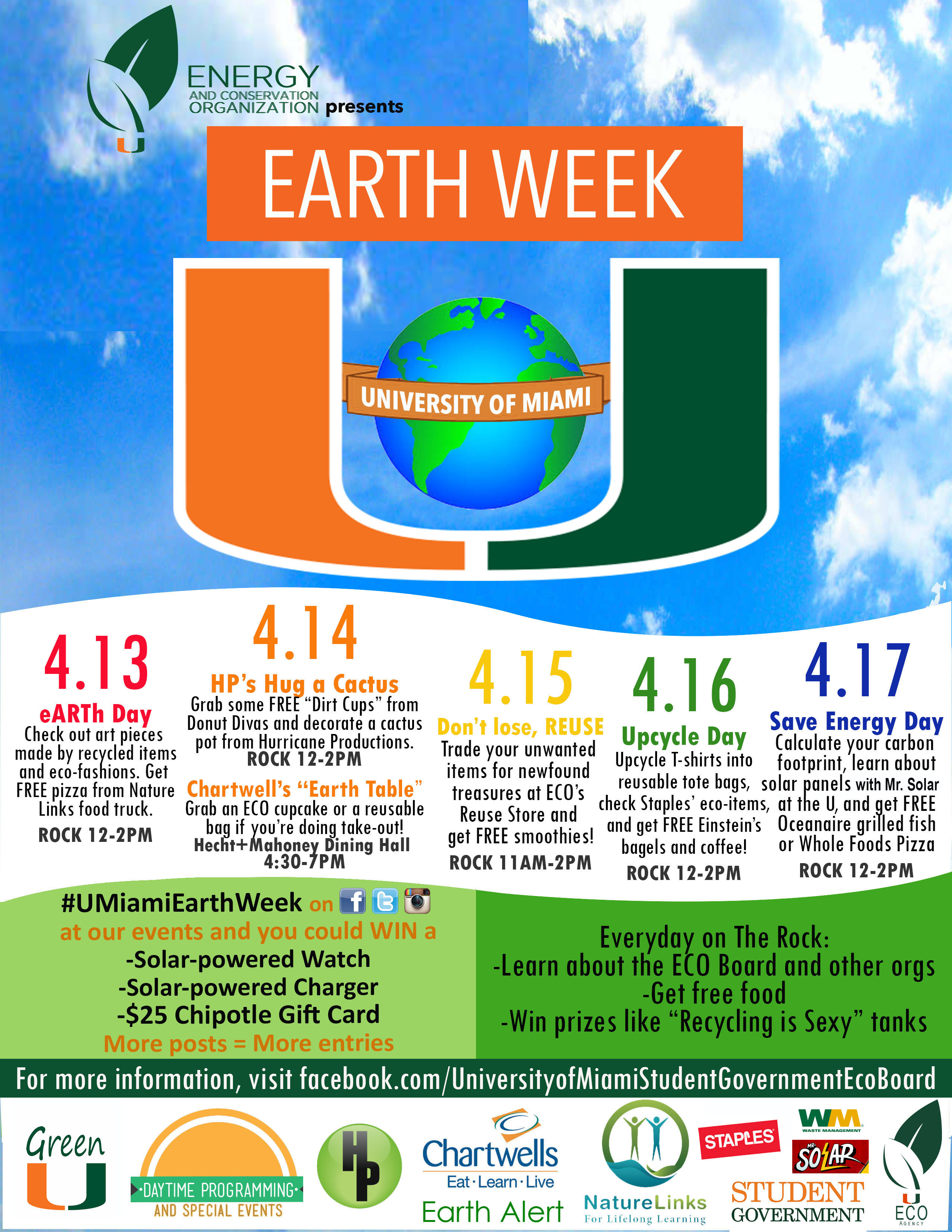 April 13
EARTH Day Rock 12-2pm
-Recycled art display by Professor Linderman's Environmental Art class
-Showcase of outfits made from certified organic material by CATA-Consumers Against Toxic Apparel
-Fashions made from recycled materials
-Pizza and fish tacos by Nature Links Food Truck
April 14
Hurricane Productions Hug a Cactus Rock 12-2pm
-Decorate a cactus pot
-"Dirt Cup" by Donut Divas
University of Miami -Chartwells Earth Table Hecht/Mahoney Dining Hall 4:30-7pm
-Locally grown and organic food will be out for dinner
-ECO will have cupcakes
-Reusable bags will be given during take-out
April 15
Don't lose, REUSE Rock 11am-2pm

-ECO's Reuse store: Trade your unwanted items for anything on our table. This bartering opportunity is a great opportunity to give anything away you can't take back home in exchange for something else. All leftover items will go to Good Will.
-Smoothies by Nature Links
April 16
Up-cycle Day Rock 12-2pm
-Make reusable tote bags out of unwanted t-shirts
-Check out eco-friendly/ sustainable office supplies from Staples
-Free Einstein Bagels and Coffee
April 17
Save Energy Day Rock 12-2pm
-Calculate your carbon footprint
-Learn about Photovoltaic energy with Mr. Solar
-Learn about upcoming solar panels
-Whole Foods Pizza
-Oceanaire Grilled Fish
***************************

Take the Clean Air Challenge and You May Win $500
In support of National Clean Air Month—and a more sustainable environment—Green U encourages all UM commuters to take South Florida Commuter Services' Clean Air Challenge. Commuters who pledge to carpool, ride transit, vanpool, bicycle, or walk at least once this May will be entered into a drawing to win one of four $500 Visa gift cards. | Learn more
*********************************

CELEBRATE EARTH DAY 2015, HUG the LAKE!
Random Acts of Kindness at UM invite you to join us for our annual Hug the Lake as we join hands around Lake Osceola in celebration of Earth Day
Sponsored by Green U, Housing and Residential Life, the Wellness Center, the Student Center Complex, Earth Alert and the Butler Center


What happens at "Hug the Lake?"
Hug the Lake is a campus-wide event that will bring the University of Miami community together to celebrate Earth Day every year in April. On that day, more than 700 students, faculty, and staff will join hands singing the alma mater, encircling Lake Osceola in the center of our Coral Gables campus in a symbolic "hug," to show their appreciation for and increase awareness about the environment. Learn More
Visit Hug the Lake on Face book
JEFE's TACO TRUCK on the ROCK
The food truck Jefe's Taco will be serving their normal menu and each consumer will receive a complimentary side. Jefe's Taco is partnering with NBC Universal for their "Green Is Universal" initiative. This year Earth Day will be centered around Food Waste in America. Jefe's Taco will add a "waste-less" food item to their menu. Two ambassadors from NBC Universal will be around the truck conversing with consumers and promoting the hashtag #NoFoodWasted.
*********************
University of Miami - Office of Sustainability invite you to pass by Merrick Park ( Coral Gables City Hall )

on April 22nd from 11 am to 2 pm to celebrate Earth Day with the City of Coral Gables
 

*********************************
Green U will be representing UM at the Air Quality Awareness Day on April 10
The event is organized by Miami Dade County RER-DERM's Division of Air Quality Management.
Learn about Air quality and how Miami Dade has fought for cleaner air in the workplace.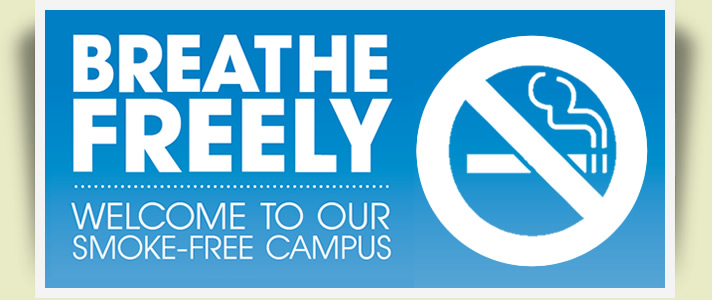 Be Smoke Free
University of Miami's National Award Winning Smoking Cessation Program, "BeSmokeFree" is your premier "one-stop" resource for smokers looking to broaden their cessation education and treatment options.
Do you need help quitting tobacco?
The University of Miami recognizes that quitting tobacco use can be a significant personal challenge, and that tobacco-cessation programs are an integral component in implementing this policy. Learn more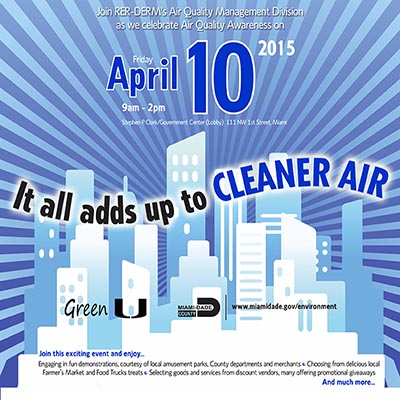 Lung Disorders, Diseases and Air Quality:
Learn more by visiting the University of Miami- Miller School of Medicine's Library:
There are many types of lung problems that require clinical care by a physician or other healthcare professional. Listed in the directory below are some of the conditions, for which we have provided a brief overview.
If you cannot find the condition in which you are interested, please visit the Respiratory Disorders Online Resources page in this Web site for an Internet/World Wide Web address that may contain additional information on that topic.
Signs of Respiratory Distress
Chronic Obstructive Pulmonary Diseases (COPD)
Asthma
Chronic Bronchitis
Pulmonary Emphysema

**********************************

University of Miami was selected in the new 2015 edition of The Princeton Review Guide to Green Colleges
"The Princeton Review's Guide to 353 Green Colleges: 2015 Edition" profiles colleges with the most exceptional commitments to sustainability based on their academic offerings and career preparation for students, campus policies, initiatives, and activities. The profiles in the guide give college applicants information about each school's admission requirements, cost and financial aid, as well as student body facts and stats.
The free 218-page guide is downloadable at www.princetonreview.com/green-guide. There users can also peruse detailed "Green Facts" write-ups on the schools. The write-ups report on everything from the school's use of renewable energy, recycling and conservation programs to the availability of environmental studies and career guidance for green jobs.

> enlarge
**********************************
University of Miami HR Benefits invites you to celebrate the WEEK of WELL-BEING 2015
The University of Miami's Week of Well-Being features five days of events and activities aimed at transforming the lives of faculty, staff, and students through wellness.
Check the Full Schedule of activities on the 3 campuses

Green U and Earth Learning are proud to partner with HR Benefit to bring you this new workshop:
"HOW TO BUILD YOUR EDIBLE ECO GARDEN"
- April 7,  3-4pm Medical School CRB Building, Gordon Center Auditorium
- April 8, 3-4pm Marine School, Marine Auditorium
- April 9, 3-4pm Coral Gables, Newman Alumni Center
FREE Admission. For more information: greenu@miami.edu

In our part of the world we are blessed with sun, warmth and an abundance of edible and useful fruits, vegetables, herbs, spices, nuts and more that grow gracefully year-round. And yet few landscapes actually take advantage of this incredible diversity. Learn to create self-sustaining, naturally-abundant, edible ecosystems for your home, community, workplace or farm. Don't settle for a garden box that requires endless work. Harness the power of nature and transform your space into a beautiful, productive, low-maintenance and enjoyable "foodscape."
About the Instructors:

Mario Yanez is passionate about the possibility of growing a Life-sustaining culture here in the Greater Everglades, his home bioregion. He is an ecologist, organic farmer, teacher and activist, sharing his vision of the necessary transition toward growing ecologically-sustainable and resilient human communities everywhere. In his practice as Permaculture Designer, he is applying Permaculture design principles at various scales, implementing regenerative productive landscapes, organizations, enterprises and social systems. He is a partner in FoodScape Designs and teaches The Culture of Agriculture at UM every Fall.

Thais Thiesen is a professional designer and farmer who has been working to restore balance. She received her Permaculture Design Certificate in 1999 from Douglas Bullock. She studied Landscape Architecture at the University of Florida and is pursuing a Masters in Agroecology at FIU researching sub-tropical perennial polyculture systems. Thais designed and lived in intentional communities in Pennsylvania, Hawaii and North Carolina where she practiced the art of intensive gardening, raising goats and chickens and harvest preservation. Her specialties include edible landscaping, perennial crops, and permaculture design. She is a partner in FoodScape Designs.

VISIT OUR BOOTH under the big tent at Coral Gables / Medical / RSMAS
Come taste our Solar Power smoothies!



WELLNESS FAIR SCHEDULE:
- Tue, April 7, 11 AM - 2 PM - Breezeway - RSMAS Campus
- Wed, April 8, 11AM - 2PM - Greene Foote - Coral Gable Campus
- Thu, April 9, 11 AM - 2 PM - Schoninger Research Quadrangle - Medical Campus
Learn about the NEW Community Supported Agriculture Service offered on the Coral Gables Campus, as well as the brand new LOCAL ORGANIC KITCHEN in front of the School of Architecture to open its doors very soon.
We will bring baskets of produces from the farm and have a bowl kit for everybody to make their own salad. 
Chartwells will be with us, informing people on their Sustainable initiatives( Dineoncampus), they will also display information on their main partners (Greener fields together).  They will also offer Faculty and staff meal plans for sale.

*******************************
On Saturday March 7, for the CGIU big luncheon, Butler Center, Green U and ECO Agency trained volunteers will be present to help attendants recycle their waste. We will also promote Butler's Take back the Tap campaign to conserve water and reduce plastic bottle waste.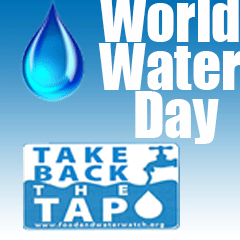 President Bill Clinton and Chelsea Clinton will host the eighth annual Clinton Global Initiative University meeting March 6-8, 2015 at the University of Miami.
For the occasion and as the new standard for the outdoor bins at UM - Coral Gables, our new dual Recycling signage will be displayed all over campus.