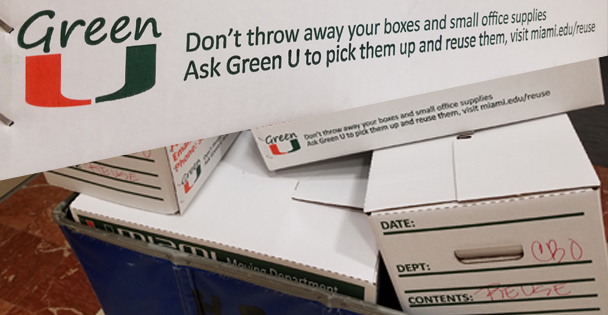 Green U, the University of Miami's Office of Sustainability, collects and donates supplies each year that are shared with Miami-Dade County schoolchildren.
Learn more
Your office is moving, cleaning out, or you simply need to buy a small order of office supply?
1- You are moving out:
- Call 305.284.8520 for the Coral Gables/RSMAS campus on how to get free moving boxes (305-243-6148 for the Med campus)
- Place all your small office supply leftovers, appliances and "stuff" in boxes and label them "REUSE", and contact greenu@miami.edu  (305.284.8520) for a pick up.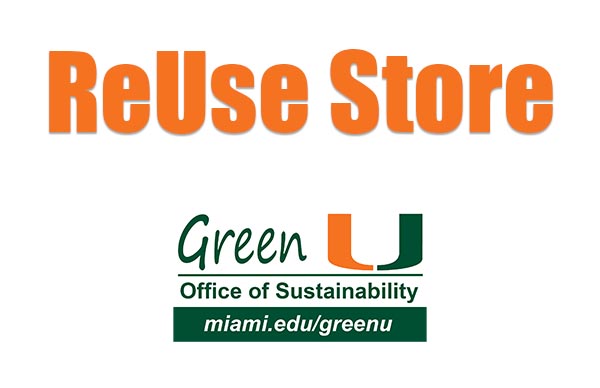 2- Once you moved:
 - Flatten and pile up your empty moving boxes and contact greenu@miami.edu  for pick up (SHosein@med.miami.edu  for the Med campus).
- Check the items we have below, if you are interested, schedule a visit with greenu@miami.edu .

IT IS FREE supply for UM offices!!

ReUse Store at the Farmers Market:
- Every Wed on the Coral Gables Campus> Contact U Thrift
- Every first Thursday of the month on the Med Campus> Contact the Student Green Committee at Miller
Items are also donated, so when you call us, you re fighting the good fight too:
Items usually in inventory are listed below, but call to make sure: 305.284.8520

> Fewer than 20 items:
- Hole punchers, electric staplers, binders.
> Over 100 items:
- Clips, paper clips, binder clips, rubber bands
- Holders, file folders (legal and letter),
- File tab hanging folders, legal letter, envelopes, (11 x 17, 9.5 x 12.5) , paper (8.5 x 14, 11 x 17, letter)
> Unique items:
- Small Shredder
- Christmas Trees with their decorations !