5th Annual CSO Summit and Symposium (CSOSS) - 2022
March 24  - REGISTER NOW

4th Annual CSO Summit and Symposium (CSOSS) - 2021
The conference, hosted by the Miami Herbert Business School at the University of Miami, brings together sustainability professionals, corporate executives, investment managers, policymakers, community leaders, activists, leading researchers, and top students from various academic disciplines.

This year, there are virtual sessions on sustainable finance (ESG), green sports, sustainable fashion, environmental economics, and workforce development. The CSO Summit attracts the most senior leaders in corporate sustainability across every industry for newsmaker interviews and roundtable discussions. The final session of the day focuses on career opportunities and the current job market.

Join us for a full day of interactive discussions, thoughtful conversations, and productive networking opportunities. REGISTER NOW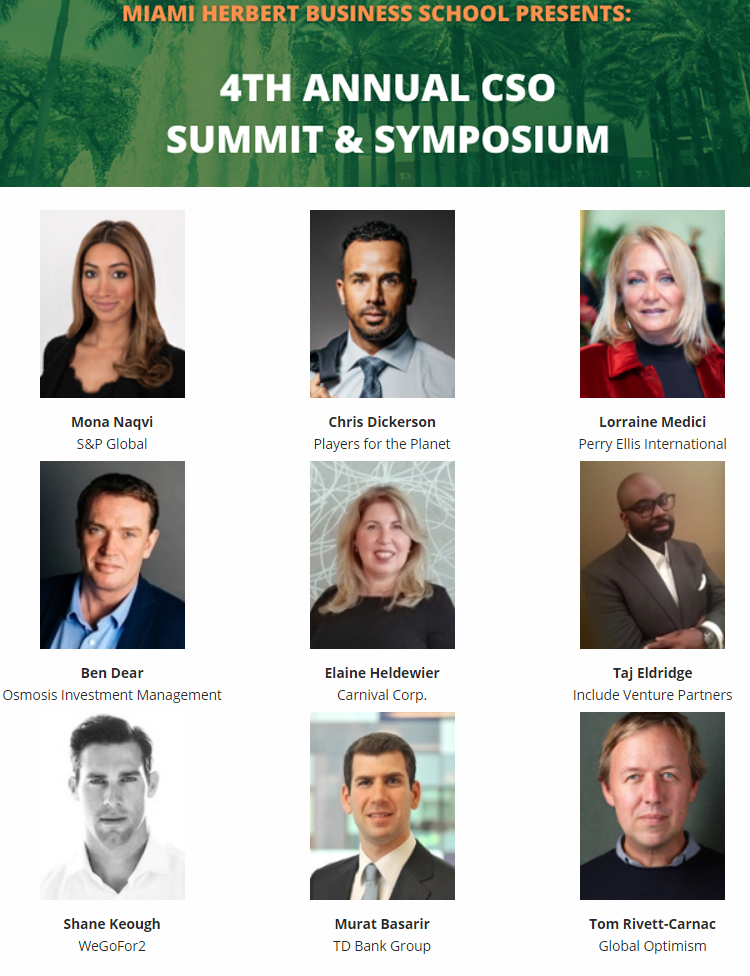 T 
Morning Session (9 a.m. - 12 p.m.)
Afternoon Session (1 p.m. - 4 p.m.)
1/ Sustainable Finance / ESG / 9-10 a.m.


Mona Naqvi, ESG senior director, S&P Global
Ben Dear, founder, Osmosis Investment Management
Murat Basarir, senior manager, sustainable finance, TD Bank Group


2/ Green Sports / 10-11 a.m.


Shane Keough, founder/CEO, WeGoFor2
Chris Dickerson, founder, Players for the Planet
Taj Ahmad Eldridge, general partner, Include Venture Partners


3/ CSO Summit / 11-12 p.m.


Elaine Heldewier, director of sustainability, Carnival Corp.


4/ Sustainable Fashion / 12-1 p.m.

Lorraine Medici, senior vice president of marketing & communications, Perry Ellis International

5/ Research Trends / 1-1:30 p.m.


Dr. David Kelly, academic director, Master of Science in Sustainable Business (MSSB)
Dr. Esteban Petruzzello, assistant professor of professional practice in economics, Miami Herbert Business School


6/ Climate Action / 1:30-2 p.m.


Tom Rivett-Carnac, co-founder, Global Optimism


7/ Workforce Development / 2-3 p.m.


Zulema Ledesma, sustainability manager, Office Depot
Jack Greene, senior director of procurement, AutoNation


8/ Career Connections / 3-4 p.m.


Claudio Innocente, head of fulfillment, Reef Technology
Elizabeth Wheaton, director of environment & sustainability, City of Miami Beach
Teddy L'houtellier, sustainability manager, University of Miami
Ginger Baxter, executive director, Graduate Career Advancement
Grace Ede, career coach, Master of Science in Sustainable Business (MSSB)
MASTER OF SCIENCE IN SUSTAINABLE BUSINESS
The University of Miami Patti and Allan Herbert Business School's new 10-month Master of Science in Sustainable Business is your opportunity to be a force for good inside a company: making positive impacts on the environment and society in a way that increases the long-term value of the firm and is consistent with the firm's strategy and vision.  Learn more
__________________________________________________
2019 - Corporate Sustainability Symposium - 3rd Edition
April 23,  6.00 pm - STORER AUDITORIUM (map )
Sponsored by the School of Business Administration. RSVP now.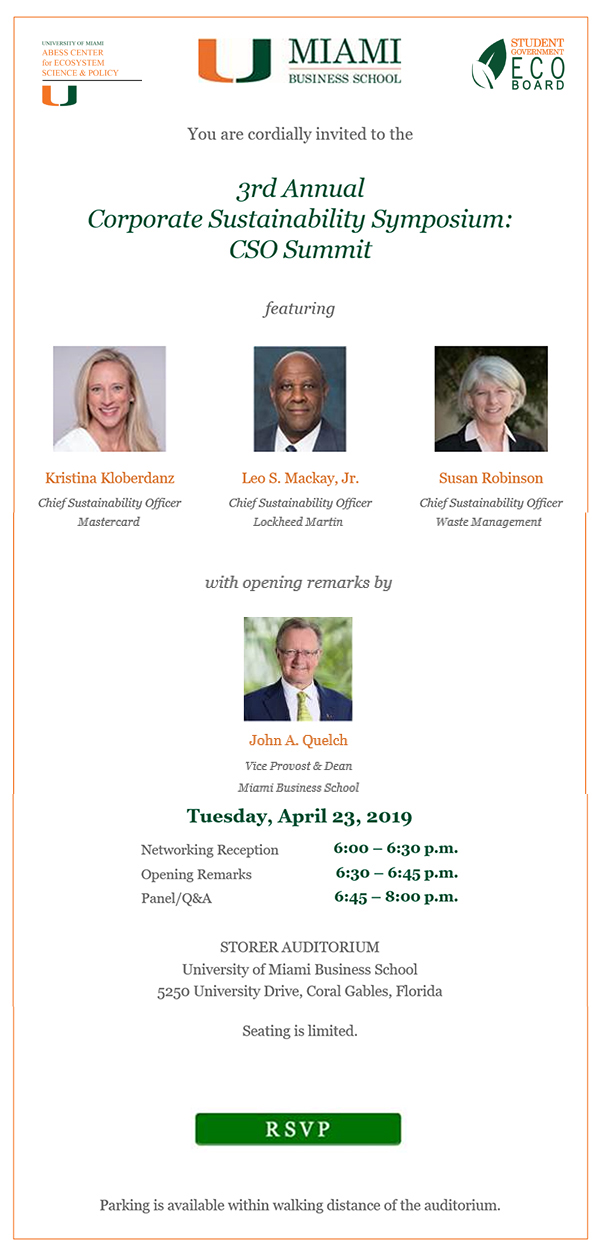 *****
2017 - Corporate Sustainability Symposium - 2nd Edition
GREEN FINANCE
Oct. 18, 2017, 6.00 pm - 8.30 pm  -STORER AUDITORIUM (map )
Sponsored by the School of Business Administration and the Abess Center for Ecosystem Science and Policy
Networking reception  6:00 – 7:00 p.m. / Keynote  7:00 – 7:30 p.m. / Panel  7:30 – 8:30 p.m.
RSVP before Oct 11
After Hurricane Irma, climate change and policies for sustainable development are converging like never before. Ten years after the near-collapse of Wall Street, the entire U.S. financial sector must reevaluate its purpose in society as well as its role in classical economic thought, which can no longer ignore the environmental variable with its traditional focus on free markets and public goods.
Hear from a global panel of industry insiders as they discuss the many facets within green finance -- from ESG integration, values-based banking, and socially responsible investment to Islamic finance and climate risk disclosure. Due to increasing demand from institutions, investors and the general public, green or sustainable finance these growth areas is no longer on the fringe of mainstream financial services. 
 In fact, future business leaders, especially here in South Florida, will be expected to comprehend these trends within a rapidly changing industry as it also grapples with globalization and information technology. As we continue to realize the impact of a more values-based approach to public savings and private investment, the globalization of green finance has become integral to the development of a sustainable financial system. While financial services are critical to economic growth, profits alone are not enough to meet our basic needs. Green finance complements the tradition of socially responsible investing to create a dynamic sector within the wider context of corporate sustainability.
 As part of the event, we will also learn about the investment climate in Cuba from the head of Stonegate Bank, one of the few U.S. companies doing business on the island, where sustainability is understood in a very different context.
Attendees will interact with senior sustainability and green investment banking professionals from all around the country. Students will discover unique career paths within the banking industry.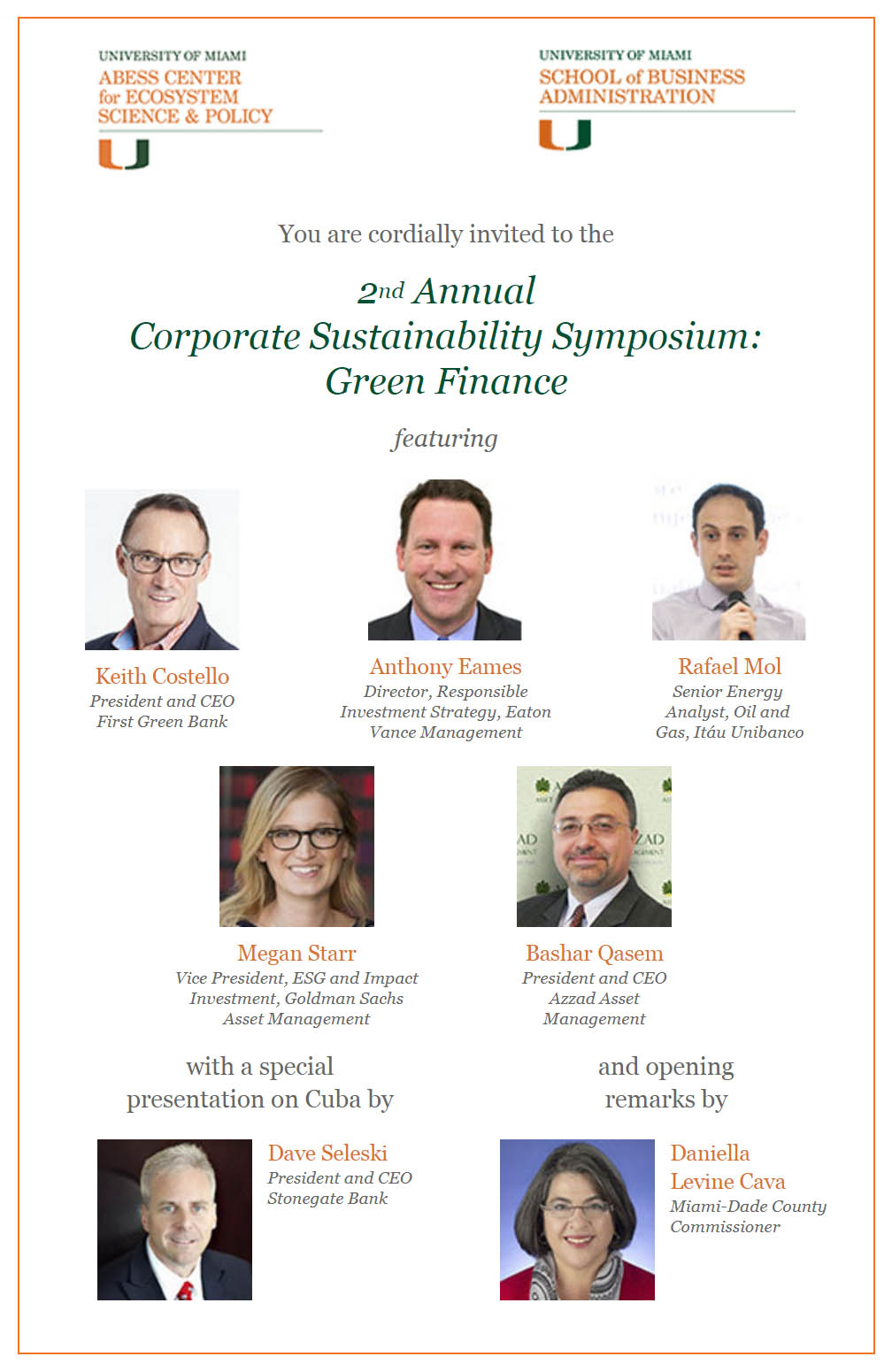 Networking reception  6:00 – 7:00 p.m.
Keynote  7:00 – 7:30 p.m.
Panel  7:30 – 8:30 p.m.
Q&A 8:30 – 9:00 p.m.

*****
STORER AUDITORIUM
University of Miami School of Business Administration
5250 University Drive, Coral Gables, Florida
Free parking is available within walking distance of the auditorium.
Seating is limited.
Please RSVP
by October 11, 2017.
*******
2016 EVENT
November 14, 2016, 6:30-8:30 p.m.
Stubblefield Bldg, Room 302 School of Business Administration - University of Miami
Free Admission - Food and Refreshments served 
 Integrating traditional economic models with conservation, workplace diversity and democratic governance differentiates leading international brands from the status quo. Professionals who don't understand climate risk on investor portfolios or look bewildered when asked about the relationship between sustainable development and the bottom line are at a disadvantage for investment and talent.
Today's corporate executives don't just lead profitable enterprises. Managers must also understand the impact of globalization, competitiveness and social responsibility on their business models. The effects of climate change and associated sea-level rise are expected to increase and redefine risk across sectors, public or private.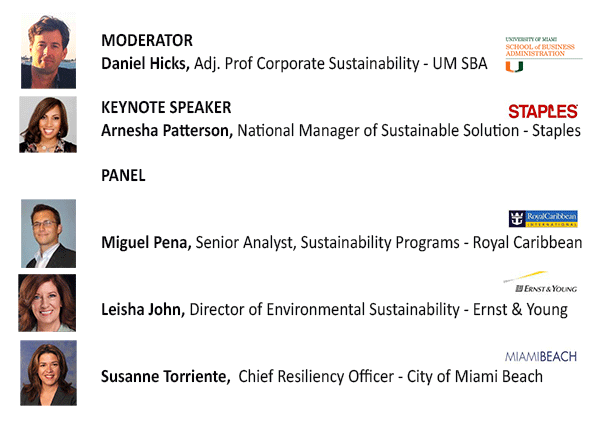 MODERATOR
Daniel Hicks, Adj. Prof Corporate Sustainability - UM SBA
KEYNOTE SPEAKER
Arnesha Patterson, National Manager of Sustainable Solutions for Staples
PANEL
Miguel Pena, Senior Analyst, Sustainability Programs - Royal Caribbean
Leisha John, Director of Environmental Sustainability - Ernst & Young
Susanne Torriente, Chief Resiliency Officer - City of Miami Beach
Q&A -  RECEPTION
STUDENT ALERT: If you are interested in learning and getting job skills in Corporate Sustainability, visit the new INTRO TO CORPORATE SUSTAINABILITY - BUS 499 class offered in Spring 2017 at the School of Business Administration
presented by