As a prestigious academic institution the University of Miami strives to incorporate sustainability education across the curriculum.
The "SUST - Sustainability" attribute allows students to search for courses with a sustainability focus and apply to the Sustainability Certificate administered by the Department of Geography and Sustainable Development. 
Knowledge of sustainability is now a requisite for a growing number of professions, as businesses, organizations, and educational institutions confront the challenges of a rapidly modernizing and increasingly connected world subject to climate change, mass movements of people, limits to energy and water supplies, and diminishing biodiversity.
The certificate:
- Serve as a curricular adjunct to sustainable initiatives at UM.
- Foster a culture of conservation at the University.
- Enhance students' preparation for a variety of careers, including engineering, architecture, business, marketing, government, and more.
- Affirm UM's commitment to sustainability and complement its efforts to enhance environmental education.
Applicant will need to take:
1 - The Global Sustainability Cognate
2 - 9 other credits that you can pick from an exhaustive list of electives.
For more information, contact Professor Justin Stoler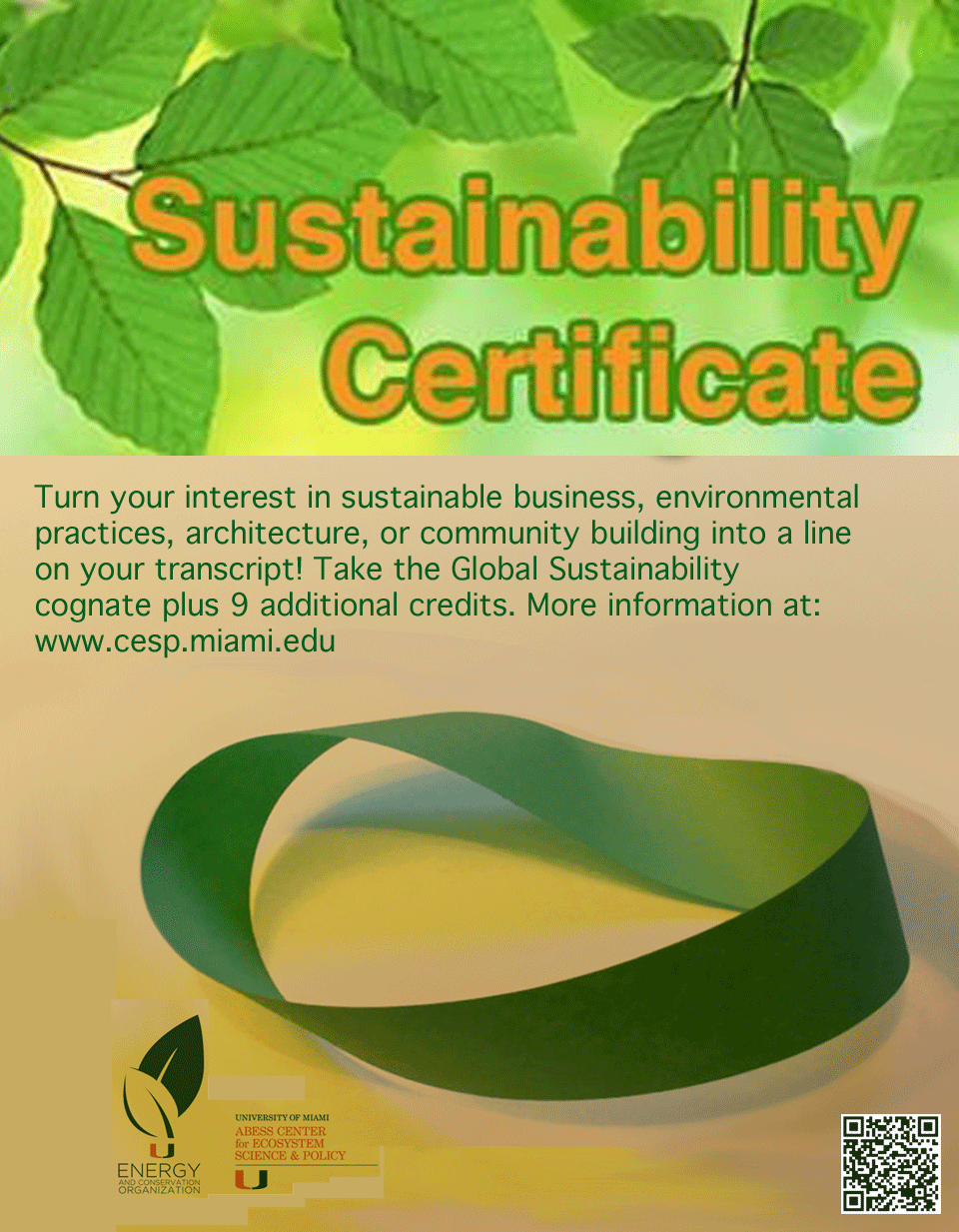 The American Association for the Advancement of Sustainability in Higher Education (AASHE) defines sustainability in a pluralistic and inclusive way, encompassing human and ecological health, social justice, secure livelihoods, and a better world for all generations (the UN Sustainable Development Goals cover a broad range of social issues like poverty, hunger, health, education, climate change, women empowerment, gender equality and social justice. Sustainable development is development that meets the needs of the present without compromising the ability of future generations to meet their own needs). Sustainability research is research that leads toward solutions that simultaneously support social wellbeing, economic prosperity, and ecological health.

If you are a faculty member and are interested in integrating sustainable development goals in your curriculum, join one of our SUST workshops. For more information, contact greenu@miami.edu. sp