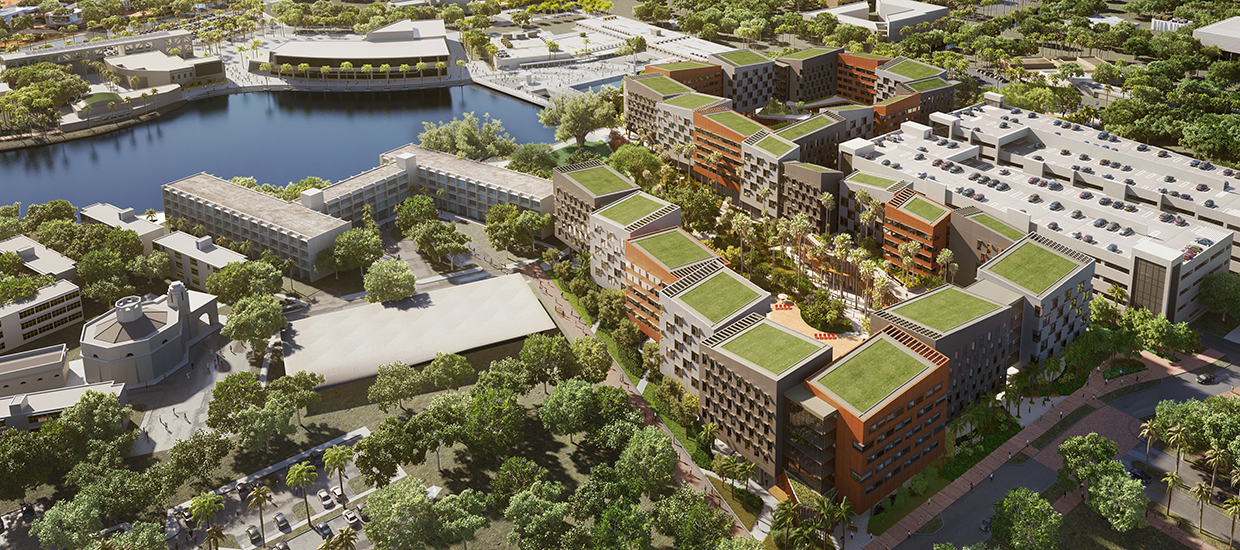 Student Housing Lakeside Village Receives LEED Gold Certification rating!
Innovative design features such as rooftop green spaces, a rain garden and a LEED Gold Certified construction will support the sustainability initiatives of our campus and local communities:
• The village's green roofs reduce and slow down water runoff, provide food for pollinator species of animals, naturally insulate the building, and absorb carbon dioxide to clean the air and help regulate the climate.
• Insulated walls and enhanced window glazing help to regulate the interior temperature without relying on cooling or heating systems
• Innovative heating and cooling systems are designed to condition and filter the air as well as re-purpose it for other uses throughout the facility
• Existing trees and plant life were evaluated and, when possible, were incorporated into the landscape of Lakeside Village or located elsewhere on campus or in the surrounding local area
"The Lakeside villages' rain garden provides several environmental benefits and is the future of storm water management" Housing & Residence Life.         
 ****



GPRO is North America's top program for teaching the people who build, renovate and maintain buildings the principles of sustainability combined with the techniques they can use on the job.
The University of Miami GPRO Certificate Program (please link that to here: http://continue.miami.edu/en/packagedetail.aspx?p=209) is customized for the climate and regional needs of South Florida. Participants learn to use building metrics to reduce operating costs, improve occupancy rates and raise tenant satisfaction. This knowledge enables participants to implement leading-edge practices that reduce energy, water use and waste, plus make building healthier and safer for occupants.
LEED non-specific GBCI and AIA (LHU/HSW) credits are available. The GPRO Certificate Program offers 12 CEUs.
The Green Professional Building Skills Training (GPRO) Certificate Program is offered in partnership with the Urban Green Council, an affiliate of the US Green Building Council (USGBC). The course is taught by GPRO-certified UM instructors who are experienced professionals in the industry and are well-informed on sustainability issues. The program is offered through the University of Miami's Office of Professional Advancement (please link that to here: http://continue.miami.edu/opa.aspx), in partnership with the UM College of Engineering's Master of Science in Construction Management Program (please link that to here: http://www.coe.miami.edu/construction-management/).  
For more program information, please contact the Office of Professional Advancement
at 305-284-4000.
****
LEED Educational Signage at the School of Nursing and Health Studies Simulation Hospital:

 ****
Find out more about Green Buildings Practices
The Richter Library offers a comprehensive research guide on sustainability in our region: https://sp.library.miami.edu/subjects/greenbuilding#tab-0
UM 's new buildings and major renovations are all LEED Silver certified
The design, construction, and performance of buildings are a key piece in the University's commitment. This commitment is extraordinarily important as not only does it minimize the impact on the environment, but it also promotes quality of life and health of the occupants. As an institution utterly committed to sustainability, the University of Miami Facilities Design and Construction Department has taken an aggressive approach, taking the lead through a progressive Green Building policy.
Gables One Tower & UHealth Don Soffer Clinical Research Center are Energy Star certified buildings. Learn more about Energy Star Buildings here

  


****

University of Miami is an active member of the Better Buildings Alliance 

Through the Better Buildings Alliance, members in different market sectors work with the U.S. 
Department of Energy's (DOE) exceptional network of research and technical experts to develop and deploy innovative, cost-effective, energy-saving solutions that lead to better technologies, more profitable businesses, and better buildings in which we work, shop, eat, stay, and learn. Join today to start saving energy in your commercial buildings.
****
UM Residential Community Honored with Dream Green Reality Award
Smathers Four Fillies Farm development is the winner of the Urban Land Institute Woolbright Dream Green Reality Award. To learn more, click here