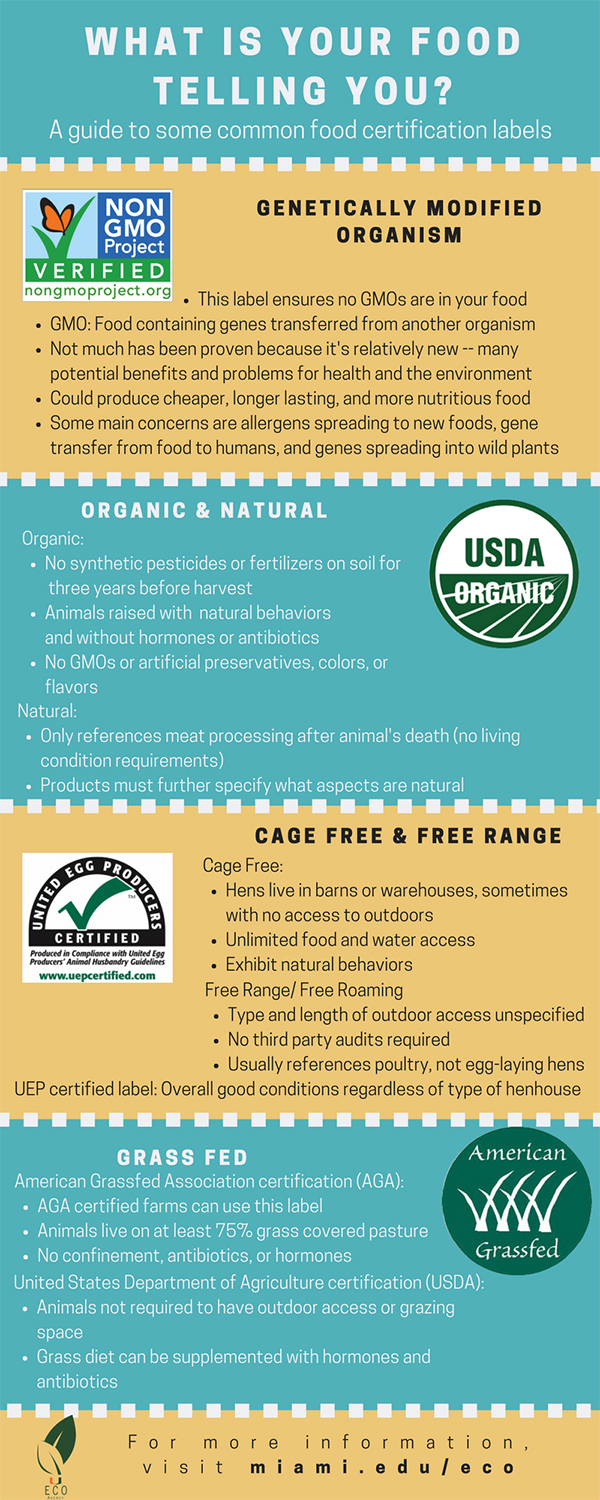 This Fall: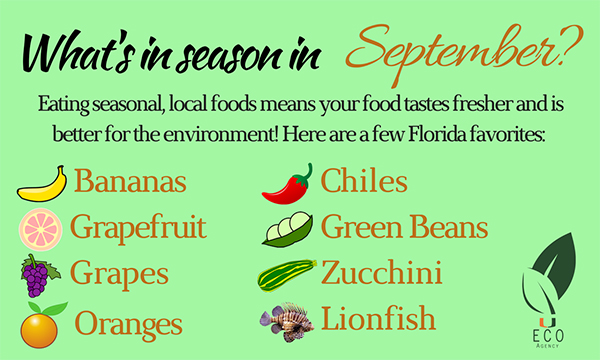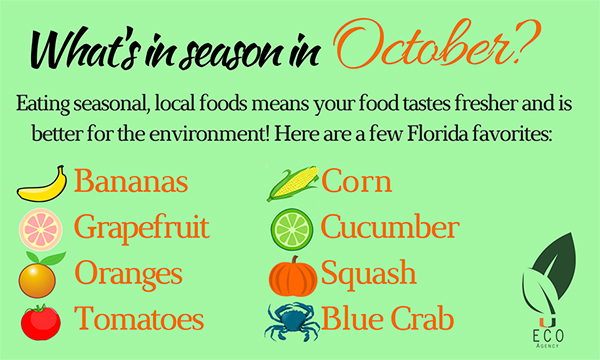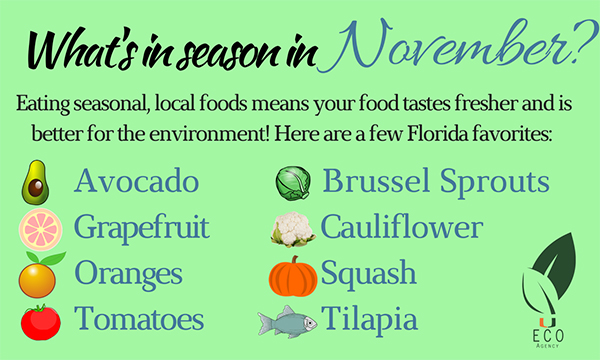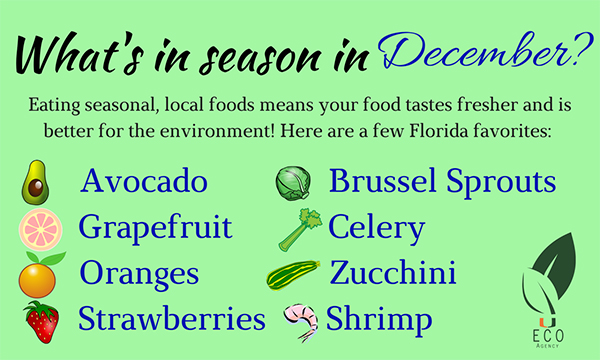 For more information about what is in season in SE Florida, visit Florida Crops in Season
Learn about UM Dining Sustainability initiatives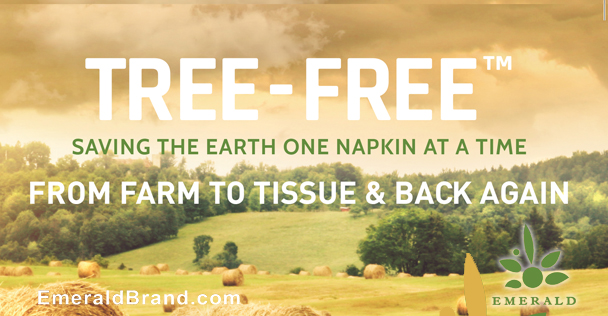 UM Dining took another step forward in their journey to sustainability this semester by partnering with Emerald Brand to bring sustainable disposables to the University of Miami campus. Learn more 
Healthy Organic, Local, Ethical, Seasonal, Fulfilling Food at UM. Visit UM DINING SUSTAINABILITY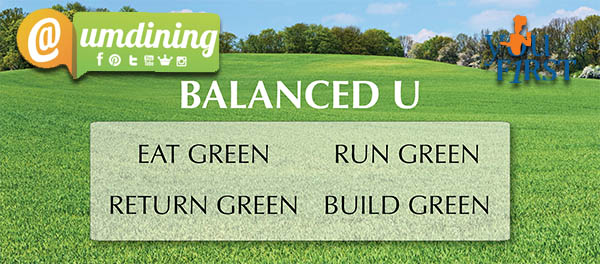 Every Wednesday from 9 am to 2 pm in the Walkway from UC to Richter Library
Come visit and buy from vendors selling fresh fruit and vegetables, kettle corn, cheeses, and MORE!
To apply to be a vendor at the Farmer's Market please contact The Market Company via email at claire@themarketcompany.com. NOW AVAILABLE on the Medical Campus: Every thursday in front of the Calder Library
BE A FLEXITARIAN !
Vegetarian and Vegan options on campus, here
A flexitarian is someone who actively incorporates meatless meals into his/her diet but isn't necessarily a vegetarian. Our new "Be a Flexitarian" initiative takes steps toward providing healthy meals to our customers while building sustainable communities by offering meat-free meals for meat lovers and vegetarians alike. By making a slight change in our diets and simply eating one meat-free meal a week, we can make an impact on both our health and the environment. How easy is that!  Look for the Flexitarian signage in both resident dining facilities and the Hurricane Food Court!
MEDICAL CAMPUS
Our 3 hospitals on the Medical campus are serving meals that follow some important sustainability principles:
- Use of local farmers and fair trade practices as much as possible
- Reduce the use of antibiotics in chicken, turkey and pork
- Commit to healthier oceans with sustainable seafood purchasing policies
- Support sustainable agriculture and healthy rural economies
- Promote farm animal welfare with the use of cage-free shell eggs, the elimination of artificial rBGH from milk and yogurt products, and the phase-out of gestation crates for sows.
If you want to learn more about those practices, visit our partner's website
****
Nutrition Week 2015 - March 30 to April 3
presented by UM Student Health Services, P&A. Herbert Wellness Center, UM Dining, with the participation of Green U
Solar Power Smoothie on the Rock on Thursday 12 pm to 2 pm.
Full Schedule: Learn More

*****
UM Dining took another step forward in their journey to sustainability this semester by partnering with Emerald Brand to bring sustainable disposables to the University of Miami campus.
"We are constantly looking for ways to make our operation greener, and this is something we have been looking to do for quite some time. After a lot of hard work and research behind the scenes, we are excited to transition to tree-free disposables this fall," says UM Dining Director Michael Ross.
There are a few new initiatives effective this fall concerning disposables in dining. First, plastic straws have been eliminated from the residential dining halls, Hecht-Stanford and Mahoney-Pearson. This move comes alongside multiple corporations, most famously Starbucks, publicly committing to phasing out plastic straws from their operations. The straws available in the take out areas and upon request in the dining halls are Emerald Brand PLA straws. These compostable straws are made with plant based bioplastic technology and crafted from 100% renewable resources. They are 100% compostable, biodegradable, and tree-free. These same straws are being used in retail locations across campus. 
Tree-free napkins are now being utilized in both the residential dining halls and retail locations along with tree-free paper towels being used in the kitchens and prep areas. Additionally, the majority of take out containers have been or are in the process of being converted to Emerald products. Emerald utilizes natural agricultural fibers, which were traditionally wasted by-products of food production, to create raw materials that are converted into sustainable disposable products.
"We do not look at sustainability as an option, we view it as a requirement," says Meagan Clements, UM Dining's Marketing Director. "To not only improve our program by making a positive impact on the earth, but also have the opportunity to partner with the passionate and environmentally ethical people of Emerald has been rewarding in so many ways." 
Emerald has been a family owned and operated business since 1997. With a strong foundation in disposables, Emerald has spent the last twenty years developing innovations in Tree-Free Farm to Paper and Farm to Tissue Technology, environmental impact statements, educations forums, and environmental consulting services. To learn more about Emerald Brand, visit their website.
This newest initiative is one of a string of programs implemented by UM Dining in an effort to promote sustainable and environmentally conscious dining. Last year, plastic bags were eliminated from all dining facilities, replaced by paper bags. There are also custom reusable bags for purchase at dining locations across campus.
Green U and UM Dining work closely each semester on many initiatives, most recently increasing recycling across campus. By implementing awareness campaigns and augmenting existing recycling bins to make recycling easier and more intuitive, the organizations are constantly working together to get students educated on sustainability. Green U has also been working with InStyle Catering to reduce food waste from events and craft sustainable menus. Please consider greening your event by following their Green Event checklist recommendations and receive new benefits. 
"We partner with UM Dining on a multitude of initiatives each year to reduce our environmental impact and 'green' our dining program," comments Sustainability Manager Teddy Lhoutellier. "I am particularly excited about this initiative, as we are on the forefront of universities taking an eco-friendly approach to all aspects of dining."
To launch the new products on campus, Emerald Brand will be at the University of Miami Monday, August 27th to increase awareness, answer questions, and engage with the University community. Representatives will be at the Hurricane Food Court during lunch and Hecht-Stanford Dining Hall during dinner.
To see an overview of UM Dining's sustainability initiatives, visit their website. 
###
UM Dining in contracted through Chartwells, the recognized leader in contract foodservice management, hospitality and award-winning guest service within 290 college and university dining environments throughout academic institutions across the U.S. Chartwells' brand mantra, "Where Hungry Minds Gather," signifies its commitment to reinventing the dining experience for the next generation of students and beyond. Our nutritious cuisine not only satisfies the unique appetites, lifestyles and dietary needs of every guest dining on campus, but it also brings people together to promote the high-intensity relationships that will prepare students for the future.  
For more information, visit Chartwells' websites at www.ChartwellsHigherEd.com, www.ChartwellsMonthly.com, www.DineonCampus.com, or call toll-free at 1-855-9-Gather (855-942-8437).